23,943 millionaires…
And Counting.
Will You be Next?
---
"We've gone from a point where the success of
[this] was unlikely… and is now guaranteed."
— Millionaire Jeremy G.
---

Dear Reader,
See this 32-digit code?
04ghd74j - 3b95 - dt38 - 43vg - g7sp38gt
At first glance, this looks just like a bunch of jumbled numbers and letters…
But very soon, a code like this could become more important than your Social Security number…
More important than your bank account number…
And more important than any PIN you are using to unlock your phone… use your debit card… or open the safe inside your home…
Because what you've just seen is the prototype for a brand-new digital infrastructure that is set to replace the "old internet" as we know it.
According To A Study From The MIT,
This New Technology Is About To Reach
"Critical Mass" In 2019
If you get in NOW…
You could profit from a market poised to grow 8,473% or more by 2024.
No wonder Forbes calls it the…
"Biggest disruptor in technology since the 1990s."
Chairman and CEO of Fidelity Investments says…
"It will fundamentally change market structures - and maybe even the architecture of the internet itself."
PriceWaterhouseCoopers cites this technology as a…
"Once in a generation opportunity."
The New York Times was pretty blunt in saying that…
"Everyone is getting hilariously rich and you're not."
And CNBC showed how important it is to act NOW…
"The next few years may be about as intense and heady as the 1990s. [This technology] will be the biggest thing since the internet itself."
There's no time to waste…
This new digital infrastructure is moving fast…
And it has ALREADY created a lot of wealth…
It Has Already Minted At Least
23,943 Millionaires – And Counting…
And now everyone is rushing to get in on the ground floor of this new tech…
Not just everyday folks like you…
But also some of the largest corporations in the world are already putting their money into this.
Companies like…
| | |
| --- | --- |
| Walmart | Amazon |
| Google | Tyson Foods |
| Microsoft | Unilever |
| IBM | Facebook |
| Bank of America | Goldman Sachs |
| MasterCard | Starbucks |
In total, they've invested a whopping $1.2 billion.
Google has invested in six companies that work on this technology.
According to insiders, the tech giant is pouring resources into building a massively profitable advertising network in this new infrastructure.
Amazon plans to offer its own service to build this infrastructure.
Last year, Facebook CEO Mark Zuckerberg has announced he wants to integrate this technology into his mega platform.
Even major retailers like Walmart, Tyson Foods and Unilever have put millions of dollars into developing this new technology.
But it will all start with one industry in particular…
Whether Or Not You Have
A Bank Account, Credit Card Or Mortgage –
You Should Pay Close Attention…
Because this new digital infrastructure could eventually replace our entire global financial system…
It will fundamentally change the way we do money. And no, I'm not talking about bitcoin, cryptos or any other financial fad.
In fact, 90% of American and European banks say they are planning to implement this technology into their existing infrastructure.
Bank of America, for example, already holds 45 patents in this technology.
So if you have an account with Bank of America, this could definitely impact you.
And they're not alone…
Goldman Sachs, J.P. Morgan, Citigroup and Wells Fargo have recently invested $32 million into a company that's working on this technology.
Over The Coming Years, I Expect This
Technology To Transform More Than Half The
U.S. Economy – A Total Of $11.7 Trillion
Which is almost unbelievable when you consider that…
This budding industry is barely worth $700 million in the U.S.
That's peanuts compared to…
Cell phones, which is a $84 billion industry.
Computers, which is a $408 billion industry.
And internet companies like Google, Amazon and Facebook, which are part of a giant $1.6 trillion online industry.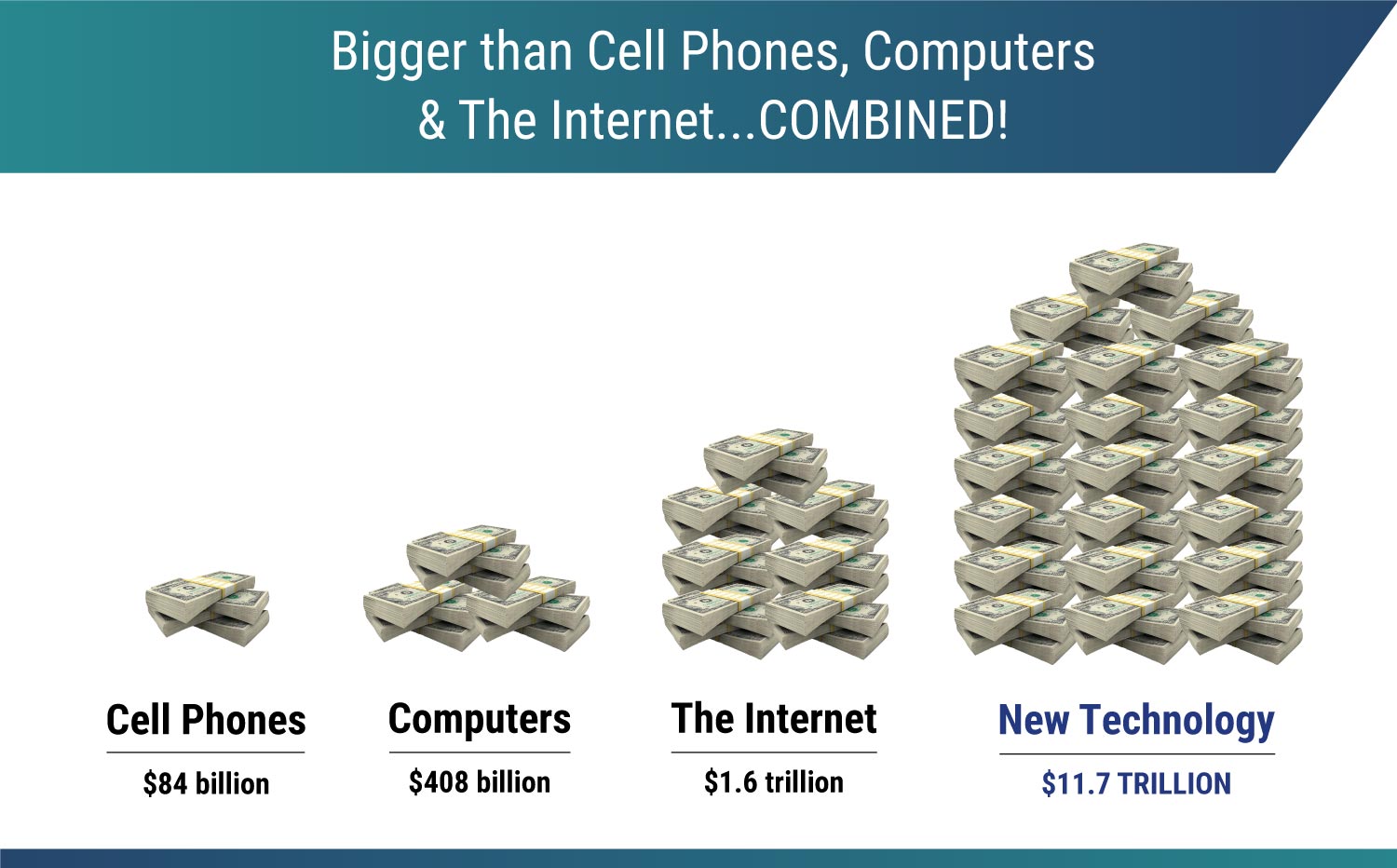 In the next few minutes, I will show you…
How This New Technology Could
Be Bigger Than All Of Them – COMBINED
Over the next few years, it will start swallowing all of these other industries, one by one…
It will be integrated into cell phones… laptops… and regular PCs…
And that's just the beginning…
What's going to drive this revolution is the takeover of industries we never thought would "go digital."
With the creation of this special type of digital infrastructure though…
Industries like real estate… legal services… financial services… health care… entertainment… logistics… even democratic elections…
Will be moved over to this new type of "internet."
It will combine all of them into a brand-new mega tech industry – worth an estimated $11.7 trillion.
That's more than half of the entire U.S. economy right now.
No wonder this tech has already minted 23,943 millionaires… and counting.
But it's not too late for you to position yourself.
We are still at the early stages of this technological revolution.
Which is why almost no one outside of the inner tech circles even knows this exists.
Let alone understand the magnitude of this…
That's why those who get in early….
– before this technology reaches mass adoption –
…will reap the biggest rewards.
I expect the market for this technology to rise at least 8,473% in value over the next few years.
The key, of course, is to find the companies that will be at the forefront of this revolution.
And that's why I'm writing to you today… to tell you exactly how to claim your stake and have a chance at becoming the 23,844th millionaire.
But before I show you what I believe will be those companies…
It is important that you know who I am.
And why you should pay attention right now.
How Do I Know All This?
Let Me Introduce Myself…
I've been following the growth of the internet since the beginning.
In 1995, I was a software engineer for one of the largest media companies in the world, Time Warner.
They paid me a lot of money because I was one of the few people who could create a website.
Nowadays, even a first-grader can build a simple website from scratch using the tools that are out there.
But back in the 90s, I was one of the few who knew how do it. Which is why I founded my own company offering to build websites for brands like HBO.
No one in the TV business understood why they should even use the internet for their business. They asked, "What is this thing?"
When I told them what the internet would be able to do…
They Laughed At Me…
Why?
Because back in the 90s, I told them that one day, more people will watch TV on the Internet than through cable.
And a few years later…
That's exactly what happened!
Internet video streaming companies are gaining new customers every day.
Netflix already has 1.96 million paid subscribers.
Now the only people laughing are those who bought Netflix stock when people were still asking what this "internet thing" was…
Look at how the company's stock price has shot up over the last few years…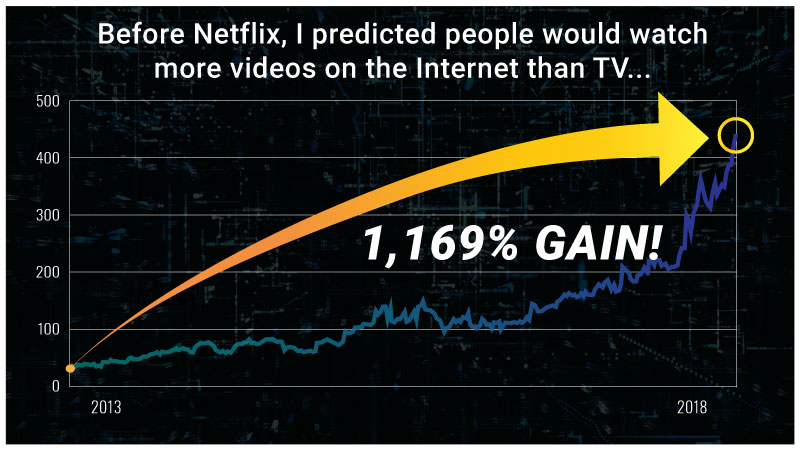 In just 5 years, it went up an incredible 979%!
If you had known how big this trend would be – like when I predicted it – you could have multiplied your money 10 times over on this trade alone.
Last Year, Fortune Magazine
Admitted My Prediction Was Right…
They said, "Viewers are ditching cable to streaming faster than anyone expected."
By ignoring what the mass media and wanna-be "experts" were talking about…
I've been able to predict some of the biggest trends in the tech space…
I sold my first internet company, called Reset Inc, for $15 million in the late 90s.
Before Mark Zuckerberg turned created Facebook, I invested $2,000 in a social media based startup called Stockpickr…
And sold it to TheStreet.com for $10 million just nine months later.
I helped finance a startup called Buddy Media with billionaires Peter Thiel and Mark Pincus…
Which was sold to Salesforce Inc. for $700 million five years later…
Handing me a gain of 6,000%.
I'm really not doing this to brag though. Especially because I did lose all my money as well – multiple times in my life.
So I know what it feels like to have little. I'm not a trust fund kid.
I'm just telling you this to show what's possible when you know the right people in the tech industry.
That's the kind of profits you can make when you get in on the ground floor of tech opportunities… like the one I'm showing you today.
I've done this over and over again…
These Are Just A Few Of
The Companies I Spotted Over The Years…
Juniper Networks, which produces internet software, routers and other computer hardware, went up 176%…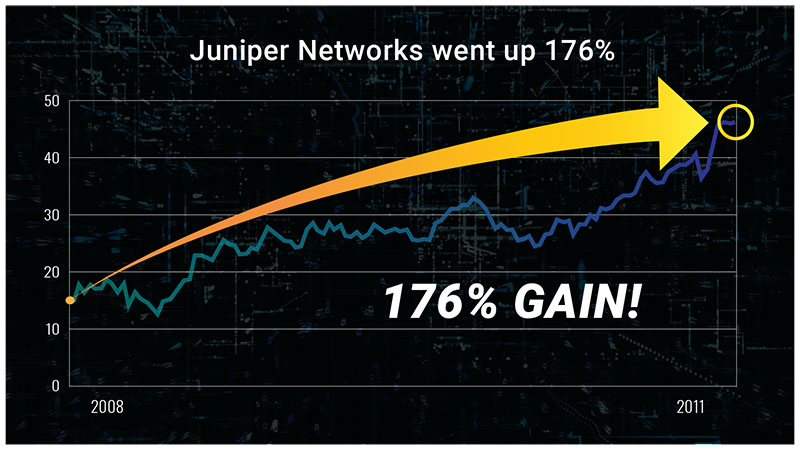 Cisco Systems, a computer chip maker, went up 185%…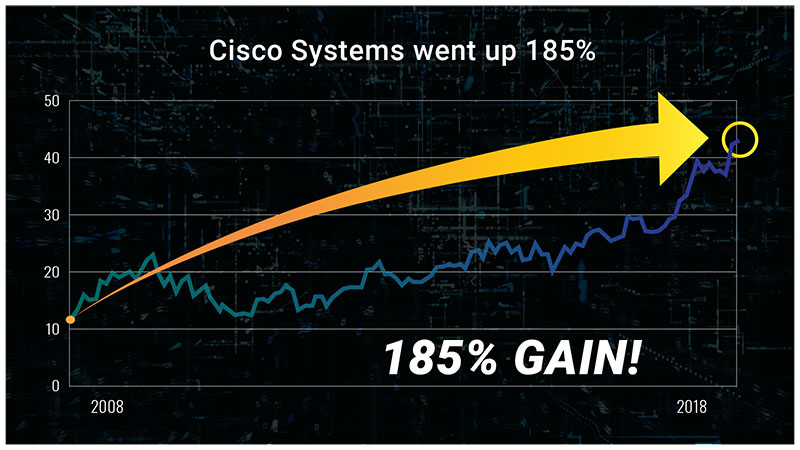 Agilent Technologies, which builds machines used on chemical labs, went up 399%…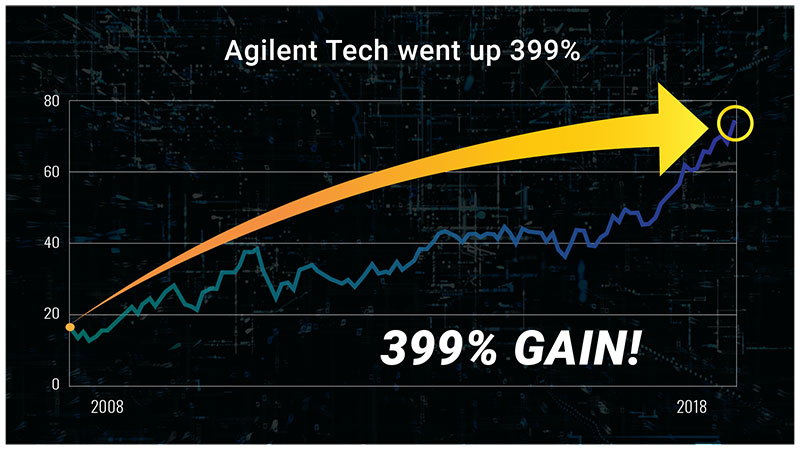 Equifax, which holds millions of Americans' credit score data, went up 488%…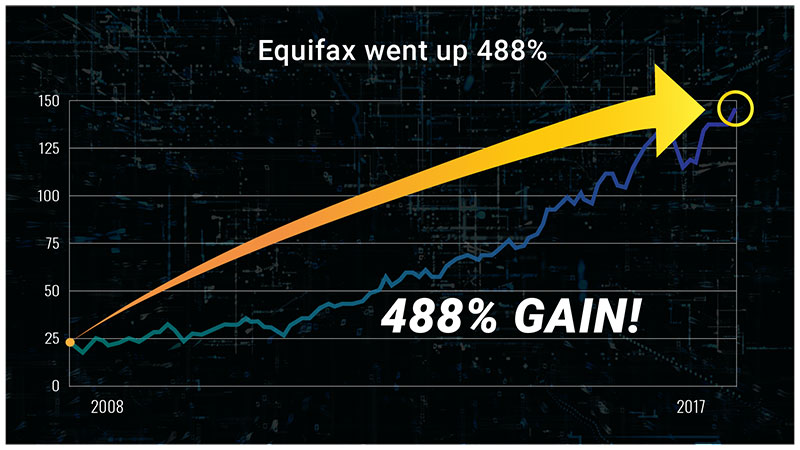 VMWare, a major cloud computing provider, went up 614%…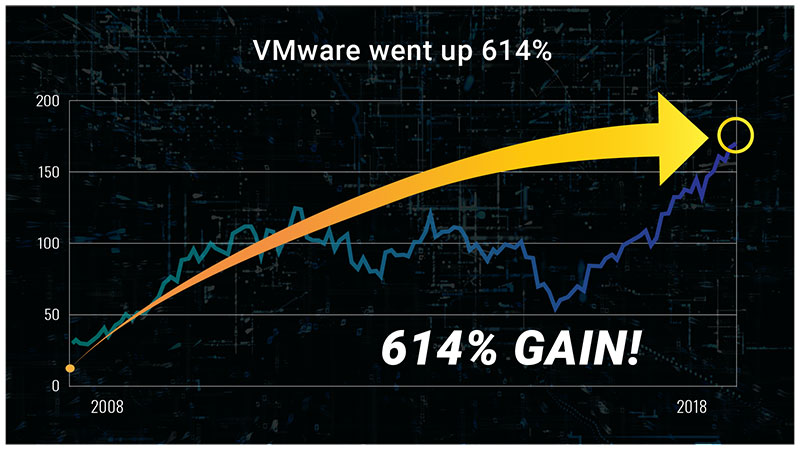 And iRobot Corp., which is leading the robotics revolution, has gone up an incredible 1,033% since I first noticed it over a decade ago…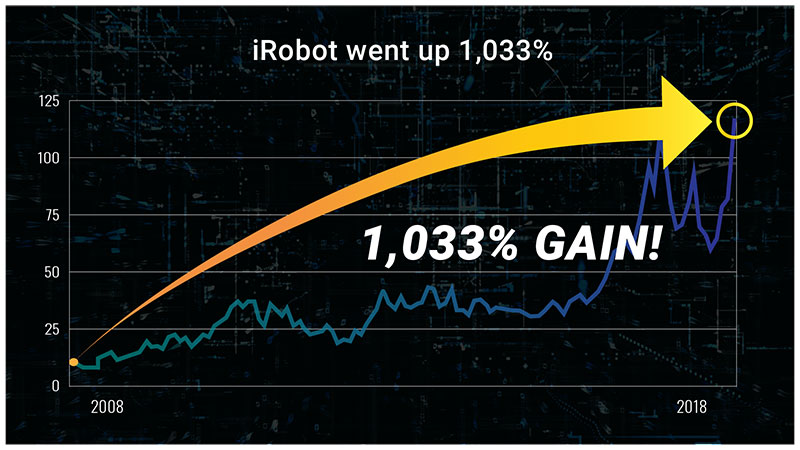 While that sounds great, I fully believe it's nothing compared to the tech I'm telling you about here…
Remember, we're talking about a potential $11.7 trillion revolution.
Right now, this industry is worth $700 million.
So we're looking at an 85-fold increase…
And while most people are in the dark, I've been "on the inside" for years. You see…
I've Made A Ton Of Contacts
Within The Biggest Hedge Funds On Wall Street
And Venture Capital Firms In Silicon Valley
These are just some of the people in my network…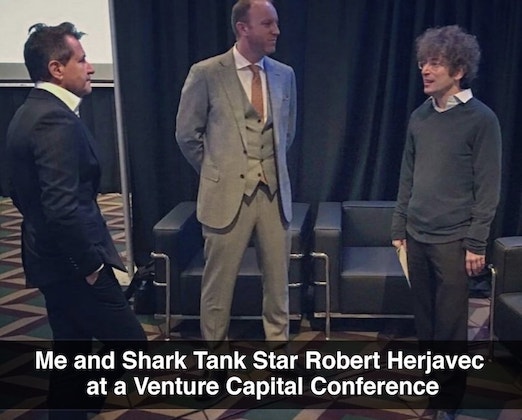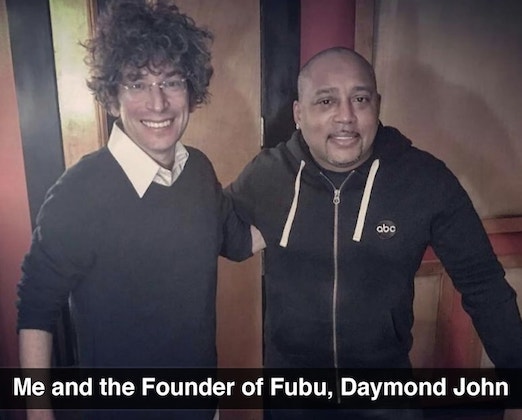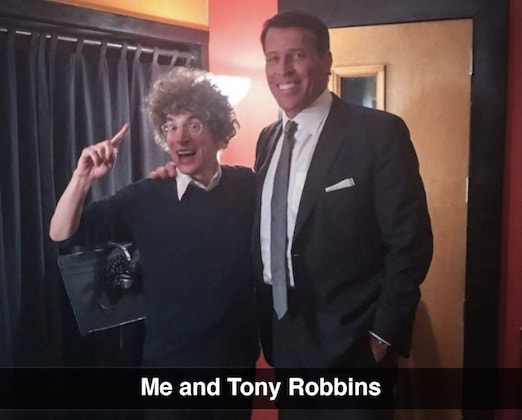 As well as Peter Thiel, PayPal founder and early investor in Facebook…
Billionaire Mark Cuban, the star of "Shark Tank"…
And the head of Google's experimental lab, Google X…
Look, I'm not telling you this to "name-brag."
But I want to prove to you that I'm not just a crazy guy from the street.
After all, I just told you about a brand-new technology that could create a new $11.7 trillion global digital infrastructure…
Which could consequently transform more than half the U.S. economy.
I know that's a big claim.
And you're probably skeptical if it's really that big a deal. (As you should be.)
I Want You To See For Yourself
That This Is Real…
According to reports…
An estimated 90% of banks in Europe and North America are exploring this technology as we speak.
And if you have any money in the markets right now, this could also impact YOU…
Because according to the CEO of the biggest technology exchange, Nasdaq…
This new technology "could revolutionize the core of capital markets infrastructure systems. The implications […] are profound."
Broadridge Financial Solutions CEO Rich Daly said…
It has "the potential to ultimately transform everything from how stock exchanges operate to how proxies are voted."
Barrons reports that…
It's "likely to disrupt financial markets for years to come."
Surveys show that 80% of financial firms expect to use this technology for their businesses by 2020.
Just imagine…
Loans will be easier to get…
Money will move quicker to the people who will actually spend it and not ship it overseas to save taxes…
Business owners could start new projects within a single day – with just HOURS between shaking hands after the deal is made to securing financing in order to execute it…
But the biggest changes will happen to stock exchanges…
And these changes will be pretty sweet for investors.
You Might Not Even Need A Broker Anymore
Because this technology could make trades almost instantaneous… NO middleman.
Nasdaq, which is the second largest stock market in the world, has been experimenting with this technology on its private exchange since 2015.
And it plans to roll it out to its public exchange soon.
The Australian and German stock exchanges are already implementing it.
As you can see…
Even though this technology is still in its infancy…
And only a small number of people in the world are aware that it even exists…
It's Already Spreading Like Wildfire Across
The Largest Corporations In The World
This technology will not just change the financial sector…
A recent survey shows that 80% of businesses in the U.S. are either using it already or are planning to implement it over the next few years.
Walmart has just partnered with IBM to bring this new technology to its more than 11,000 stores across America.
The largest retailers in the world have just built a strategic alliance to implement this technology – including Kroger, Tyson Foods, Driscoll's, Golden State Foods, and Unilever.
P. Morgan Chase, Microsoft and dozens of other companies are also working together to integrate this technology seamlessly into their businesses.
But this is not just a trend among U.S. companies.
In fact…
It's Not Just America.
This Is Already A Global Trend…
Chinese telecom giant Huawei has just started implementing this technology into its cell phones.
Samsung plans to use this technology for its global supply of electronics – including the popular Galaxy S9 phone.
Singapore's central bank has just started using it.
The South Korean government is on board as well.
Why is that important?
Because a lot of the countries who are building this new digital infrastructure right now are working with the same handful of U.S. companies…
Which means…
When this technology enters the mainstream… and every single company working in the financial sector, the public sector, tech, logistics, healthcare and others will be almost forced to adapt to this new infrastructure…
These companies will be the names they will turn to. Because they have quietly specialized in this new technology.
Some of them are big players already. Others are yet unheard of.
In just a moment, I'll tell you what you need to watch out for as this revolution unfolds…
And which companies could bring the biggest opportunities…
In fact, one of them – a tech company formerly known as a chip maker for personal computers…
Has just put $200 million into building a giant new "wing" of its business… including over 1,000 new employees… dedicated exclusively to this new technology.
And they've already secured 42 patents that give this company exclusive rights on certain key mechanisms of this technology.
Which means that, over the next few years, this company should see a MASSIVE increase in revenue…
But right now, no one sees this coming…
In the coming years, as this technology turns mainstream, these companies will see even BIGGER dollars rolling into their wallets.
And They Would Gladly Hand It
Down To YOU – In The Form And Stock Gains
See, it's only a matter of time until this technology becomes a household name.
In fact, you could say this technology is where the internet was in 90s…
Most people had no idea how the internet worked back then.
Many underestimated how it would affect their lives.
But just a few years later, the Internet changed the entire world.
And it created a LOT of very rich stockholders.
Like this man from Seattle…
At First, Everyone Thought He Was Crazy…
In the mid-90s, the dotcom boom was still in the future, and it was hard for internet startups to raise capital.
Almost no one was using the internet at the time. Most people didn't even have access to a computer.
But one businessman from Seattle saw the potential behind this little-understood technology…
Even though he had little experience in this area…
Tom Alberg decided to invest in a small online store that has just entered the "Internet" in 1995.
His friends probably laughed when he told them he owned 195,000 shares as the company went public. Back then, they were worth just $1.73 each.
"They really didn't understand this new internet thing," he said about his investor friends.
Well, these friends are probably not laughing now…
Because what started out as a "crazy idea" in the early Internet days turned Tom into a billionaire investor.
Tom's "Crazy" Idea To Invest In
The New Internet Technology Turned His
Small Stake Into A $1.9 Billion Fortune
The company he invested in was Amazon.
Back then, it wasn't a household name (like the ones I'll tell you about in a moment).
Today, Amazon is the world's most valuable company.
Last August, investors had to spend an incredible $2,012 for a single stock of Amazon.
That's A 116,200% Profit
For Every Investor Who Got In On IPO Day!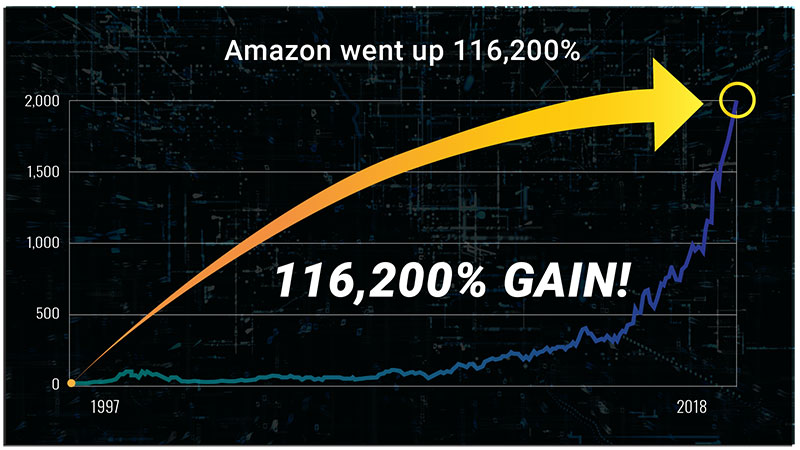 And even if you got in at $37 a share in 2007, when Amazon was already a major player in the tech industry…
You still would have made a profit of 5,175%.
That's enough to turn every $10,000 into $517,500.
And enough to cover basic life expenses for 10 years – on just one stock!
That's how powerful a company can be when it takes early advantage of a brand-new technology.
You can see similar trends with other early players in this industry…
Google made investors 2,192% in its first 14 years on the internet trend…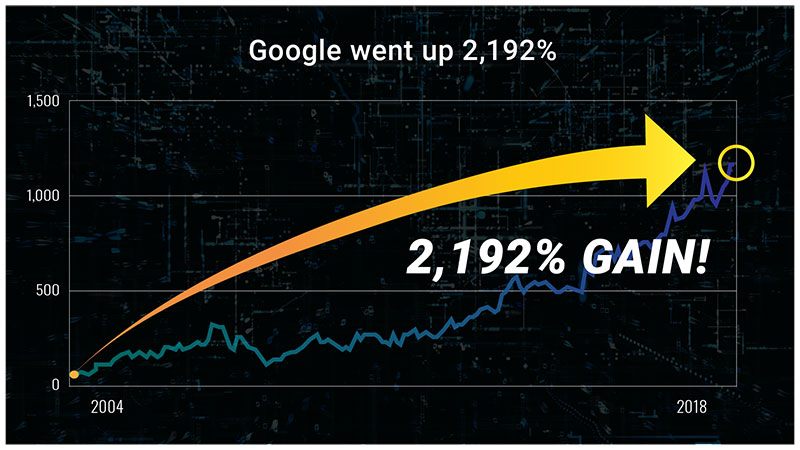 Microsoft returned early investors 113,270%…
Apple returned early investors 43,450%…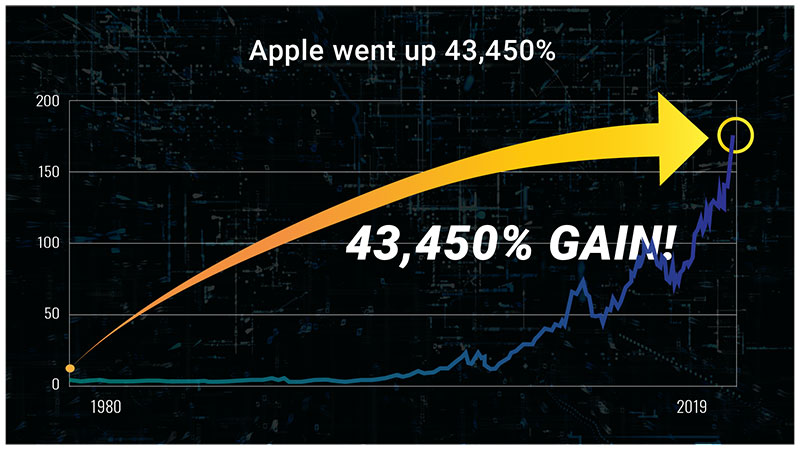 History Is Repeating Itself… Right Now
In fact, we've already seen people make substantial profits with an early adaptation of this technology…
One of them is Erik Finman, who received $1,000 as a gift from his grandmother, and invested it into this technology.
Just last year, he cashed out with $2.5 million.
Or Kingsley Advani, who became a millionaire with this technology at age 24. He invested $34,000 and cashed out with over a million dollars just 6 months later.
According to my research, this new technology has already created 23,983 millionaires…
Will You Be Next?
Even my own publisher made money on this…
When the first wave adopters of this technology entered the market…
He made 138% on one company in 47 days…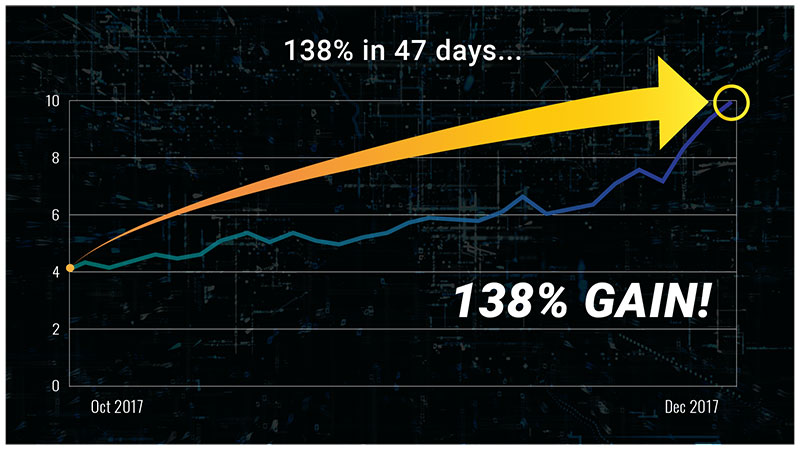 235% on another company in 50 days…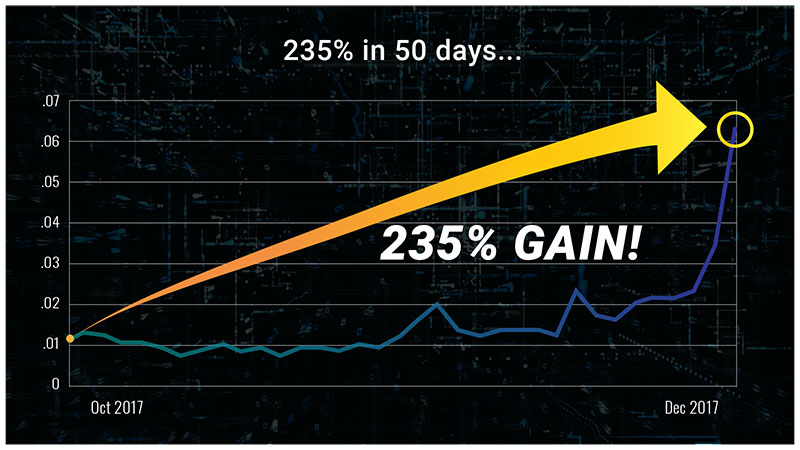 And 283% on another one in just 45 days…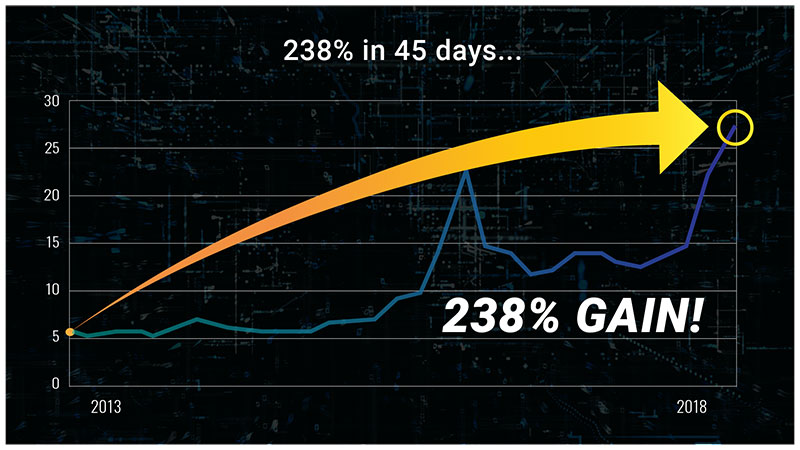 It would've turned every $10,000 into $283,000 in just 6 weeks…
One of the companies in his portfolio even went up 78% - in one single DAY!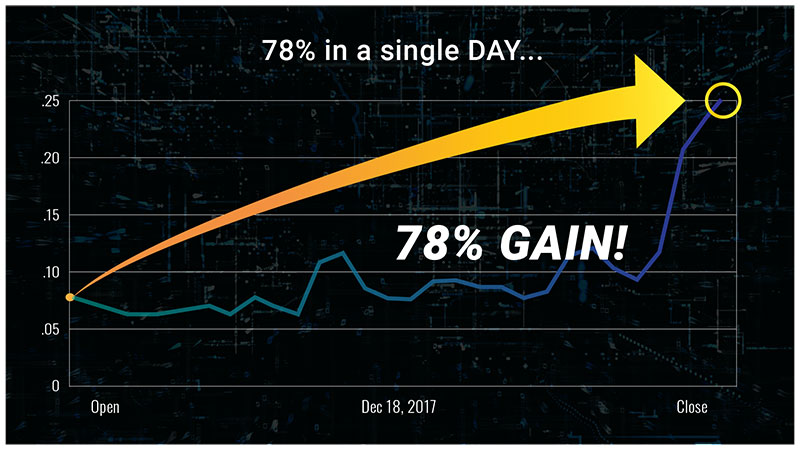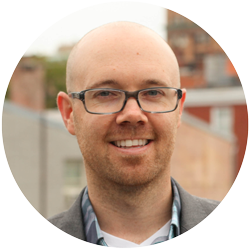 "It was wild to see such quick gains on a technology most people don't even know about!"
— Joe Schriefer, Publisher of Agora Financial
But That's Nothing Compared To
What We Could Be About To Witness…
As I said in the beginning, this could transform more than half the entire U.S. economy.
And create a mega industry worth $11.7 trillion.
Which would create market growth of up to 8,473%.
And that's just based on what we know we can use this technology for right now.
Who knows what inventions will be made based on this technology in the future…
In the end, 8,473% could be a conservative estimate.
So How Does This Technology Work?
The mechanism behind it seems quite simple at first glance.
All this technology does is put digital data in a new format.
It looks something like this…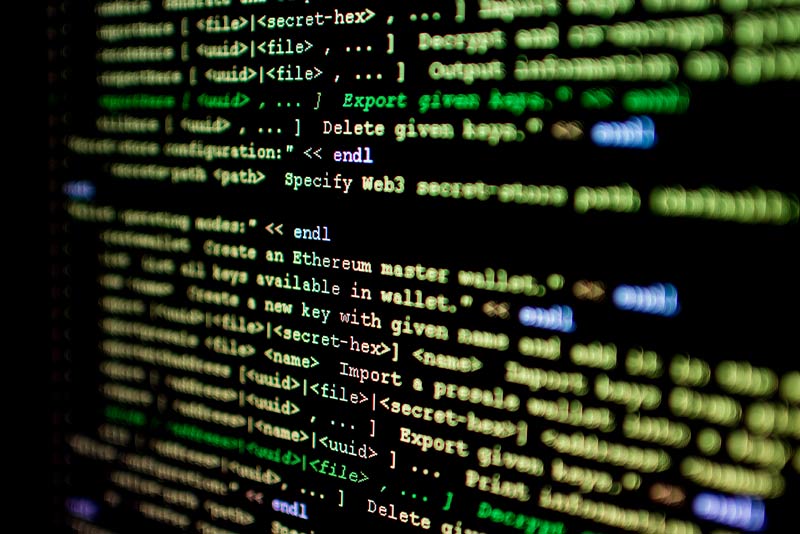 At first, this will probably not mean anything to you.
But what you've just seen is the prototype for an entirely new type of "internet."
I'm predicting it will have more impact on our lives and our economy than the invention of the original internet did over the past 30 years.
And it will create a lot more wealth.
See, the Internet was revolutionary when it appeared in the 1990s.
Even though the technology behind the Internet had been around for decades, most people were not able to use it.
Until a man named Tim Berners-Lee developed a platform to actually connect computers on what he called the "world wide web."
And it was called the "web" for a reason…
It basically connected computers from around the world with each other, no matter where they were and who was using them.
The web made it possible to send information back and forth in just seconds.
If you showed all those connections on a map, it would look like an intricate spider web.
But ten years ago, a group of highly sophisticated computer experts created a new kind of "web."
Simply Put, They've Developed
A New Way To Transmit And Store The Data That
The Entire Internet Is Built Upon…
Instead of leaving data floating around the world and existing in unknown places, ready to be stolen and manipulated by anyone who wants to…
Like today's "world wide web"…
This new digital mechanism organizes our data in an incredibly complex mathematical process.
Once created, this information cannot get lost, destroyed or be stolen.
That's because it's translated into a special digital language. A language that can only be read by those who created it.
And the complexity of this digital language makes it almost impossible to make any changes to the data or steal it.
Not even a government with their vast resources can do it.
I call this new digital infrastructure…
The "Carbon Web"
Why the "Carbon Web?"
See, carbon is a powerful chemical element.
If you haven't yet heard of carbon, you've probably heard of one form of it:
Diamonds.
They don't just look pretty on a woman's ring finger…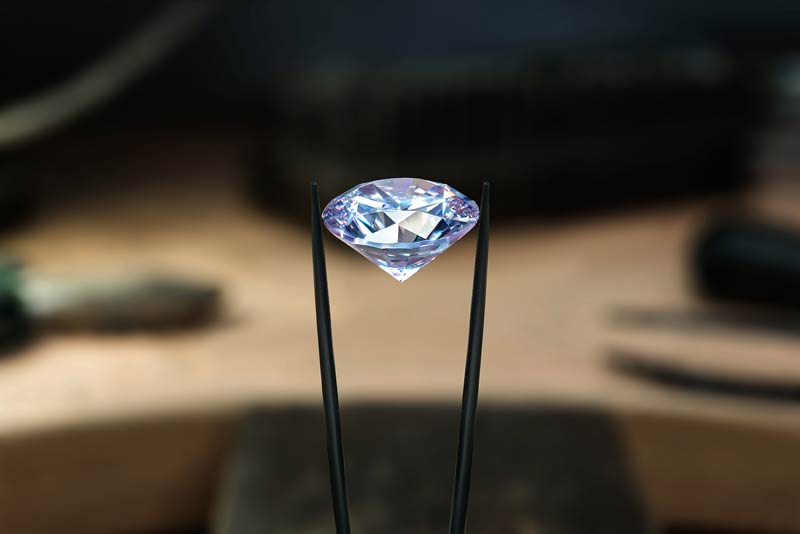 The diamond is the toughest and most durable material in the world. In fact, it's even harder than steel!
That's why diamonds are used for precision cuts in industrial saws and drills.
Carbon is often called the "king of the elements."
It's uniquely reliable and durable.
That's what the "Carbon Web" does with our current World Wide Web…
It makes it more durable, more stable, and safer against attacks from the outside.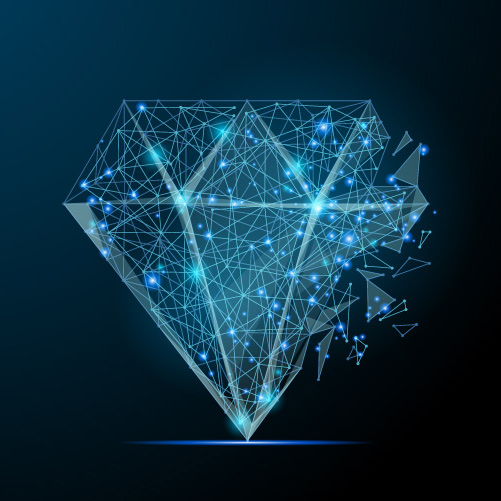 And it will move a large chunk of our economy into the digital sphere…
As I said, at least 80% of companies are either working on, or planning to work on implementing their business into the new "Carbon Web."
In fact…
If You Have Kids Or Grandkids
Looking For A New Career, Let Them Know…
The average salary for a "Carbon Web" specialist is $150,000 right now.
Demand has risen by 400% since late 2017 alone.
If a high school graduate asked me for the best job opportunity right now, I'd say "Carbon Web expert," hands down.
I wish one of my daughters would choose to get into this instead of going to college.
But in the end, kids will make their own life decisions, right?
Anyway, here's why these numbers are important…
Companies who spend $150,000 on one employee don't do that for fun. Or because they want to be part of a "trend."
They invest in "Carbon Web" experts and the new infrastructure now because they know they will make a LOT of money with it in the coming years.
In the financial sector alone, Bain Capital estimates it will save banks $15-$35 billion on financial transactions.
With the super-secure, highly durable "Carbon Web," you'll be able to send to and receive money from anywhere around the world – in seconds.
It might sound scary at first…
After all, a lot of things around you might change with this new technology. Just like they did when the Internet entered our lives 30 years ago.
And Just Like You Got Used To The Internet,
You Won't Want To Live Without The "Carbon Web"
After You Start Using It
It will make your life easier.
It will save you from annoying and time-consuming chores…
It will free up time to spend on your hobbies and with your loved ones.
It will save you money on things like wire transfers, notaries and legal issues.
And what's most exciting…
If you decide to invest into this new technology before experts see it reaching mass adoption this year…
You Could Pocket A Piece of What I Expect
to Be At Least an 8,473% Windfall
Still skeptical? I get it…
Most people are taken off guard when a new technology suddenly seems to take over their lives.
Matt Markiewicz, manager of a Carbon Web stock fund, says it best:
"Twenty years ago you couldn't really define the internet either. Now you think you can because you can't live without it. That's going to be the same with [this] technology."
Make no mistake…
The Carbon Web revolution is happening – whether you accept it or not.
This will change the world – whether you want it or not.
It's already minting millionaires. And it will make investors even more money – whether you understand the technology or not.
Here's Just A Glimpse Of What Experts Predict
This New Type Of Internet Could Change
In The Coming Years…
No more banks. With the new "Carbon Web," you'll be able to handle your money without a bank as a middleman. You'll be able to store money safely and send it to anyone you want, whenever you want – in just seconds.
No more Wall Street. Instead of paying your broker a trading fee and waiting for your trade to go through, you'll be able to buy a stock directly from the exchange – instantly. No more middleman.
No more accountants. You won't need to charge someone to do your taxes anymore… They will finally be as easy as "filling out a postcard"!
No more lawyers. And good riddance! Not that lawyers are bad people… But I think we can all agree that they charge us way too much money for things we should be able to do ourselves. And with the "Carbon Web," you won't need a lawyer to set up a contract anymore… or a will… or settle a dispute with a company…
No more realtors or escrows. Buying and selling a house will be as easy as negotiating the price and sending the money. Registering the land title and getting a mortgage will be as easy as sending a simple email.
Cheaper healthcare. With drug prices skyrocketing, this could finally offer some relief… And it offers a solution to the dangerous and widespread opioid epidemic… In fact, pharma giant Merck is already testing a "Carbon Web" based system that prevents prescription drugs from being traded illegally.
Safer neighborhoods. This new technology is bringing property rights back to America. With this technology, you can turn your car, home and computer into a digital fortress. Any attempt to steal it will result in prison for the thief.
Everything will be CHEAPER. Do you know why Amazon is winning the retail game in profits? They save a TON of money on storage and waste by only buying and shipping what people order. Logistics is a global $8.2 trillion market – and the "Carbon Web" will make it even more profitable. Expect these savings to show up in your wallet… and your brokerage account!
And this is just the beginning…
When the "Carbon Web" starts to take over industry after industry…
People will find new uses and build new products and services that are impossible without this new type of Internet right now.
It could push the 8,473% I already expect this industry to grow in the coming years to unseen heights.
There is no going back…
The Internet As We Know It Will Change Forever
It will turn into the "Carbon Web."
Early applications of this new technology already created more than 23,000 millionaires. And at least 3 billionaires.
Over the next few years, it will create more.
Will you be one of them?
If you ignore this message, you will possibly miss out on the biggest opportunity of your lifetime.
And the great thing is…
You Don't Even Need To Understand It
In Order To Cash Your Piece Of The 8,473% Pie!
That's why you're seeing this message.
I'm a software engineer and I've spent the last few years digging into this new technology.
It took me many, many hours of talking to experts, reading books and other sources.
It took even more hours trying to use this technology for myself.
The applications are still very complex, especially for a layperson, just like the internet was in the late 90s.
But as complicated and confusing as it was back then, the Internet did bring us today's most valuable companies…
Google wouldn't exist without it.
Facebook would still be a physical book on your shelf with pictures of your old classmates.
Twitter would still be the sound you hear outside your window in the morning.
Look…
I've shown you how big this trend will likely be.
It's a joke to even call this a "trend."
The "Carbon Web" is not just a trend…
It's A Technological REVOLUTION
It will change the way we live…
It will change the way we do business…
It will recreate more than half the U.S. economy alone…
It will change world trade…
It will even change your personal life – for the better…
And right now, only a small number of companies are leading this technological revolution.
When I looked through all the companies that are hiring tech businesses to implement the "Carbon Web" into their existing infrastructure…
The same few names kept popping up.
IBM was one of them. I already mentioned that Big Blue has transformed its once dominating computer chip business into a full-scale "Carbon Web factory."
They've already invested $200 million and at least 1,000 new employees to this project.
But they're not the only one…
There are other – much smaller – companies that have redesigned their business model to focus on the "Carbon Web…"
Companies that could make you a fortune if you get in RIGHT NOW.
I've Identified 5 Companies That Are Leading
The "Carbon Web" Revolution Right Now
Company #1 has been a big player on the "old" internet since the late 90s.
In fact, they're responsible for 15-30% of all web traffic. What does that mean? Back then, the internet was painfully slow, and prevented many people from wanting to use it.
This company developed a way to make a lot of websites faster and more accessible for regular visitors.
Even today, many large companies like AirBnB, Microsoft, and Verizon… as well as government agencies like the Department of State and the U.S. Army… are still working with this company to make websites work smoothly.
It's no surprise then that they want to play just as big a role in the new "Carbon Web"…
In fact, early testing has shown that it can process 1 million transactions per second and expects to be able to handle 10 million in the near future. This is a vast improvement compared to current applications of this technology.
And with its already existing network of customers on the old web, it will be able to implement these changes much faster than its competitors…
Company #2 is in the electronic payment processing industry.
In other words… It's their job to transfer money across the web.
And they're already doing that for over 3 BILLION users around the world.
In 2016, they launched a special project to transfer payment processing between banks on the "Carbon Web."
But in the long term, they plan to extend this to private transactions for its 3 billion customers.
That means…
Once this technology will replace traditional banks for electronic payments – which current projects show it will –
This company will make money on every single one of these transitions once their customers have switched over to the Carbon Web.
Company #3 is improving one of the most lucrative and "safe" industries with the new "Carbon Web."
It's one of Warren Buffett's favorites – the insurance industry.
With over $2 trillion in premiums paid in the U.S. every year, this industry is a juggernaut that will create a massive amount of wealth for "Carbon Web" players.
How?
Well, if you've ever tried to file a claim with an insurance agency, you'll understand why there's a lot of money to be made here…
Because the special security features of the new "Carbon Web" make insurance claims execute almost automatically.
No hassles or negotiations with insurance employees working limited hours.
And since this company already holds a whopping 25% of the current insurance market – or almost $500 billion in premiums…
It will instantly become a major player in this industry with its new "Carbon Web" technology.
There are two more companies that are about to make a fortune on the "Carbon Web" revolution as it rolls out over the next few years…
But as you noticed, I haven't given the names of any of these companies yet.
And there's an important reason for that…
You've probably received access to this message in an email or somewhere on the internet.
See, I'm working with a large financial publishing company called Agora Financial.
Agora Financial offers independent financial research to millions of people in America and more than 100 countries all over the world.
And they are helping me to get this message out to millions of people.
Which means…
You're Not The Only One
Who's Seeing This Right Now…
If I mentioned these companies by name here, demand for these stocks could skyrocket quickly.
So I can't give them to you now. But here's what I've done…
I put all the top companies I've research that are deeply involved in the "Carbon Web" revolution in a single prospectus.
There are five companies I've identified that stand to profit the most from this development.
They are all vetted by my team of analysts to make sure they are financially sound.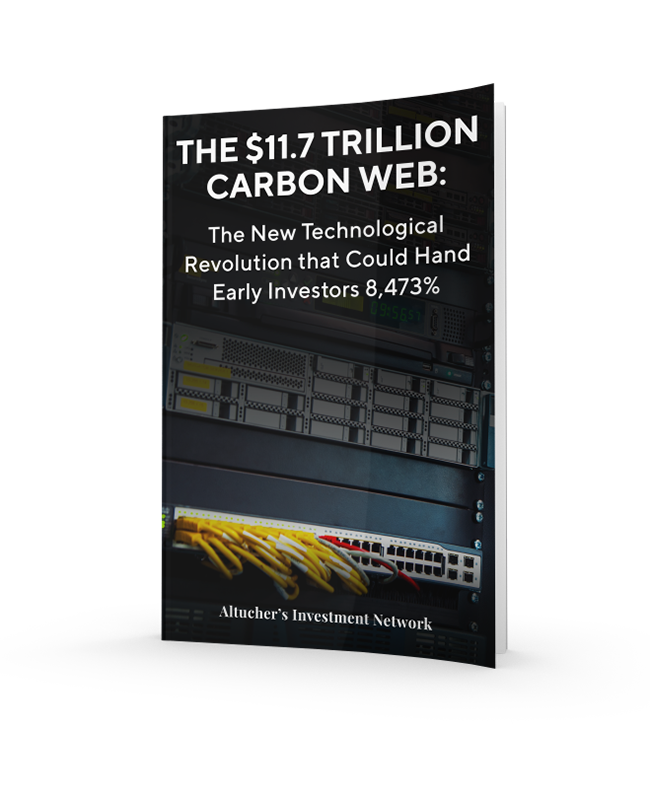 In other words, these are no "bubble birds" that fall apart should the market hit a temporary rough patch.
All of these companies have the potential and expertise to become leaders in this industry.
I predict they could one day be the new Amazons, Googles and Facebooks of the "Carbon Web" era.
The prospectus is called, "The $11.7 Trillion "Carbon Web" – The New Technological Revolution Expected to Grow At Least 8,473% Over the Next Few Years."
And I Am Willing To Send You
A Copy Of This Prospectus Right Now – For FREE
Yes, you read that correctly…
A copy of the prospectus that contains the names of the five companies leading the new technological revolution – is FREE for you today.
But of course, here's the catch…
This is highly sensitive investment research. And I can only offer this kind of research to readers of my brand-new newsletter, Altucher's Investment Network.
Every month, I send my readers a comprehensive research report on the best investment opportunities right now.
This could be a new technology that is changing the world, like the "Carbon Web…"
Or it could be a loophole in the market that regular investors can take advantage of…
But it could also be a way to earn an extra few hundred dollars every week with a "side hustle"…
My Goal With Altucher's Investment Network Is To Make Sure Regular Americans Have The Opportunity To Live A Life Free From Financial Worries
Yes, I made millions of dollars during the dotcom boom…
But I've also once been broke and homeless.
There was a time when I had only $143 in my bank account.
I was so desperate I wanted to kill myself.
So I know what it's like to go through a rough time.
And I want to use my years of experience as a software engineer and a hedge fund manager to help others get out of their "rough time."
Or just make some more money to spend on your family and yourself.
I want to help people find the kinds of opportunities to make money that only "connected" people know about.
That's why I will use the vast network of connections I've made on Wall Street and in Silicon Valley – and let them work for YOU.
That's my mission – to share the biggest opportunities to make money with regular people like you.
I'm not interested in making my rich friends even richer. They can do that on their own.
I'm much more interested in helping normal people like you live the best life they can…
And make enough money to provide for your family and retire comfortably.
You'll finally be able to turn the tables and enjoy access to investment opportunities that only the filthy rich have had so far.
And I feel so grateful to receive messages like these from my readers…
"Hi, James, all of your stock picks are exploding. MARK is up 100%, I can't believe it! I don't even know what to say except thank you for this amazing ride!"
– Suzanne C.
"I went from 42 cents to my name last year to a six-figure digital nomad within 18 months, due to James' many strategies."
– Beck P.
"One week ago, James Altucher recommended to his subscribers that they buy XNET stock. XNET's stock price has gone up by 22% in one week! Wizardry."
– Lance A.
"This man has changed my life, and the lives of thousands of people that follow his every word. He is the most valuable mentor I have."
– Brian Rashid, Forbes contributor