Dear Reader,
Have you ever wondered why it's become nearly impossible to earn enough money to create a decent life for yourself nowadays?
...Why it's become so much more difficult to save money... or even keep up with your bills than it was 20 or 30 years ago?
Do you lie awake at night worrying about the debt you've accumulated from student loans, mortgage and credit cards?
Are you afraid you'll never be happy with your job -- or that you'll grow old and never have the time or money to do the things you've always wanted?
Hi, James Altucher here.
And the truth about why you're not earning enough money to live comfortably is this:
THE RULES OF CREATING WEALTH IN AMERICA HAVE CHANGED!
America is changing in profound ways.
Quite simply, no longer can you rely on conventional institutions like college, "Corporate America," or even the government or Wall Street for your income security. That's why I want to send you a FREE copy of my latest and most important book to date...
...A book I believe could help you create the life of your dreams -- even if you're 85 years old and have exactly ZERO DOLLARS in your bank account.
It's called Reinvent Yourself, and it's all about my journey from poverty and depression to wealth and freedom...
Who Am I?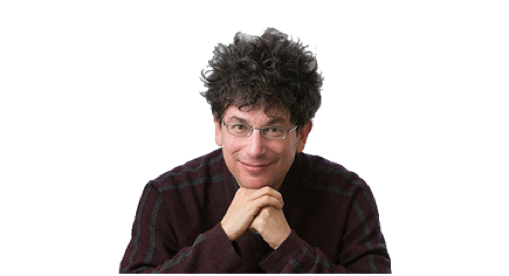 If you're new to my world, allow me to tell you a little bit about who I am...
I'm a three-time best-selling author and I've sold more than 1 million copies of my books online...
I've started more than 20 businesses. I'm a former Wall Street hedge fund manager and a venture capitalist...
Back in 1998 I sold my first web design business for $15 million -- two years later the "dot-com" bubble caused almost every web company in the country to go bankrupt...
In 2006, I invested $2,500 into a startup financial website called "Stockpickr.com," and just nine months later, I sold it to TheStreet.com for $10 million...
I made a 6,000% gain when I invested in a social media startup called "Buddy Media" with multibillionaires Peter Thiel and Mark Pincus...
I was one of the original investors in the popular ticket-buying company "Ticketfly" with one of Silicon Valley's most famous venture capital firms. I'm currently up 3,600%.
In Reinvent Yourself, I pull back the curtain and reveal all the little-known secrets that have allowed me and dozens of others to amass huge fortunes -- quickly -- in the "New America"...
...And I believe that once you learn these secrets, you will NEVER have to worry about running out of money again -- even if you have $0 in the bank.
I think this book is so important, in fact, I used my connections in the publishing industry to get you an amazing deal.
In short, I want to send you a copy FOR FREE.
More on that in a minute.
But first, let me tell you why this book is so incredibly valuable to you RIGHT NOW.
In Reinvent Yourself, you'll learn...
Reserve Now
What I like to call the "Forbes 500" secret for creating wealth from $0... Learn how one of my close associates, and one of the most famous entrepreneurs in America, used this little-known "secret of the ultra-wealthy" to go from dead broke to creating a $300 million net worth before the age of 50... (I personally used this secret to go from starving and sleeping on a futon in a dingy one-bedroom apartment to having multiple millions in the bank! Page 254)
The powerful, but little-known "rule of seven" that almost every millionaire in the world uses to create and maintain their fortune -- no matter what happens in the economy... This is the single most important rule I know to create a substantial "recession-proof" income in America today... and it's enabled me and dozens of my wealthy friends to passively generate thousands of dollars per month without ever having to worry about running out of money. (If I'd known this secret early on, I never would have lost my fortune in the first place! Page 18)
The five "Cubanisms" for thinking and investing like a billionaire... Most people don't know this about me, but I personally had a hand in helping Mark Cuban earn his first $1 billion in the late '90s... and through it all I learned five critically important things that have helped me make millions over the years too. On page 260 I'll tell you about the wealth-creation secrets I learned from America's most famous entrepreneur, and how you can use them to create your own fortune in record time! Click Below to Claim Your Copy, While Supplies Last!
How to use a method I call "Idea Subtraction" to create new sources of income from scratch! Richard Branson used this little "trick" to start Virgin Airlines with zero startup capital... and I personally used it when I was broke to create new streams of income that now generate thousands of dollars each and every month. You'll learn how you can use this same trick too to create new streams of income for yourself on page 338...
The "Magic Abundance Equation" I learned from multibillionaire Elon Musk... If you'd like to live an abundant life and never have to worry about money, there are two vitally important things that you need... Combined, I like to call them the "Abundance Equation," and on page 136 I explain what they are and how both myself and Elon have used them to create a fortune and a worry-free life.
The #1 financial trend that will make or break American citizens in the next decade... I sat on the board of a $1 billion company in the employment sector, and I saw firsthand a trend sweeping America that will have a devastating impact on workers and retirees everywhere. This trend will revolutionize the way many of our biggest industries operate... It will bankrupt many, but it could make anyone who is prepared extremely wealthy. You will be SHOCKED when you learn my advice and specific actions about how to prepare... and even make money. (Page 13) Click Below to Claim Your Copy, While Supplies Last!
The "Hub and Spoke" method for easily making $1 million+ a year online... Chances are, you've seen a lot of young Millennial "gurus" out there that claim to know how to make millions online... but the truth is, most of them are still living with their parents and trying to make a few extra bucks. Fortunately, with my lofty connections, it wasn't hard for me to track down one of the entrepreneurs that REALLY makes over $1 million per year online from the comfort of their home. On page 321, I'll tell you about the little-known "hub and spoke" method that almost anyone can use to create a massively successful online business!
Three vital lessons about success I learned from one of the highest-paid actors in the world... His dad was an alcoholic, his mom was mentally ill from syphilis and institutionalized when he was a child... and he dropped out of school at 13 and joined the circus to pay the bills. Despite his dark past, this actor went on to found his own movie studio, which became one of the biggest in Hollywood history. On page 362, I reveal three important lessons I've learned from this famous actor that have helped me make millions of dollars!
The "Bruce Lee" Technique for mastering the art of income generation... In the past 30 years of teaching people and being forced to come up with money under pressure, I have discovered what I believe is the best method for learning how to generate income extremely quickly. I call it the "Bruce Lee Technique," and it's what I fall back on every time I find myself in a tight situation and need to generate income FAST. On page 369 I talk about one time in particular when I was the CEO of a company that was about to miss payroll and how this technique saved my business... (This skill is vitally important for anyone that wants to generate extra income in America!) Click Below to Claim Your Copy, While Supplies Last!
The "1,000 People" Principle for generating income on the internet... The number 1,000 comes up again and again with online entrepreneurs... In fact, many of my friends say that learning the "rule of 1,000 people" is the easiest way to make your first $1 million online. I used it starting out and today I've sold over half a million copies of my books through the internet alone! (Page 322)
Picasso's "Million-Dollar Productivity Secret"...at the age of 82, Barbara Courtland broke a world record. She wrote 23 novels in a single year. Picasso created 50,000 pieces of art in his life... Hendrix made 70 albums... Mozart composed over 600 pieces... and Charles Schulz made 17,897 Charlie Brown strips before he died. All of these creative people had one thing in common... On page 71, I reveal their #1 productivity secret and how you can use it to get MORE done and make MORE money starting immediately. (If you've ever wanted to write a book or learn a new skill, this chapter is a MUST-read!)
The Larry Page secret to making $45 billion... According to Forbes, Google co-founder Larry Page has a net worth of $45 billion. I've learned a lot of lessons from Larry about success in business and how to accumulate wealth. On page 297, I'll share 23 of the best pieces of advice I got from Larry that could help you create a fortune and a worry-free life!
Why you should quit your job THIS YEAR! I like to think that you can separate every decision in life into two categories. One category leads to failure and the other leads to riches. On page 351 I'll tell you about my decision to walk out of my high-paying corporate job without saying a word... why it was one of the best decisions I ever made... and why you should quit your job too! And much, MUCH more...
Through my experience in the real world... along with the mentoring I've received from some of the most successful people on the planet, I have mastered the secret art of QUICK income generation in the new American economy...
...And I've distilled the best lessons I've learned into this valuable book.
Look, I know there are a million "experts" out there that are claiming they can teach you how to earn income in America.
But how many of these self-proclaimed "gurus" have created millions of dollars on a shoestring budget as many times as I have?
How many of them can call up Steve Cohen, the richest hedge fund manager in the world, and offer him advice about how to handle his money? And how many of them can say that they personally helped Mark Cuban make his first $1 billion? This is what makes my new book, Reinvent Yourself, a priceless resource for anyone that wants to create income on THEIR terms... Look... America is changing in ways most people cannot fathom...
College degrees are becoming useless "debt sentences"...
Corporate America is a corpse (who wants to spend 20 years climbing the corporate ladder?)...
And forget about the government or Wall Street...
They're not going to help you either...
My point is, it's going to be up to YOU to generate the income you need to live the life you want in the new American economy.
And it's far easier to do than you ever thought possible!
I'll show you how...
In fact, I'd say that right now is the greatest opportunity you will ever have to accumulate a fortune and create the life that you want.
Whether you want to supplement your income with a little extra cash... or if you're looking for a way to retire early (like me!)...
Reinvent Yourself will show you exactly how.
And here's the best part...
I have a hardcover copy of Reinvent Yourself reserved in your name, and I'm prepared to send it to your doorstep today, free.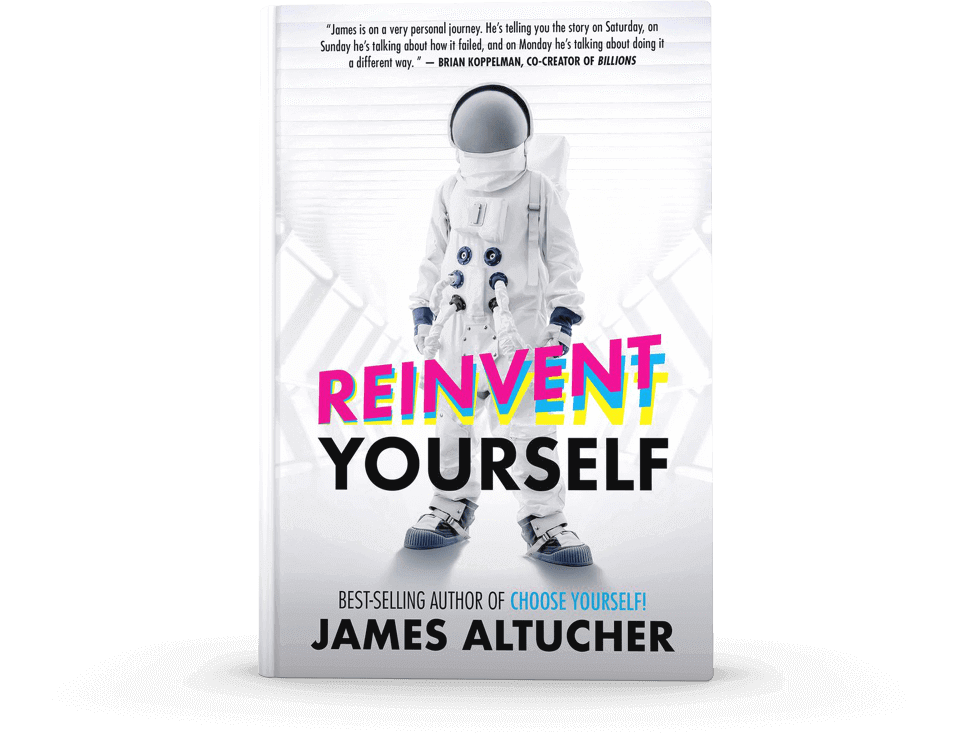 Click Below to Claim Your Copy!
Reserve Now

"Highly Recommended for Self-Improvement and Earnings..."
I have read several of Mr. Altucher's articles and books before. This is the most complete one I've read to date. If you are serious about improving your chances for growth and earnings, it's a must-read.
- John G.

"Common Sense Approach..."
Another great book by James Altucher. James distills ideas he's learned from his experiences and meeting tons of interesting people. I would recommend this book to anyone who wants a roadmap of the way the world is headed.
- Henry R.

"Very Intelligent and Insightful..."
James Altucher's advice has made me money, period... His books are fast reads packed with tangible info.
- Jeff M.

"If I Hadn't Found James' Writings, My Life Might Look Very Different..."
...It is from James that I came to understand how to turn ideas into money. He showed me how to do this. I think that if I hadn't found his writings, my life might look very different. I struggled with confidence in the creative fields, and now, it appears that I'm doing exactly what comes natural to me: writing and making art...
- Pam B.

Forbes Article: "James Altucher: The Most Interesting Man in the World"
This man has changed my life, and the lives of thousands of people that follow his every word. He is the most valuable mentor I have...
- Brian Rashid , Forbes Contributor

"James Altucher Changed My Life..."
James Altucher changed my life with his blog and books. Give him a try, I'm sure it'll do no less for you.
- Stephen E. Dinehart IV, Award-Winning Game Maker, Int'l Speaker, Attraction Designer @NBCUniversal, Nintendo Dev., Filmmaker & Transmedia Pioneer
You Will NOT Find a Hardcover Copy of This Book Anywhere Else in the World!
The truth is, you could close out of this page and buy a paperback copy of Reinvent Yourself on Amazon right now for about $10...
But I've set aside a small number of limited-edition hardcover copies of my book as part of this special deal.
In other words -- this is the only place in the world where you can claim a hardcover copy of Reinvent Yourself absolutely free.
The Experts Agree
Reinvent Yourself is essential reading for anyone
who wants to create extra in the new American economy.
"James shows readers how they can succeed despite their flaws, not because of a lack of flaws. This is hugely refreshing in a world of rah-rah positive thinking gurus who are all forced smiles and high-fives."
-- Tim Ferriss, Exerpt From The New York Times
"What I like about James and his book is you can tell he came from a roller coaster. He chose his own path to success without knowing the outcome. And what happens to him later -- well..."
-- Dick Costolo, Former CEO of Twitter
"James is on a very personal journey. He's telling you the story on Saturday, on Sunday he's talking about how it failed, and on Monday he's talking about doing it a different way."
-- Brian Koppelman, Co-Creator of Billions
But that's not all...
I've done everything in my power to make this offer a "no-brainer" for anyone that would like to generate extra income in America.
In fact, I'd like to include FOUR extremely valuable bonuses for the first 412 people that respond to this offer today...
These bonuses are the perfect "addendums" to Reinvent Yourself, and they are practically certain to increase your chances of success dramatically.
For example...
Special Bonus #1:
How to Make $2,000 in a Weekend!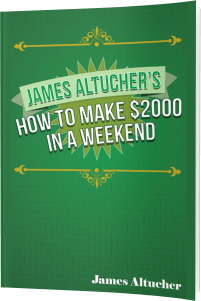 Need income in a pinch?
In this valuable 150-page digital guidebook, I reveal the top 10 easiest PROVEN ways to potentially generate $2,000 or MORE in a single weekend.
These are the income-generating secrets that I discovered from the CEO of a $500 million company that can dish out thousands of dollars to regular Americans like you and me, every single day.
The best part is many of these methods require skills that you already have or that you can learn in a matter of weeks from the comfort of your home.
ANYONE with an internet connection and a few hours' spare time can do this.
I'm not talking about doing anything hard or ridiculous either. Some of the methods I recommend require almost no money or special skills to get started.
In fact, one of the methods involves nothing more than simply reading a script into a microphone… and you can make thousands of dollars doing it!
Sadly, most Americans have no clue these opportunities even exist.
But I reveal the 10 most profitable — as well as my four favorites — with instructions on how to get started on each one in this report.
I normally sell this guidebook as a standalone product for $50, but I'd like to send it to you for FREE today, through this special offer…
(Click below to claim your copy of
How to Make $2,000 in a Weekend and my newest book now!)
Reserve Now
And that's only the beginning...
Special Bonus #2:
The 5 Best Retirement Jobs in America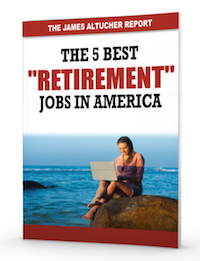 If you'd like to earn money without ever having a conventional job, this second bonus report is perfect for you!
In it, I talk about five lucrative "work-for-yourself" part-time gigs that almost anyone can do to generate extra income on a monthly or weekly basis.
This is NOT a guide to finding a corporate job that will have you chained to a desk for hours every day... That goes against everything I stand for.
These "jobs" enable you to spend as much or as little time as you'd like working, and once you've put in a few hours to generate your desired income...
...You'll have the rest of the week to do what you like... Whether that's traveling, spending time with the family or just taking it easy.
And the best part? No bosses, no payroll and no headaches.
Plus, unlike many cubicle jobs in America, these five "jobs" aren't going anywhere...
Every opportunity that I recommend in this report is fun, easy to get started, and has the potential to generate thousands of dollars each and every month.
In fact, one of the "jobs" I recommend could easily earn you over a thousand dollars a month, and all you need is an internet connection, a phone and a few hours' spare time a week!
There are already thousands of Americans out there making good money doing these things, and you've probably never even heard of them!
(Click below to claim your copy of
The 5 Best Retirement Jobs in America and my newest book now!)
Reserve Now
But that's not all...
Special Bonus #3:
The Choose Yourself Guide to Wealth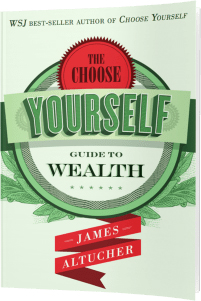 If you accept this special offer today, you'll also receive my book The Choose Yourself Guide to Wealth.
The list price of this hardcover is currently $24.95 on Amazon, but I'd like to give you an electronic copy, absolutely FREE as a part of this offer...
This 279-page book is jam-packed with some of my best financial insights and income secrets that I personally use to survive and thrive in the new American economy.
In short, The Choose Yourself Guide to Wealth includes vitally important information about creating and maintaining wealth in the "new America" that you won't find anywhere else.
For example...
How to make $40,000 a month on Amazon! You'll be amazed when you learn how one of my friends is making more money than 95% of CEOs in the corporate world... on Amazon. WITHOUT owning a company, sourcing products or hiring employees... (If you can write a few paragraphs a day, you can do this too! Page 181)
How to eliminate your debt in 30 seconds or less... On page 218, I talk about a secret method you can use to get rid of your mortgage, credit cards and student loan debt. It has nothing to do with declaring bankruptcy, moving or hiding your assets... and it's 100% legal. But I have to warn you... this strategy is NOT for everyone.
Learn the unusual ways I personally secure and grow my money! After earning a fortune and losing it numerous times, I've developed what some might call "odd" habits that enable me to keep and grow my money... (I promise that you've never heard a wealthy businessman give financial insights like this! Page 234)
How to use a tool I like to call the "Idea Matrix" to create your own income... and never rely on corporate America or the government again! I strongly believe that ideas are closely linked to wealth, and on page 19, I explain why learning my "Idea Matrix" could be the easiest, most surefire way to never have to worry about money again!
And much, MUCH more...

"Since Buying Your Book, I've Quit My Job..."
I bought your book and was deeply influenced by your insights at a point in my life where I needed change. Since then I have quit my job. Started a company and we are actually raising money. So just saying thanks, what you're doing matters."
- Dave V.

"Practical, Off-the-Beaten-Path Ideas for Wealth Creation... That Actually Make Sense"
This is a great book which covers many angles of personal finance and wealth creation that are not taught in most other books. James comes across as a genuine everyman, as he has suffered through his own ups and downs. Especially enjoyed his extensive exploration into the power of coming up with ideas every day, and making it a regular practice.
-Thomas P.

"Highly Insightful and Powerful Advice on Building Your Own Wealth Streams..."
This book needs to be read thoroughly and seriously by anyone who wants to escape the rat race that has permeated our capitalist society and its cubicle culture. The author gives very profound advice on how to come up with original ideas, so that you can use them to become wealthy one day (instead of depending on someone else's paycheck for the rest of your life)... If you want to live a less stressful life because of money, then I highly recommend you read this book.
- Phil I.
The Choose Yourself Guide to Wealth is a perfect supplement to the material you'll read in Reinvent Yourself, and with it, your chances of success could skyrocket.
(Click below to claim your copy of
The Choose Yourself Guide to Wealth and my newest book now!)
Reserve Now
There's more...
If you're one of the first to accept this special offer, you'll also receive...
Special Bonus #4:
The Uber Equation: How to Survive and Thrive in the Innovation Economy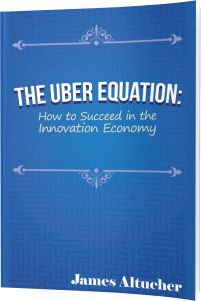 The fourth bonus you'll receive is all about how to succeed in what I like to call the "Innovation Economy."
In it, I'll tell you -- step by step -- how I created a business that went from ZERO to six figures a month in under half a year... without hiring a single employee!
You'll also learn my biggest key to success and the #1 mistake that many people make when they're trying to create new sources of income and bring their ideas to life...
Plus, I'll tell you how to cash in on the seven biggest trends and industries that I see developing over the next few years (almost nobody is talking about these)... and I'll cover over a dozen different ways to monetize them!
In this incredibly valuable report, I'll also teach you the exact process I go through to come up with and implement new streams of income using my "PTO" method.
You'll also learn what types of companies I personally invest in, and which ones I stay far, far away from...
...And I'll even hand you a few "never-before-seen" ideas that each have the potential to make millions of dollars for anyone that takes the time to implement them.
(Click below to claim your copy of The Uber Equation: How to Survive and Thrive in the Innovation Economy and my newest book now!)
Reserve Now
Remember, you can ONLY get these bonuses and your limited-edition hardcover copy of Reinvent Yourself by responding to this offer while supplies last.
And that's STILL not all.
You'll need a guide through all the mess. Someone to help you protect your wealth. Someone to alert you of new income opportunities. And someone to show you how to shield and grow your wealth in the new American economy...
That's why I'd like to include a free 30­-day trial subscription to my monthly income and opportunity briefing, called The Altucher Report.
On the first weekday of every month, I will personally update you on emerging new ways to earn more income. It could be a new business idea... a potential deal with someone in my vast network of contacts... or even a stock idea...
My mission is simple: to help everyday Americans end their reliance on the conventional institutions... and learn how to create your own streams of income so you can live your life exactly how you want -- without EVER having to worry about money.
Frankly, what I teach in this report is the only proven way that I know to survive and prosper in America these days.
In the past, I've only provided this kind of research to my high-net-worth business associates and members of the Wall Street elite.
Now, it's available to you.
The Altucher Report is the perfect way to stay up to date on new income opportunities that arise in America, and potentially make a fortune for yourself and your family.

"There Is Truly Some Great Information Offered Here..."
...The thing is, we see so many products that promise to be an asset to those who have that true entrepreneurial spirit. But, so many fail to live up to expectations. However, this certainly does not fall into that camp because there is truly some great information offered here.
- Stan Stevenson, StreetInsider.com

"You Owe It to Yourself to Provide Yourself With the Positive Vibes and Influence You'll Get From Reading the Words Contained in This Monthly Report..."
If you're a "doer" rather than a "don'ter," a "go-getter" or a "wanna-haver," then you owe it to yourself to provide yourself with the positive vibes and influence you'll get from reading the words contained within this monthly report. And it doesn't matter what age you are, whether you're male or female, rich or poor, working, retired or unemployed -- all that's required to take advantage of the info provided is a positive attitude -- it's as simple as that!
- ProfitMoreDaily.com

"He Provides a TON of Value..."
I've been reading James' books, his newsletter (The Altucher Report), and listening to his podcasts for years. The reason why I've spent so much time listening to James is that he provides a TON of value...
- Bruce H.
To sum up: For just a nonrefundable $4.95 shipping & processing fee today, you'll receive:
A hardback copy of my latest and most important book to date, Reinvent Yourself, Limited Edition
Bonus Gift #1: How to Make $2,000 in a Weekend
Bonus Gift #2: The 5 Best Retirement Jobs in America
Bonus Gift #3: Digital copy of my book The Choose Yourself Guide to Wealth
Bonus Gift #4: The Uber Equation: How to Survive and Thrive in the Innovation Economy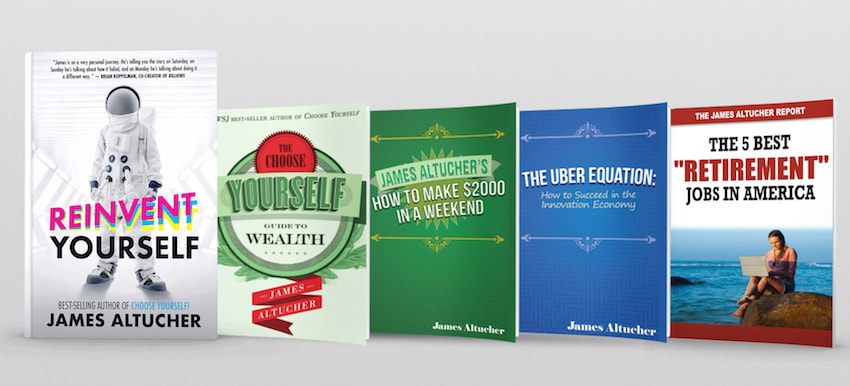 Why so cheap?
Well, I figure this package -- what essentially amounts to a free sample of some of my most important work -- is the perfect way to introduce you to my group and the research I do.
If you like my work as much as I think you will, then my sincerest hope is that you'll want to do business with me again in the future.
But of course, that will be totally up to you to decide. In short, I'm confident my work will speak for itself.
That's why I am thrilled to send you this valuable research package for the ultra-low price of $4.95.
If you're unhappy for any reason during the first 30 days, simply call my friendly Baltimore-based customer service staff and cancel. You'll never be charged another cent.
If you like what you see, simply do nothing. We'll bill your card for $99 for a one-year subscription to The Altucher Report after your 30-day free trial is over.
I've printed a limited number of hardcover editions of Reinvent Yourself.
I've reserved one in your name, but I can only hold it for you while supplies last. So if you're interested, I only ask that you please act soon.
REMEMBER: These limited-edition hardcovers are not available on Amazon.com or at any other bookstore. You can only get them right here.
Click the "Reserve Now" button below to get started today.
This will take you to a secure order form page where you can review the details of your order and provide the details of where you'd like your books and research sent.
The bonus reports will be sent to you electronically, within minutes of placing your order.
A hardcover copy of Reinvent Yourself (Limited Edition) will arrive shortly after.
Reserve Now
P.S. I almost forgot. There's one more important gift I'd like to include as part of this deal. I've sold over a million copies of my different books online -- as far as I know, I've become the most successful self-published author in history -- and I firmly believe that everyone has the content inside of them to write a book. In my report The Ultimate Guide to Self-Publishing, I'll give you a step-by-step blueprint to write your own best-selling book. I'll tell you the exact self-publishing process I go through... including how to choose a title, how to design a cover, how to digitally publish it for Kindle and MUCH more. Everything you need to know to turn a rough idea into a masterpiece is in this special report, The Ultimate Guide to Self-Publishing.
Reserve Now