The amazing part is when Trevor stumbled on my income idea, he had…
No clients…
No former experience…
And only a few hours of spare time to make it work.
As Trevor told us, "When I read James' income idea, I had never done anything like this before, but it just made sense. I knew anyone willing to sit down and try it could do this and be successful."
But Trevor didn't just keep the secret to himself — he shared it with a few people…
Like his mother Denalee.
---
"I Was Inspired by My Son
and Wanted to Try It for Myself"
---
When Denalee came to Trevor, money was tight. Although her bills were paid, going paycheck to paycheck was wearing on her.
When she saw the success her son was having with his side hustle, she was inspired and made up her mind to try it for herself.
Using nothing more than her spare time, it took Denalee just 10 days to hit what she calls her "freedom number," the amount of daily income she needed to never work another job or worry about money again.
It's possible you could hit yours by the end of the month, even the end of the week. Just like Trevor and Denalee.
Now, if you're skeptical of success stories like these, you're not alone.
How could starting an income stream from scratch be so simple, and so profitable?
That's why I asked Denalee to share her story on video for you today in the hopes it would inspire you to get started with a side hustle of your own.
Just click the play button to see how she did it.
The passive income stories are endless.
Like Amy…
---
"For the First Time,
I Could Make Money in My Sleep!"
---
Amy Morin always loved the idea of earning a side income outside her normal job as a social worker. That's when she and her husband, a plumber, stumbled on the side hustle listed on page 229 that pays them a consistent monthly income. Since then, nothing has been the same, and Amy couldn't be happier. Rather than have me tell you about it, just listen to Amy describe how it's changed her life in this interview she did with me.
These are folks just like you…
People eager to build up a second or third source of income…
But who don't know how (or where) to start.
That's when things clicked for me.
If just one of my ideas could change the lives of so many people, what would happen if I created an entire book of my very best side hustles?
Even better, what would happen if I gave it away free?
So I pulled my team together and began work on the first ever book of its kind…
Not just a book of theories…
Not a book of what worked in the past…
A book of what's working now…
A bible of blueprints.
A complete step-by-step guide to the most secretive…
Most hushed-up, simple-to-start income opportunities on the planet today…
And I want to send you a free copy with a subscription to my lifestyle newsletter, The Altucher Report.
Because I want to prove to you that anyone can do this…
Anyone can start profitable side incomes with relatively little time or investment to start.
So pay careful attention.
Because at the end of this presentation, I'll even give you an 11-word sentence every American in need of some extra cash can use to launch a very profitable stream of passive income right now.
It's just one of the many blueprints I have waiting for you inside my new book.
For example, in just days you could discover…
How to make more than 95% of CEOs in America. Big publishing companies HATE when you use this, because it robs them of their profits. This method is ridiculously simple, but practically NOBODY knows about it. And the best part is, if you can write a few paragraphs a day, you could easily use this strategy to start raking in hundreds or thousands of dollars in passive income within a matter of weeks. I'll tell you everything you need to know to get started on page 5.
The incredible "recession proof" side income for organized people. If you have a knack for keeping track of things, the world needs you! After a few good reviews, you can write your own ticket, charging as much as $200 an hour or more in some cases. Best of all, you can work from your couch, your home office or the back seat of a car and pick the number of hours you'd like to invest. Page 164.
What more than 200 ordinary people are doing to make money online. Most people fail to make money online, because they don't have a proven system that works for them. The good news is, the blueprint on page 229 could have helped more than 200 people make money, including newbies. Don't miss out on what they've discovered.
10 separate, fully legal ways to make two grand in the next 48 hours. When you need cash, you need cash, and this is the way to get it. Want to buy a house? Need a few dollars to help your son or daughter get by this month? Then this chapter on quick cash opportunities is for you. Are all of them easy? Not on your life, but anyone with a fraction of discipline and special talents can use them to earn a quick hit of cash. Page 197.
The $20,000-a-month side hustle for awkward folks. Get tongue tied? Hate small talk with strangers? If you have 10 hours a month to spare, this "summary side gig" could be the perfect opportunity to grow a passive seven-figure income. Don't believe me? Wait until you see the guy who figured it out. He has no qualifications in his industry, but thanks to a little-known business opportunity, he earns more per hour than 99% of the American population. Page 207.
The four hottest online businesses you can practically start from scratch. Don't have a big idea? Don't have any customers or business know-how? You don't need to. Because page 15 of The Side Hustle Bible gives you four of the simplest online businesses you can start tonight.
The opportunities are only limited by your imagination…
But you have to know where and how to begin.
And that's why The Side Hustle Bible is so revolutionary.
Whether you want to get paid for your hobbies…

Or want to set up a passive income stream you can draw on for life…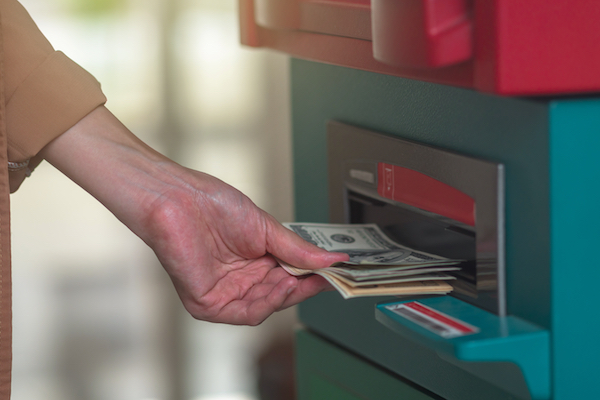 Every secret in this book is proven (you'll see a lot of them in the next five minutes)…
Lucrative (I'm talking multiple streams of six- and seven-figure incomes)…
And repeatable (if you can follow simple directions, you can start earning money immediately).
By this time next week, you could have already received your first paycheck…
Sold your first product at your first online store…
Wrote the first chapter of your future bestselling book…
And be well on your way to living life on your terms…
In fact, if you have ever wanted to do something more with your life, this book could change your life…
Your Five-Minute Guide to Retirement
Hi, I'm James Altucher.
Before I started 20 businesses…
Turned $143 into a multimillion-dollar fortune investing in hot new companies…
Became a bestselling author…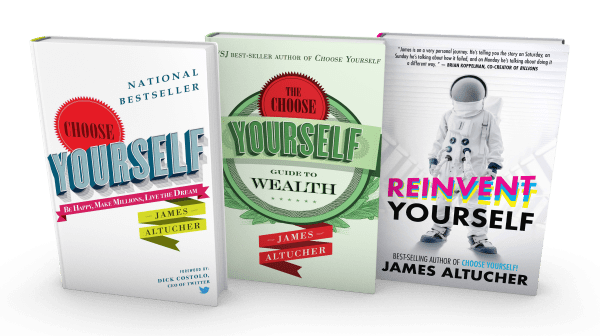 Created a podcast with more than 20 million downloads interviewing the world's richest, most successful entrepreneurs…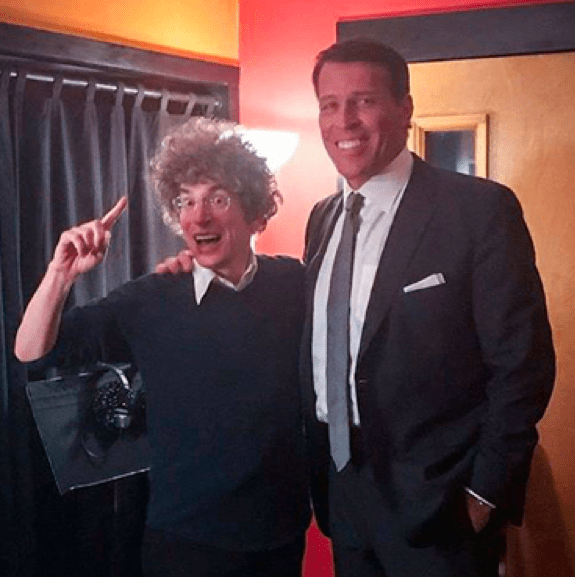 And wrote a blog read by more than 600,000 people each month…
"The Best Business Blogger
of Our Generation"
-Timothy Sykes
My only source of income was ripped out from under me…
Twice.
I can tell you…
There is no worse feeling than not being able to provide for your loved ones.
Since that time, I've made the art of reinventing yourself my life's mission.
And have turned a shoestring budget into multimillions more times than I can count.
And today for the first time ever, I'm going to show you 177 ways you can do it too.
Starting in just a few hours this weekend.
Because for many Americans, the idea of retirement doesn't even exist anymore.
And it's not your fault.
The median real salary today, adjusted for inflation, is 10% lower than it was 11 years ago.
And it's not going to get any better.
The point is, if you rely on a salary…
Don't have multiple sources of income…
And don't have money coming in while you sleep…
You'll never have true financial freedom.
---
"If You Don't Find a Way to Make Money While You Sleep, You Will Work Until You Die."
- Warren Buffett
---
And that's why I'm writing you today.
If you want to start a business or a new career…
If you want to make more money without having to take another job to do it…
If you want a better retirement, but don't have the income to make it happen…
And even if you just want a job that can pay far more than the average employee…
Then I urge you to read this book.
Because if you're serious about retiring rich…
Have even an ounce of discipline…
And aren't afraid to go against the trend…
This book will change your life.
That's why I've set aside a free copy of The Side Hustle Bible for you as part of this special newsletter offer.
It's all part of a special marketing project to reach like-minded Americans looking to make some extra income.
So I've set aside a limited number of copies today.
And when they are gone… they are gone.
Because while I plan to order more books, it could be months before we make a decision to do another special offer just like this.
That's why my team is standing by to send you a free copy with a risk-free subscription to my newsletter. Just tell us where to send it, and within the next few minutes we'll tell you how this 372-page volume (and its little-known income secrets) can be yours.
Just days from now you could be paid for doing work that makes you feel inspired and alive…
Joining a whole new group of people who choose when to work and how much they should get paid for doing it.
For example, with this book you can…
Pay your mortgage for life using one of the most secret new income opportunities in America. It's totally passive after the initial upfront work, but the money can roll in forever. Doing just this one thing right allowed one man to make enough money to cover his rent in one of the most expensive parts of San Francisco. You have to see this for yourself. Page 14.
Retire in 100 days or less using the fastest growing business opportunities in the world. Sick of your job or current occupation? Want a new life but don't have the income to start over? While it's still relatively unknown, this lucrative side hustle could be your way out. You can earn your first passive income check in as little as two days. Page 13.
Upgrade your income to executive levels using a little-known "social review" trick. Do you like to read? Do you hate shoddy products? Then you could earn as much as $400,000 or more each year thanks to a very unique type of income first inspired by Amazon reviews. Believe me, it's hard to stomach just how much money other people are making from the comfort of their home while the rest of America still gets up early to drive to an office. See it for yourself on Page 144.
Supplement your income by $3,500 or more… using just your voice and an at-home recording device. It has to do with a one-of-a-kind website listing thousands of side jobs… swapping a few minutes of your time for a guaranteed paycheck. Have the skills that qualify? Check out page 13 for the full details.
PLUS…
How to earn $23,500 in 45 minutes. Dreaming of living abroad or retiring to the beach, but don't have the funds to make it happen? Turns out, it could be simpler than you ever imagined. Just ask Dorie. What started out as a simple idea has turned into a seven-figure income empire. Page 221.
How to become good at anything in 30 days. Invented by a Ph.D. student who was out of work and out of luck, this single secret flooded her bank account with more money than she ever expected, bringing her checks of $3,000, $8,000 and even $20,000 a month immediately after implementing it. Page 141
The sneaky little "money miracle" trick my friend Hal Elrod used to go from earning $2,500 to $25,000 per speaking gig overnight… completely by accident. Even if you're not a speaker, you can use this trick to get paid more for ANYTHING you do. You'll be surprised at how this not only makes you more money for the same number of hours, but also makes more people want to hire you! Page 272
And 107 more closely guarded side hustles folks use to live life on their terms.
Of course, everyone's situation is different, and not every income secret and trick will work for everyone. Some do require an initial investment or special talents to get started. But with so many opportunities packed into this book, there's something for everyone.
Sadly, not one in 100,000 Americans know all of the secrets in this book.
Because most financial gurus will tell you to get a steady job and put your money in a 401(k). Then, 40 years later — if you play your cards right — you can finally retire comfortably.
But I'm here to tell you that there's a better, much faster way to create wealth in America today…
And you can get started in the next five minutes…
How to Turn Your Spare Time
Into $450,000 a Month
Have you ever felt like you were meant to do something bigger with your life?
Greg Mercer did.
But his current job (and life) didn't allow him the freedom to do what he wanted.
He was a newlywed husband who'd given up his dream life for the so-called safety of a corporate office.
And things weren't going too well.
His wife, Elizabeth, wondered what happened to the fun-loving guy she met in college. If Greg wasn't out at work, she just saw the back of his head as he worked on his home computer.
That's when Greg decided it was time to live life on his own terms.
He and his wife started a small side hustle for a little extra income.
Within a year, it was paying enough to replace his full-time income.
Now that little extra cash has turned into upwards of $450,000 per MONTH.
As you can imagine, their life is now beyond what they ever dreamed of.
So how are they spending their wealth?
Exactly how they want to.
Greg even started a new business teaching others how to copy his success and donates all proceeds to Doctors Without Borders. He's raised $50,000 so far, and the number keeps growing.
Amazing isn't it? How would you like to be the hero of your favorite charity?
If money is the thing standing between you and the life you always dreamed of living, I suggest you turn to page 144 of The Side Hustle Bible and see exactly what Greg is doing and how it could work for you.
And there's more too…
Make an Award-Winning Movie
(With No Money, No Ideas
and No Camera…)
Some people will make any excuse not to go after their dreams.
But no one had more good reasons to quit than Craig Lucas.
Eight months before he won an award for the London Film Festival, Craig Lucas wanted to give up for good. He'd applied for every single funding scheme available, and nobody cared. Not a single person would give him money. He was either too young, too old, too far away, too close, didn't have the right smell…
He felt like a total loser. All he wanted was a big, fat man in a suit with a bear and bottomless pockets to put his arm around his shoulder and tell Craig he was fantastic — or even just good enough. But not a single person out there would give him a shot.
That's when the cogs started to stir. Craig made up his mind to make his movie no matter what it took.
"Not only will I make a film with no camera, no actors, no scripts, no props and no money — I'll do it in seven days!"
How did it turn out?
Craig finished his film within an hour of his deadline. Within 24 hours, people were talking about it on Reddit. A few days later, Vimeo decided to feature it, and soon blogs around the world started to repost it. It got 40,000 views within a couple weeks.
What secret did Craig use to create an award-winning film and reinvent his entire life in just seven days?
You can find out for yourself on page 74 of my new book.
You'll never believe how simple (and fulfilling) it was for Craig.
Of course, not everyone wants to be a big-time filmmaker or a popular artist.
That's why The Side Hustle Bible contains a side gig blueprint for every type of occupation and industry you can imagine…
177 Ways You Can Change Your Life
Starting Today
Turn to page 42, for example, and you'll find two places you can find and buy a passive income business. On page 44 you'll read about the biggest myth in entrepreneurship… how I start a new income stream every year… and why I kept my full-time job when one of those income streams was worth $10 million.
On page 46 I'll reveal my angel investing formula that turned $2,500 into $10 million, a return of 124,900% gains.
And how you can use it to replicate my success.
On page 353 you'll hear about a guy who made $50,000 in seven days using drones… how to amass a cult following on Facebook, Instagram or YouTube… and how you can earn a daily income of $1,000 or more from advertising fees.
When push comes to shove, if you are looking for a way to make money in the changing economy, you'll find a solution in this book.
For example, you'll see what to do if you have an idea for a new app… how to turn a hobby or a creative passion into money… how to make $40,000 a month as a work-from-home writer, selling your books for only a few dollars apiece… how to start a seven-figure business without an office, without money in your pocket and without giving up your 9-to-5… and much, much more.
With My Book in Hand,
You'll Have the Tools to Create All the Income You'll Ever Need
I know it sounds far-fetched, but I truly believe that if you learn and apply this material, you'll never have to worry about money again.
Because thanks to rapid advances in technology, making a steady stream of income has never been more doable (or more fun, for that matter).
"Honestly, I think it's much easier than a lot of people think. Especially with [James' model]," says Will Mitchell, a high school dropout who has never had a job. Instead, he's built a series of side hustles into a lucrative seven-figure fortune. "If there's something I've learned, it's that if someone else has had success, it will be even easier for you copy their success."
And that's why The Side Hustle Bible is so important.
There's no blindly reinventing the wheel…
No blindly going down the rabbit hole, risking your time and savings on a business or idea that's never been proven.
---
"When Exactly Were You Brainwashed Into Thinking the Best Way to Earn a Living Is to Have a Job?"
- Seth Godin
---
With my book in hand, you'll have all the tools you need to be able to set up new income streams or dramatically increase the amount of cash coming in from the ones you have.
Once your book arrives by mail, go to the pages below to discover how to:
Double your "salary" overnight. Time and time again, Americans are proving yes, you really can start a new side income overnight. Want the full proof? Turn to page 22. One 30-year-old woman who used this strategy has made six figures a year every year since.
Earn an extra $500 to $2,000 in a weekend doing "rush gigs." In today's fast-paced society, there's never enough hands to get the work done quick enough. That's why companies will pay a huge premium for you to eyeball their work in the wee hours of the night. Page 198.
Command twice the money for half the work. Charging $35 an hour in your chosen profession? Want to double, triple or quadruple that (and have your clients thank you for doing it)? The secret is not in what you know… it's in a tiny little phrase you tell prospective clients. Page 270.
PLUS…
The Steve Jobs secret to being good at anything. What most people don't know is Jobs was NOT good at everything and had a string of unpublicized failures before becoming a success. But this simple rule of his makes winning at anything you try a whole lot easier. Page 149.
A secret 300% "income market." Don't be surprised if you've never heard about it. This little-known market beats the pants off bonds, gold and real estate returns… earning three times as much as any of them. What is it and how can you get a piece of the action? Page 46.
The $1,000-a-day income stream I call "manna from heaven" because the income is so easy to get, it seems sent from above. Thanks to the most popular company in America, you can be up and running in just 24 hours. But do not attempt this until you see the "easy start" secret for yourself. Page 8.
And much, much more.
Of course, as with any new opportunity — success is never guaranteed, and individual results may vary. But if the potential for a few extra thousand dollars a month would make you happy, grab your copy of The Side Hustle Bible today while copies are still available.
Because the truth is…
It Has Never Been Easier to Get Rich
Than It Is Right Now
If you haven't heard of the secrets contained in The Side Hustle Bible, you're not to blame.
Five years ago, most of these secrets (and the technology that makes them possible) didn't even exist. They were simply too new or only shared among close circles. That's why you can't find information on these secrets on YouTube… and why no book like this has ever been attempted before.
But in the next few minutes, you could have access to each and every one.
You see, I've personally interviewed more than 400 of the world's most successful people… and count many as my close friends.
I've asked each of them questions like how they made their money… how they would do it again if they had to start over… and what the best opportunities are for people like you and me if we are just starting out.
What they've revealed shocked me.
I think it will shock you too.
As you'll soon see, it would take decades of hard work like cold calling, doors slammed in your face and mountains of red tape to uncover the secrets I have.
But you won't have to suffer through starting over like I have again and again.
Because in a few moments, you'll have a chance to see everything I've discovered… all the nitty-gritty details… FREE with this book when you subscribe to The Altucher Report.
So you can start your first of many successful side hustles… some in the time it takes to fill out a job application.
Here's one of my favorites…
"This Side Hustle Has Given Me Every Opportunity I Ever Had"
It's hard to believe you can now support yourself making videos at home. But for Chris Roberts, it's been the best-paying source of income he's ever had.
As a local guitar teacher, he was clueless that you could start your own career just by making videos. He was just looking for a way to get more students. Until a friend mentioned a new social media platform he could share his videos on.
"If it wasn't for this one thing," says Chris, "nothing in my life would have exploded. Before I figured this out, I was an active musician in the industry, but it just wasn't working out. This has given me every opportunity I've ever had."
Chris' parting message to my readers is that the key is to just do it. It works so well, the only way you fail is if you haven't tried. You can learn all about this incredible platform on page 96.
But you don't have to create videos on this platform if that's not your thing…
Because if you're even a small bit like me, you're not looking to become a billionaire…
You just want to call the shots in your own life, so you can jump out of bed with enthusiasm.
No matter your area of expertise, there are dozens of ways you can make money in your spare time starting right now.
Let me show you a few of them…
Five Side Hustles You Can Start
From Home Today…

Here are five more exciting side hustle opportunities I discovered while interviewing entrepreneurs and published in The Side Hustle Bible:
How to earn as much as $10,000 per month researching videos from a highly profitable, little-known website.
How to pay all your bills (and have some to spare) posting travel and food pictures to one of the world's most popular social media websites. (Nope, it's not Facebook.)
Want to own a cash-rich business without borrowing money or going into debt? Now you can. Go to page 151 to discover a little trick that could get you your new business at a steep discount.
How to get paid over and over again from work you do once. This is the new economy, and opportunities exist that were unheard of just five years ago. If you have a couple hours of free time, you too could make this work.
How to use the 64th most popular website in the United States to make a full-time living. Getting new customers used to be hard and take as much as two years to be profitable, but this website makes starting any kind of new business fast and easy. In a few days' time, you could have new customers beating down your inbox. Check it out on page 9.
These are the secrets of a group of people who live life on their own terms…
Instead of waking up at the crack of dawn to rush to the office, earn a paycheck and go to bed at night completely unfulfilled… wondering if their work matters or not… just to wake up and do the same thing again the next day…
They've found a better way.
I'm talking about a group of people who seem to have all the time, money and peace of mind they'll ever need. For whom the idea of waking up to rush to a job they don't love is as foreign as the 9-to-5 they left behind.
It's not uncommon for these folks to fly around the country just to watch their favorite sports team…
Show off their new collection of high-tech tools they've been tinkering with in their shed…
Or treat their wife to a shiny new car, just because they feel like it.
I'm sure you know someone like this.
Maybe you even want to be just like them?
I'm here to tell you, you can.
And the folks sharing their secrets in The Side Hustle Bible are living proof.
My hope for you is by the time you're done with this book, you'll not only feel inspired, but will also feel a new rush of enthusiasm and joy for the life you can create.
Just imagine what it feels like to be the owner of your own store (page 166)…
A store that you (or an assistant) can manage virtually. That takes just a few hours to set up and can provide you your first sale within the week.
Or imagine finally realizing your dream of owning a restaurant. But instead of paying an arm and a leg for restaurant space, you use the "steep discount" side hustle hack to launch your new business for almost no out-of-pocket costs.
Not only will the money feel good, but creating something real that you can talk proudly about with friends and family will give you a sense of purpose and make you feel alive.
Whatever your passion, make no mistake, The Side Hustle Bible can help you get started.
And with your permission, I'd like to send you a copy so you can see exactly what to do to start multiple streams of side income today.
You Can Reinvent Yourself
in Just a Few Hours a Week
If you are interested in trying something different…
Claim your free copy immediately.
And yes, the book can be completely free to you with subscription (we've even arranged to pay for shipping).
Because here's the thing.
Although a few of my colleagues recently told me giving away so many free books is a terrible business decision…
I couldn't disagree more.
In fact, after giving away my writing FREE for more than 13 years… and taking an upfront loss to get this book to you…
Giving You 177 of My Best Income Ideas FREE Is the Smartest Decision I Can Make
As I said before, my name is James Altucher. And for several years now I've been publishing my research in a one-of-a-kind wealth-generation newsletter called The Altucher Report.
The thing is, America is changing in ways most people cannot fathom.
Social Security is on the verge of bankruptcy…
Corporate pension plans have gone the way of the dodo…
The stock market is one giant bubble on the verge of a collapse…
And government bonds are paying next to NOTHING…
It's up to YOU to generate the income you need to ensure you never, EVER, run out of money.
And that's exactly why I published my new book, The Side Hustle Bible.
Whether you want to supplement your income with a little extra cash… or you're looking for a way to fund your retirement…
Getting started is easier than you may have thought possible.
You should know this presentation is more than just an invitation to check out my newest book.
It's part of a tightly controlled market test to find Americans with a burning desire and the "guts" to break out of the mold…
To have the kind of freedom in their lives that lets them choose when they work, and who they work for…
And to bring back adventure and excitement in their lives.
If this is you, my team and I are on a mission to help you make your dreams a reality.
No matter what's happening in the economy…
No matter who is president…
And no matter what Wall Street has up its sleeve.
Yes, losing money to give you my newest and best work for free may seem like a suicide mission for my business.
But it works for me, and it works for the more than 132,000 satisfied members reading my research.
But there's a catch.
If you'd like to be part of our latest "market test" and receive a free copy while this subscription offer is still available, you must act quickly.
I Have A Limited Number of Copies Set Aside Today — Once They're Gone, They're Gone
I've set aside a limited number of copies today. If you're interested, I'll show you how to claim yours in just a minute.
My books run out pretty quickly. And when they're gone, they're gone.
Then you'll have to wait until another bulk order comes in. Sometimes that can take a week or two.
Sure, I could tell you some bullspit story about how we only have a few copies left… You better hurry!! And get yours before it's too late!!
But I'm sure you've heard it all before.
And the truth is when we run out, I'll simply print more.
I want these secrets to get into as many of the RIGHT hands as possible. (I'll let you know in full detail if you are the type of person we're looking for in a moment.)
Because the more right people who know these secrets, the less power employers, Wall Street, big corporations and the government have over you.
That's right. The secrets revealed in The Side Hustle Bible are that powerful.
There's nothing generic like "spend less" and "save more"…
Instead The Side Hustle Bible is full of little-known income-generation techniques that would take the average Joe days… weeks… months… maybe even YEARS to uncover on his own.
Yes, you could wait a little while and mull it over… and think about whether you should claim your book today or next week…
But ask yourself this…
How much money will you lose this week by waiting?
How many opportunities will you miss out on because you failed to act today?
Of course, it's up to you if you want first dibs on the secrets within The Side Hustle Bible.
Whether you choose to take us up on our offer today or sleep on it…
It's your call.
But before you decide, let me break it down for you…
All you have to do is simply agree to try out my research newsletter at MY risk and I'll send you the entire 103,341-word book as my thank you.
If you don't like what my team and I have to offer, you can keep the book and all its valuable secrets. Simply call us and let us know you'd like to end our relationship and be taken off of our auto-renew program.
No catches. No strings.
If all of this sounds good so far, I'll show you how to claim your complimentary copy in just a moment.
First, I need to make one thing clear…
I'm Not Interested in Giving Away
Free Books to Just Anyone
If you're the type who always says you want more out of life, but you never take action like you should… please don't request a free book.
If you're a habitual "starter"… but not really a "finisher"… not one grain of good will come from you holding The Side Hustle Bible in your hands.
We're looking for active, take-charge types who are eager to make good use of our hard work. Not those who will just let this book gather dust on their bookshelves.
Here's why I'm telling you this…
Everyone out there is promising you a room full of gold and a king's crown with no work or effort on your part. And there's a sucker born every minute who will fall for the hype.
But I'm not going to promise you'll have seven sources of income each paying you $1,500 a month if you follow my step-by-step strategies for a week… or even a month or two. What I will do is give you the real scoop on what you and your family can achieve this weekend, in a month, and in a year if you stick with it…
And it's more than you probably think is possible.
But it's up to you to make those things a reality.
So if you're someone who is ready to — finally — do what it takes to change your life with simple, insanely actionable solutions… and see what's truly possible with a few shortcuts and loopholes and a little bit of elbow grease…
The Side Hustle Bible is right for you.
If this sounds like you, then I suggest you…
Claim Your Free Book Immediately Through This Time-Sensitive Offer
Imagine how exciting it will feel to open your front door, tear open your package and thumb through the pages of your freshly printed book.
With this book in hand, you'll have instant access to…
Income… and lots of it. For example, you can make $2,000 over the weekend using an email I received from the creator of a very special "quick cash" website. You can see the full details of the email on page 141.
Five different ways to make a presidential salary. Maybe you love your job. And maybe it just isn't paying you what you'd like to make. But there's a simple way to change all that. See how on page 119.
Time freedom. The economy is changing. Thanks to technology, you can live where you want to, get paid what you want to and work when you want to. When you're ready to start, turn to page 4.
And so much more…
But new business opportunities, websites to earn quick cash and ways to get paid more at work are just a handful of the secrets inside this book.
How to Make Money "Writing" Without Actually Doing Any Writing at All!
A lot of side hustles involve writing.
Writing has become one of the easiest ways to make money on your terms.
But what if you're not a good writer or can't stomach the thought of sitting down to type?
Is there an opportunity to still make money?
You bet your bottom dollar.
Here's a tactic I've seen personally work. Go to Fiverr.com and post a gig that says something like, "For $5 I will arrange guest blog opportunities for your startup."
Now the $5 gig is not where you're going to make the money… this is just to get your foot in the door. For every 20 blogs you email, you might get seven that say they want the guest post. Now here's where the real money is made. If you're interested in making money off these guest posts, without doing the writing yourself, there's a very creative way you can make it work. I've listed everything for you on page 22.
This is just one of nearly 100 done-for-you income ideas in The Side Hustle Bible.
And chances are…
You'll never even look at most of them.
And that's OK.
Even if you use just a small handful, you'll be able to have and do things you'd never even think of doing before getting your hands on this book.
Either way, The Side Hustle Bible can help save you the irritation and worry of never knowing where your next paycheck will come from.
It will give you the peace of mind that comes only to people who have a surplus of cash… who expect life to give them the best it has to offer… and have the income to pay for it.
Life is certainly different when you have multiple sources of income coming in.
Soon, the days of waking up worrying about outliving your savings or not having enough for retirement will be a thing of the past.
Instead, you'll be starting new charities and businesses, writing your autobiography, or helping your friends get back on their feet.
That would feel pretty good, right?
Here's how you can claim your free copy right now, before we run out of today's supply…
The Side Hustle Bible
Is Not for Sale ANYWHERE —
Here's How to Claim
Your Free Copy Today
Here's the Real Reason I Want You to Have So Much Free Content
Even though this is the first book of its kind ever published to my knowledge…
It's not the only place I release my newest and best income opportunities.
In fact, on the first weekday of every month, my team and I publish a monthly income and opportunity research newsletter called The Altucher Report.
I first decided to launch this research briefing because I knew America was changing in profound ways.
If you want a comfortable retirement…
You can no longer rely on conventional institutions like the government, Wall Street firms or corporations.
The truth is… if you don't choose the life you want to live…
Chances are, someone else is going to choose it for you.
And the results are probably not going to be pretty.
And that's the mission of The Altucher Report…
To help everyday American retirees end their reliance on conventional institutions…
And learn how to grow your wealth and create your own streams of income…
So you can live your retirement exactly how you want…
Without EVER having to worry about money.
The Altucher Report is the only place where I will personally update you on emerging new ways to earn more income and grow your wealth…
It could be a new business idea…
A potential breakthrough from my vast network of contacts…
Or an explosive investment in a new, disruptive technology.
Whenever I come across a unique opportunity, I'll tell you when to buy…
Tell you when to sell…
And give you all of my analysis behind each recommended move.
No guesswork.
It couldn't get any easier.
And you can start today by claiming your copy of The Side Hustle Bible, before it's released in stores.
I'll send it to your doorstep as soon as you take a risk-free trial of The Altucher Report.
My hope is that for you as a reader, it will be like having a wealthy friend who's a Silicon Valley insider…
A friend who's an insider in the Manhattan financial world… and in the publishing and media world.
Inside you'll discover secrets, insights and ideas I promise you won't hear anywhere else.
But don't take my word for it.
Here's What Others Are Saying About Me
"This man has changed my life, and the lives of thousands of people that follow his every word. He is the most valuable mentor I have."
---
- Brian Rashid, Forbes
"You can make a lot of money, no matter what your age. You can reinvent your retirement. You can become a successful writer, photographer, or consultant. You can get paid to travel the world or learn a new hobby. The list is endless."
---
- Porter Stansberry,
founder of Stansberry & Associates Investment Research
"James Altucher is scary smart."
---
- Stephen J. Dubner,
three-time New York Times bestselling co-author of Freakonomics
"James is very honest about his life. Both his successes as well as his failures. He is a relentless idea machine and forward thinker."
---
- Don Mayhorn
"I was deeply influenced by your insights at a point in my life where I needed change. Since then I have quit my job, started a company and we are actually raising money. So just saying thanks, what you are doing matters."
---
- Dan Darell
I'm proud my work is already changing people's lives.
And I want YOU to be the next success story…
By having your own multiple streams of income.
I know there is nothing like The Side Hustle Bible available in the market.
But I've seen people selling individual side hustle courses for as much as $2,000.
So I could easily use the material in this book for a private live training course for $1,500 or more… and that would be an incredible bargain.
But as I mentioned before, this is NOT for sale.
I'm making it available to my readers only.
That means today The Side Hustle Bible can be yours FREE…
As soon as you take a risk-free trial to The Altucher Report.
And don't worry…
I'll never charge you $1,500 or $2,000 for one of my individual blueprints…
I'll give you my new income experiments completely FREE as a member of The Altucher Report.
Simply respond today to this special offer, and you'll get immediate access to all of these moneymaking secrets — for FREE.
Just to Recap,
Here's Everything You'll Get
12 Issues of The Altucher Report($99 value)
The Side Hustle Bible: The book that shows you how to set up all the income streams you'll ever need ($25 value)
Free Gift #1: The Bestseller Blueprint: How to Write and Sell the Next Harry Potter ($39 value)
Free Gift #2: The Five Best "Retirement" Jobs in America($39 value)
Free Gift #3: Your Side Hustle Quick-Start Guide and Workbook: Idea to Income in 17 Days($39 value)
Free Gift #4: Access to The Altucher Show ($199 value)
Free Gift #5: Instagram Live "Side Hustle" Session ($39 value)
Access to My "Choose Yourself" Facebook Community: Every journey is made easier with a friend. Here you can meet and get advice from thousands of other side hustlers. Feel stuck in your side hustle or need tips on a particular problem? This is the place to find answers ($500 value)
Special "Members Only" Email Updates: Wondering what to buy, sell or hold? As a member, you'll receive updates every single week on every important piece of news relating to the markets and any ideas I may recommend in The Altucher Report ($19 value)
Access to the Altucher Report Support Team: As a new member, you'll receive complete access to my support team, which can be reached by phone or email between the hours of 9 a.m. and 5 p.m. Eastern, Monday through Friday ($19 value)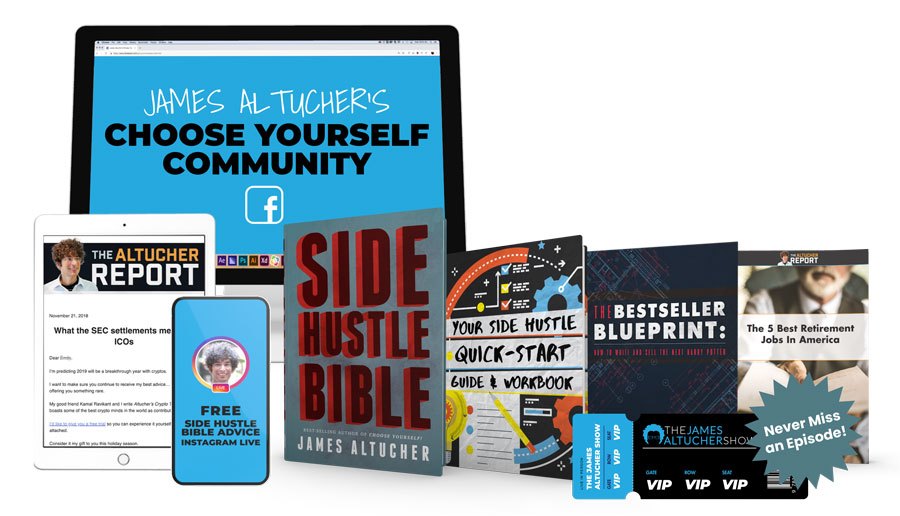 That's a total value of $1,017! But with today's special offer, you'll NOT pay anywhere near that.
Here's what I propose…
Take a Full Year to Try It — No Pressure
Because of today's unprecedented opportunity to start multiple sources of income relatively quickly…
And because you probably don't fully know me well…
I want to make it as easy and hassle-free as possible for you to try my work.
So I worked with my team to lower the price down to a level that would barely cover our publishing costs.
And we agreed on an incredible deal of $49.
That means you'll only pay a tiny fraction of the full value of $1,017.
And it means that for just 13 cents a day, you can have a full year's subscription to The Altucher Report.
And you'll get everything else I promised today… including my brand-new, never-before-released Side Hustle Bible.
I've also prepared a special "risk nothing, keep everything" guarantee.
When you sign up for The Altucher Report, I'll give you a full year to test out the service — at no risk to you.
During that year, you'll get 12 new issues — one a month.
If, during those first 12 months, you find you're not satisfied with The Altucher Report…
You can simply call or email my customer service team and cancel your subscription.
We'll give you a full refund.
No hassles. No hard feelings.
And we'll let you keep everything you receive during your year as a subscriber — at no charge.
You can keep your book The Side Hustle Bible.
You can keep your bonuses.
You can keep all the issues.
And you can keep ALL five free gifts.
***You can keep everything. This means there's no risk to you at all.
It's our way of saying thank you for giving The Altucher Report a try.
But Please Let Me Know
in the Next 15 Minutes
As I said before, with the release of this new book, I'm doing a special marketing test.
My goal is to help a million folks start a second and third income stream this year.
But I know that the key to success is taking fast action.
That's why I have made a very limited number of books available for giveaway today — on a first-come, first-served basis.
Because I know that people who take action immediately are the most likely to start, and the most likely to reach their goals.
If you wait to act on this special opportunity, I'm afraid it could be too late.
Your book will go to someone else.
Remember, there has never been a better time to build wealth.
You will NEVER see the same opportunities to start side hustles so easily… not in your lifetime.
This is your best chance to turn a few hours of time into consistent monthly income that snowballs into a fortune down the road.
It sure sounds impossible, but you know it's NOT!
It has already happened to thousands of Americans like Trevor, the father of five from Guam, who turned $200 into $1 million in 92 days.
And now it's your turn.
When you think about it like that, you simply have to respond to this offer right away.
There's really no reason you shouldn't…
Don't waste any time…or you will look back 12 months from now and regret not having this income.
Please click on the button below to claim your free hardcover copy of The Side Hustle Bible.
AND a no-risk trial subscription (at today's substantial discount) to my research service The Altucher Report.
Click the Button Below to Get Started on Your Path to Multiple Sources of Income
RESERVE Your Free Copy NOW
I sincerely hope you join me today.
I've given you my very best price offer… and a "risk nothing, keep everything" guarantee.
***That means you have zero risk in joining me.
That's zero downside… for what could be your best chance of quickly benefiting from multiple sources of income.
To get started, simply click on the button below.
It will take you to a secure sign-up sheet, where you can review everything one last time before you join.
Thanks for reading.
I look forward to welcoming you to The Altucher Report in the next few minutes.
Sincerely,

James Altucher
October 2018
P.S. Keep in mind, you can start a business with ZERO out-of-pocket costs that is profitable in two days' time. Never have we had an opportunity like this in the history of wealth. This is your best chance to earn a living from multiple sources of income. If you miss taking action now, it could haunt you for the rest of your life. Click below to get started…
RESERVE Your Free Copy NOW