Former Hedge Fund Manager James Altucher Predicts a
Historic Date for Pot Investors…
—

MAY 31

ST

2019

—
---
GREEN FRIDAY
---
This unprecedented event stands to trigger a buying frenzy the likes of which has never been seen before– showing investors a chance at massive gains like 11

,

400% on a single stock!
Hey Guys,
James here.
And I wanna tell you about a piece of paper that came across my desk this morning.
It contained a piece of critical information that my team of analysts and I spent thousands of man hours looking for.
The paper was pretty nondescript… at first it looked like a random web page had been printed out and left on my desk by mistake.

But there was one line on there that was highlighted… and a very brief note scrawled in pen… James – is this what you've been looking for?
Then I saw the date… May 31st… and I LOST IT.
I jumped up from my desk and practically ran to the next room to share the news with the rest of my team.
"This is IT!" I exclaimed. "The day that will change the pot market forever!"
They had no idea what I was talking about, but I didn't care.
"Mark my words: May 31st could easily be the biggest buying frenzy in the history of cannabis investing!" I told them.
"It could practically double the size of this market. And ANYONE with the right intel could stand to make an absolute fortune.
Of course, they immediately demanded I fill them in on the rest of the story.
So I broke it down for them…
The key to investing in pot stock is knowing the important legalization dates.
For example, as you probably seen yourself, pot stocks go up around election time.
Every time a new state passes any sort of new weed laws– investments start to flood into local companies.
For example, when Colorado passed America's first legalization bill in 2014, it opened the floodgates to all types of investment opportunities.
With stocks like:
Cannabis Science (OTC: CBIS) surging 870% within three months.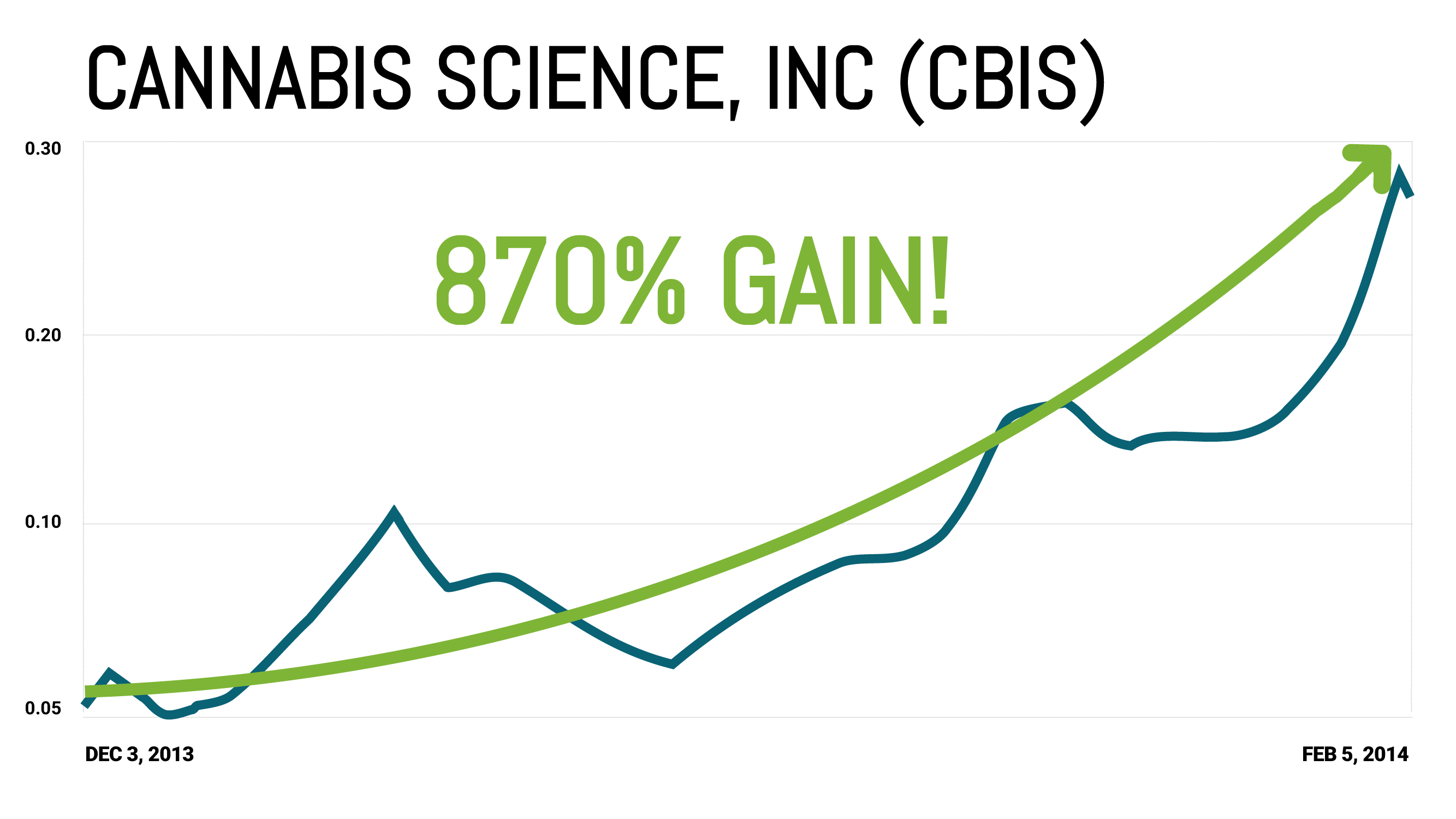 PotNetwork Holdings Inc. (OTC: NPOTN) soaring 11,400% in less than 3 months.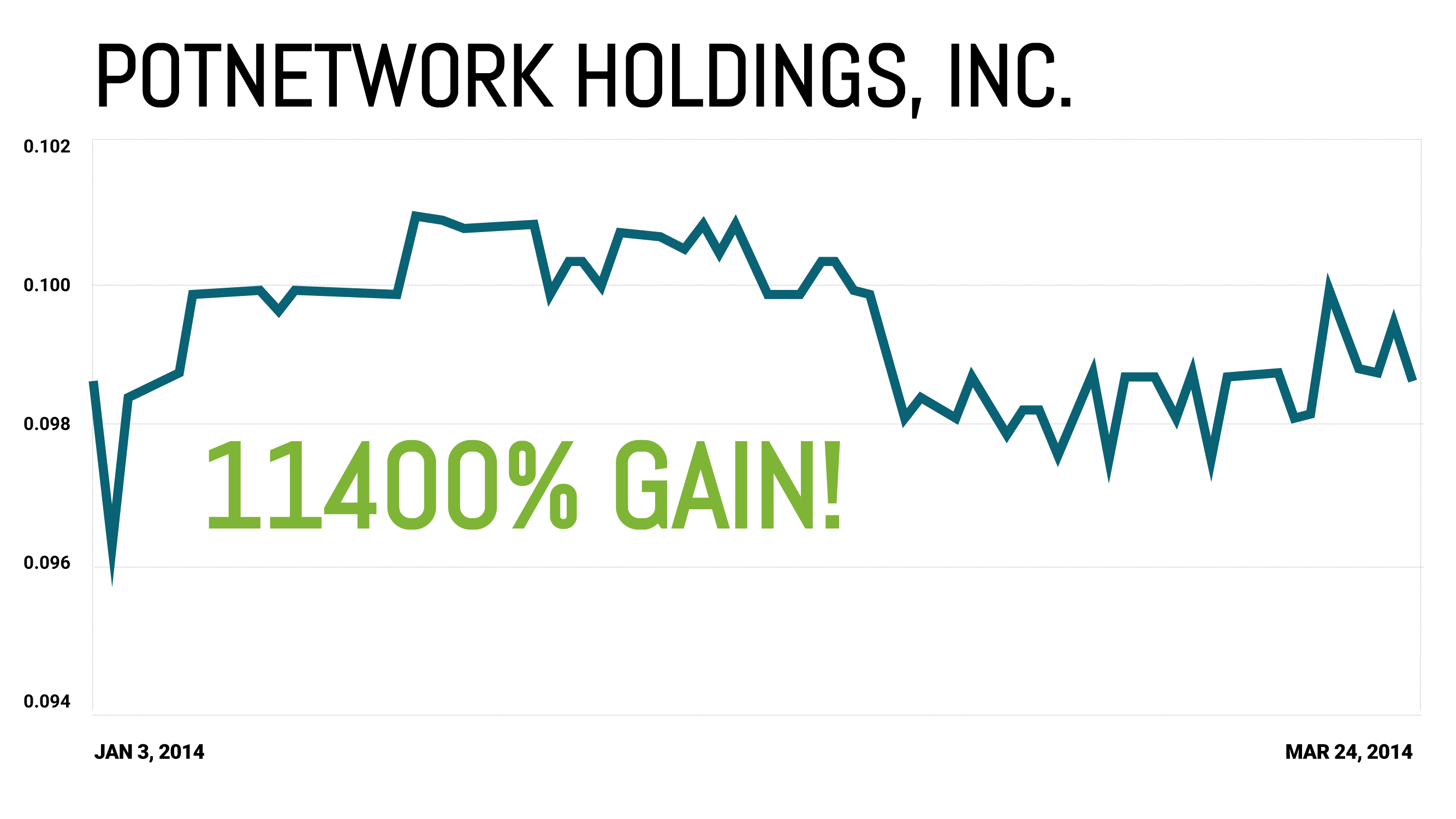 United Cannabis Corporation (OTC: CNAB) jumping 16,700% within two months.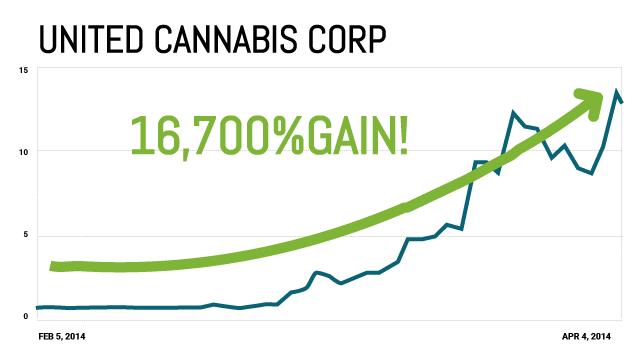 It makes sense that pot stocks would go vertical once their products became legal.
You don't have to be a venture capitalist or a former hedge fund manager like me to figure that out. It's simple logic.
But here's the thing….
Because it's so widely known, each election cycle gets progressively less explosive.
More and more investors pile in around election time and eat up the lion share of available profits.
But, so much attention is on elections most people completely miss out on the other events that massively boost pot stocks over the years.
And May 31st might be the most exciting date yet for pot stocks – and most people will miss it (but you don't have to!)
Once I explained this, my team started to feel my excitement.
"But why May 31st?" one of them quickly asked.
I told him and his eyes went wide.
He had a look on his face that mirrored my own when I first saw the news.
And then it clicked.
"So THAT's why you're calling it Green Friday," he said. "This could be the biggest thing you've ever written about… bigger than Bitcoin even."
That's when I knew I had to get this report out to my readers immediately.
Once you read it, you'll understand exactly why "Green Friday" could produce the kind of wealth that is passed down from generation to generation…
It all starts with the unprecedented rise of this market…
Marijuana is the Fastest Growing Commodity in the History of the World
The legal pot boom is unlike any investment trend to come before it.
If you follow any investment news, you probably already know that it has absolutely exploded into a "Green Rush" in a few short years… turning regular Americans into "marijuana millionaires" practically overnight!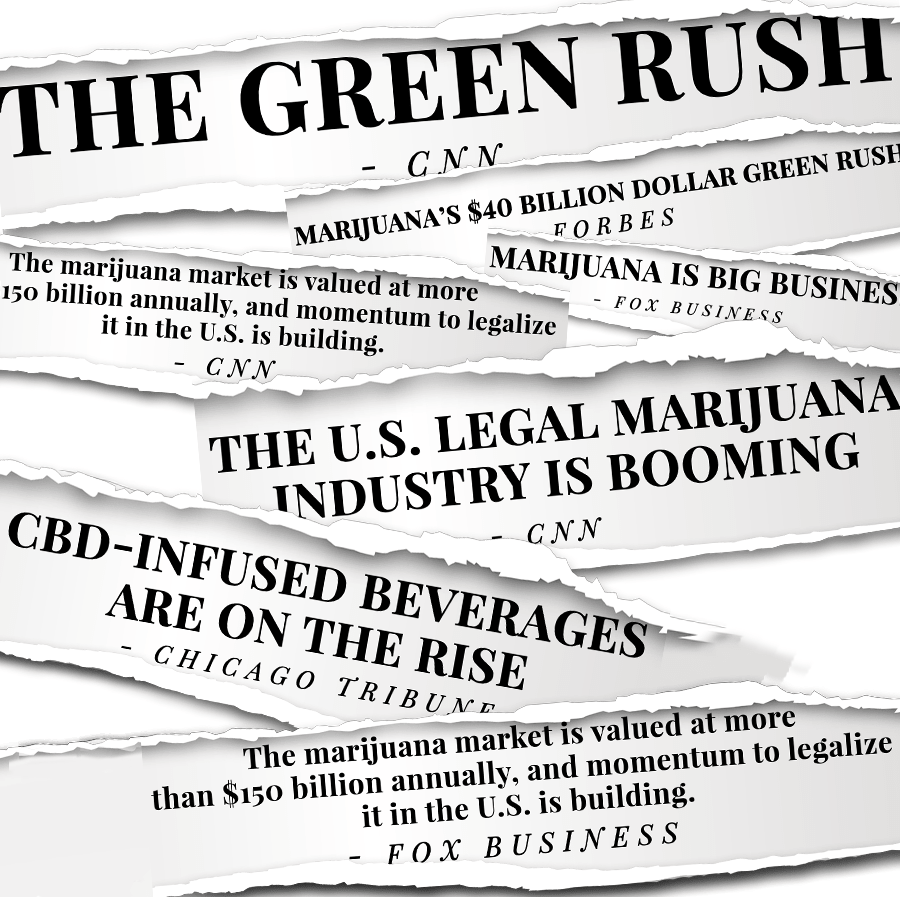 What you might not know is that it's growing faster than the dot com boom… faster than smart phones… and even faster than Bitcoin!
I was on the forefront of those market booms as a venture capitalist, and they PALE in comparison to what's going on with pot today.
A couple years ago, it was a big deal when Forbes predicted "The Global Marijuana Market Will Soon Hit $31.4 Billion" by 2021…
But now, Grand View Research forecasts the legal marijuana market to reach $146.4 Billion by 2025 – nearly 10 times what it is today!
If you were simply to invest in the overall trend, you could see every $10,000 invested turn into more than $80,883.
Simply do that, and you could beat the track records of some the greatest investors who ever lived—from Warren Buffett to Carl Icahn to George Soros.
But pick the right stocks… at the right time…with the right DATES…
And you could do much, much better.
See, there's never been a better time
to invest in legal pot…
And if you are properly positioned before May 31st, you could see up to 110x times your investment!
Enough to turn every $1,000 into $110,000… and every $10,000 into a staggering 1.1 million dollars.
Imagine what life would be like…
What would you do if you collected that kind of stock market windfall?
You could pay for college for your kids AND grandkids…
You could retire 5 years ahead of schedule and spend your summers sipping margaritas on a beach in Hawaii...
You could even donate enough to your church to finish the renovations they so desperately need.
But it doesn't really matter what you'd choose, because you'd have complete control over your financial destiny.
No more dealing with a boss you hate, no more scrimping and saving for retirement, no more relying on a meager social security check to make ends meet.
This is all within your grasp… but you NEED to make sure you get positioned for the right pot play before May 31st or you could miss your chance.
And chances like this don't come around very often.
"Green Friday" has never happened before, and it may never happen again.
This is a monumental move from a top government agency…
And their decision will change the cannabis market forever.
And don't forget… we've already seen mind blowing gains in this market sector – even when nothing special was going on!
In Fact, Just 3 Pot Stocks Could Have Made You a Marijuana Millionaire
All of these huge moves have happened in just the last few months…
And the market is expected to grow another 38% this year!
Look at Canopy Growth, which went from a low of $1.23 per all the way up to $50.69.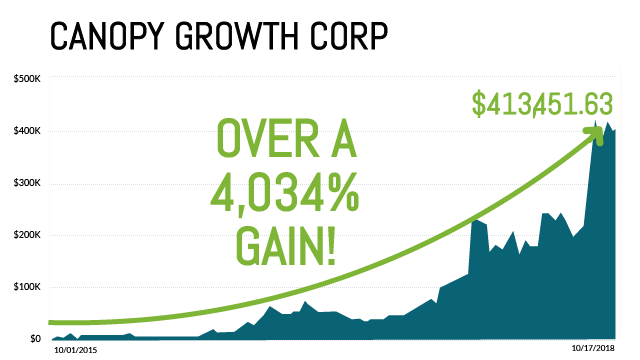 That's a 4,034% gain.
MariMed went from 14 cents a share to a high of $4.38.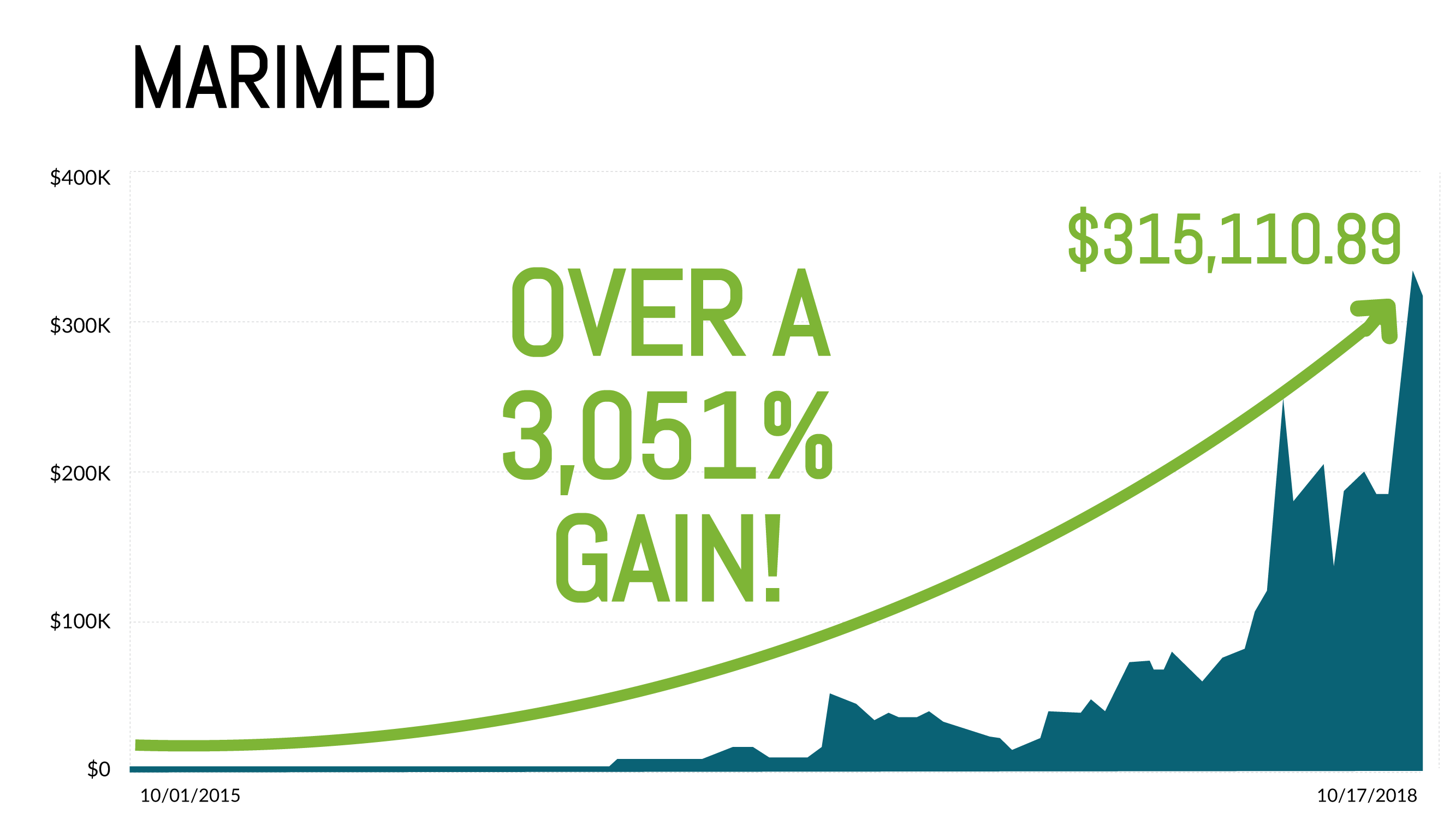 That's more than a 3,051% gain in just three years.
Or look at Aurora Cannabis.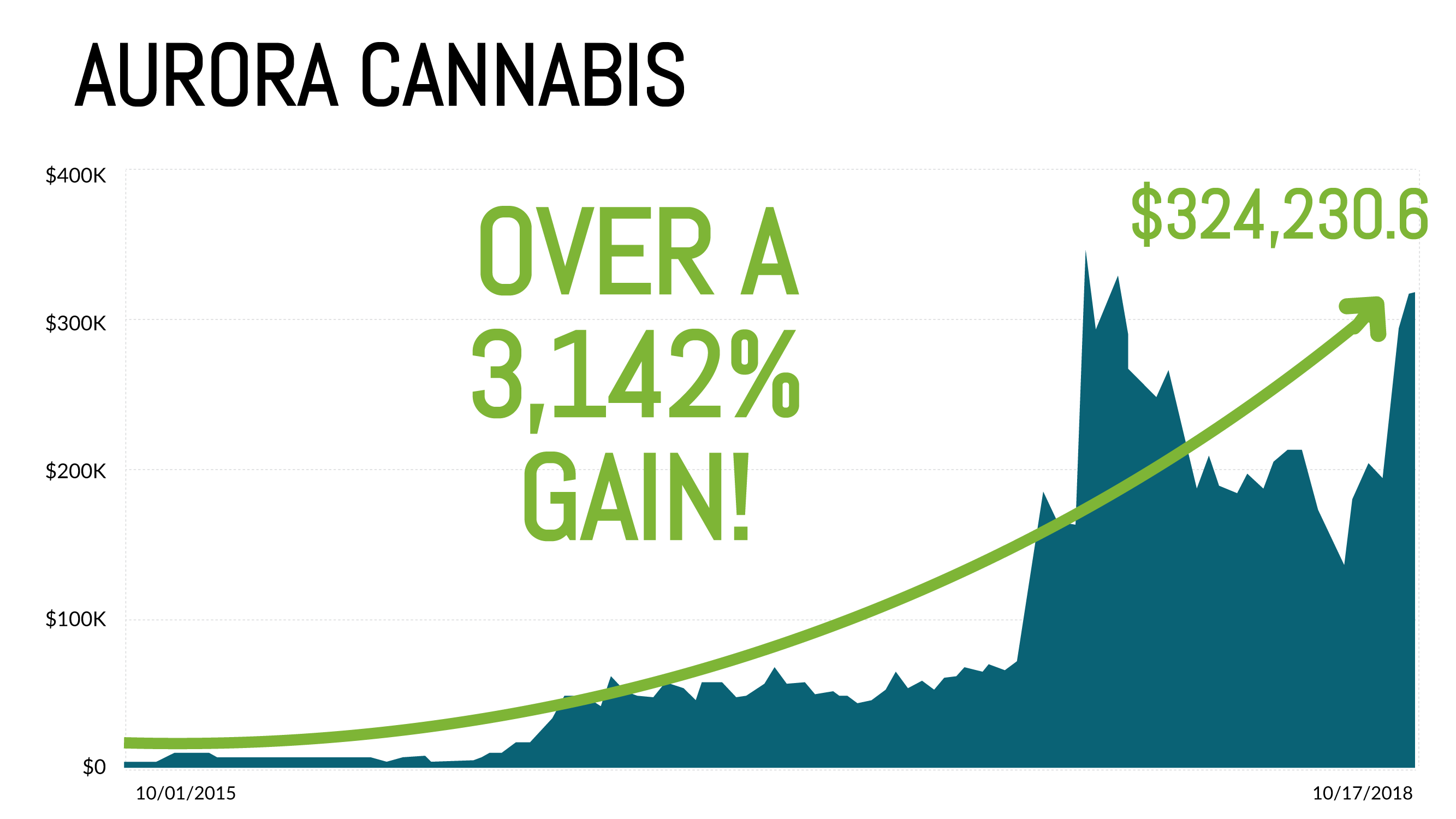 Their stock price went from 32 cents a share to $10.44 a share by the time Canada legalized cannabis.
That's over a 3,142% gain.
It's enough to turn a $10,000 investment into more than $324,230 in rather short order.
If you'd invested $10,000 in each of these marijuana stocks — Canopy Growth, MariMed, and Aurora Cannabis — three years ago…
You'd be sitting on a portfolio worth more than $1,052,792 today.
That's more than enough to fund a luxurious retirement and make your golden years the best years of your life!
Granted, most people miss out on those kinds of gains… but the important thing is that this is what's possible for regular investors.
Even if you only did half that well… or a quarter… that would still be hundreds of thousands of dollars you didn't have before!
You don't have to be a billionaire or a hedge fund manager to make that kind of money like you would in other sectors of the market.
Green Friday is a chance for hardworking, everyday Americans to get ahead.
No more sitting on the sidelines watching the rich get richer while your portfolio grows maybe 12% a year IF you're lucky.
The time to act is NOW.
I don't want you to kick yourself for years to come if you miss out on "Green Friday."
Every minute you delay, your chances of seeing gains like 11,400% are lowered.
If you're skeptical about that number, I don't blame you. I was at first too… until I saw this chart: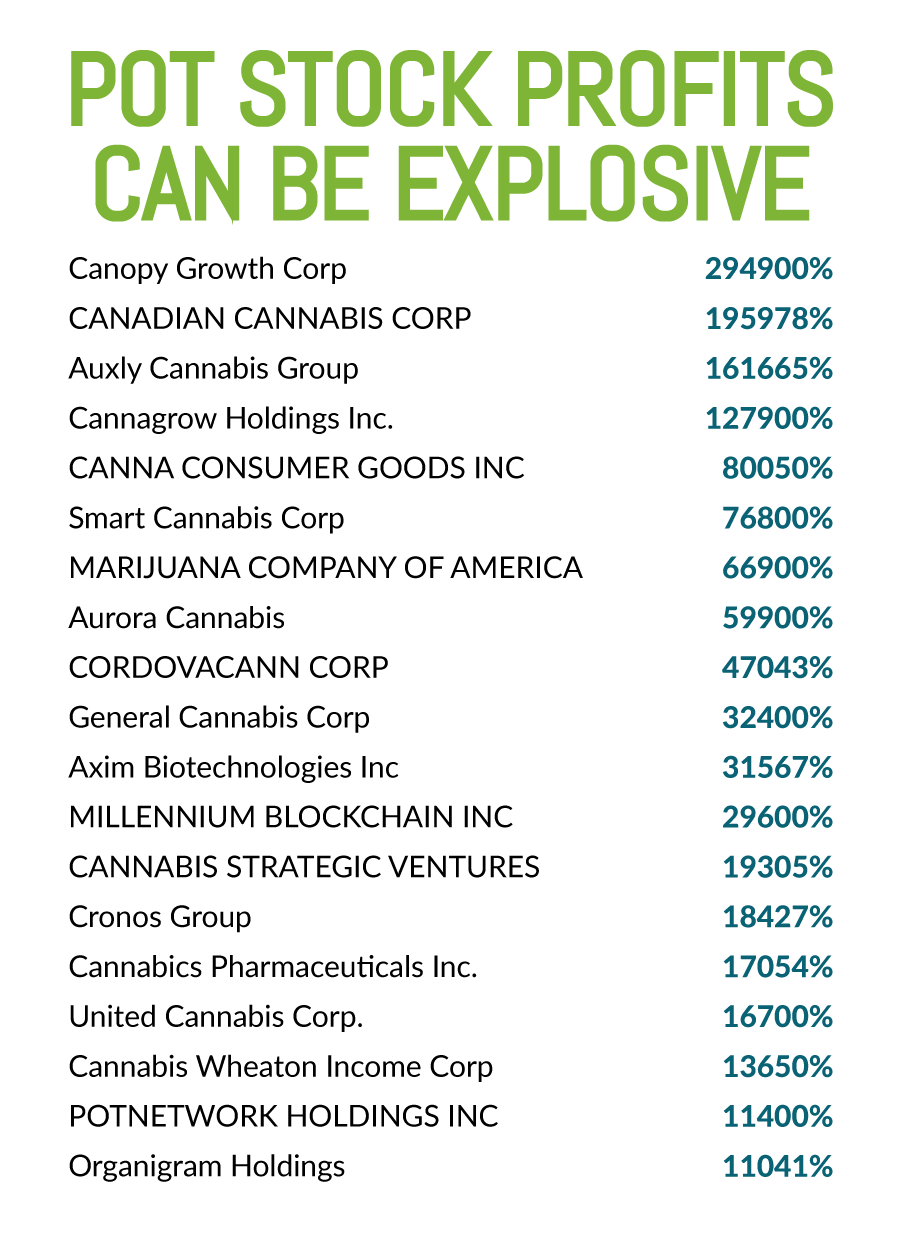 Gains like these aren't just possible, they've already happened!
And once I show you how obscene the growth potential is for this 60 cent Canadian pot stock, I'm convinced you'll see why I think they are next.
They look a lot like Organigram did, right before their share price shot up 11,400%!
Just like Organigram before them, they've invested in revolutionary technology in a market that is growing faster than anything we've ever seen before.
Separately, either one is enough to make a marijuana millionaire out of you…
But together? Their potential value goes up exponentially.
I have no doubt that this tiny pot company could do just as well, if not better than Organigram!
And because they just got licensed to sell their products in Canada in March of 2019, practically no one has heard of them before.
I'm gonna tell you all about them and spill the beans on "Green Friday" in a minute, but first let me introduce myself real quick, for anyone out there who doesn't know me already.
Hi, I'm James Altucher
Chances are, if you are joining me today, you already know who I am.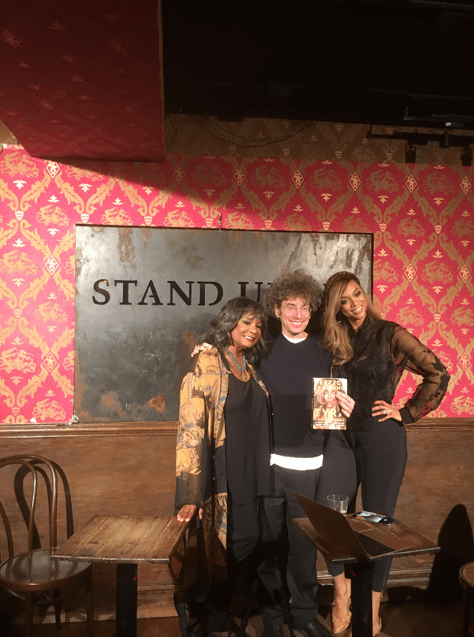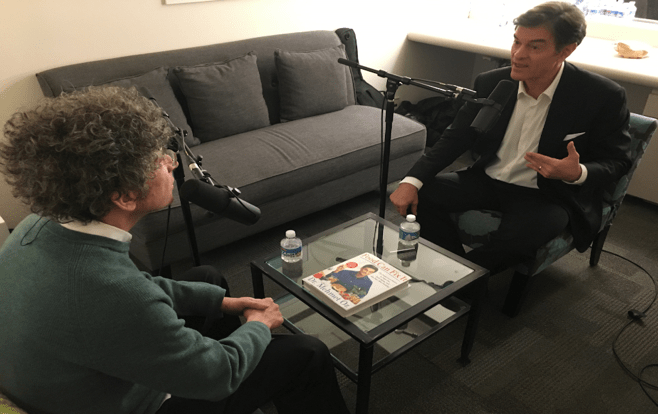 Most people know me from my best-selling book Choose Yourself, which was rated by USA Today as one of the 12 best business books of all time…
Or maybe you are one of the 37 million who downloaded my podcast.
But there are plenty of folks out there who just know me from my many TV appearances on networks like Fox News, CNBC or The Street.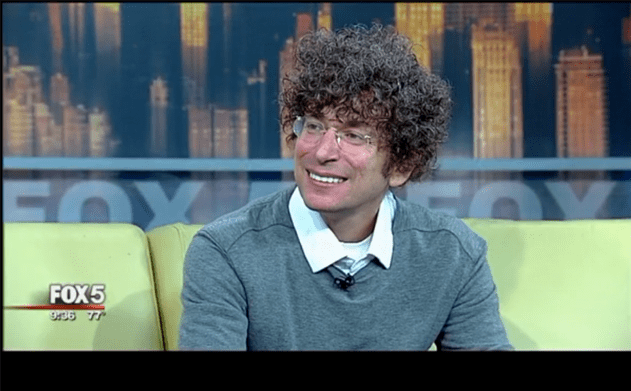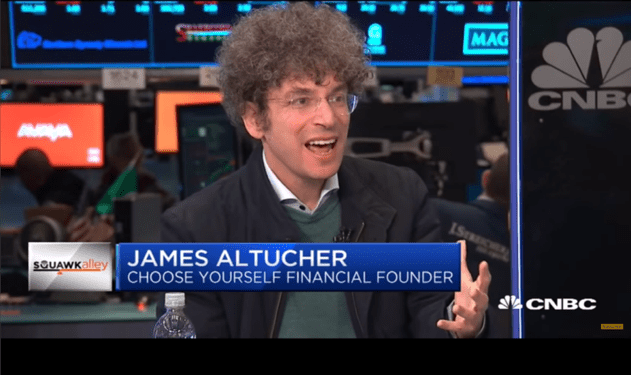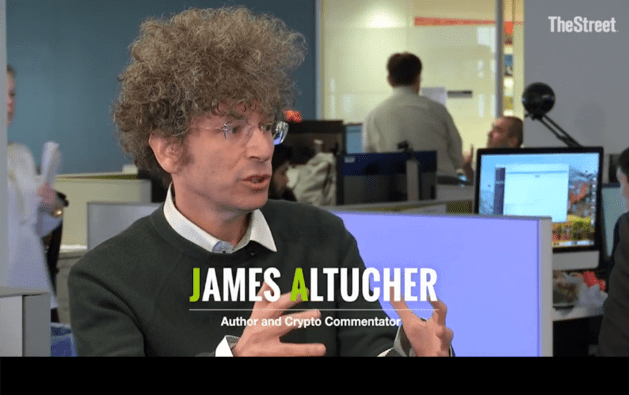 Or who have read about me in the mainstream media — one of the many articles published by TheStreet.com, Forbes, The Financial Times, Tech Crunch, the Huffington Post, or The New York Times.

But for those of you who are new here, let me tell you what I'm all about.
I've spent the last 25 years as a day trader, a hedge fund manager, a venture capitalist, and a tech entrepreneur.
And I built an absolute fortune investing in the biggest market trends throughout the years.
I started one of the first big internet companies during the dot com boom called Reset…
Which sold in 1998 for over $15 million...
(I later lost it all, but that's a story for another day.)
A lot of people might have retired at that point, but I decided to put my unique understanding of emerging markets to work.
I started making bold investments and even bolder predictions.
Take social media for example…
They laughed at me in 2007 when I told CNBC that Facebook was worth a $100 billion…
But I had the last laugh when I made 6000% investing in Buddy Media and 3600% on Ticketfly.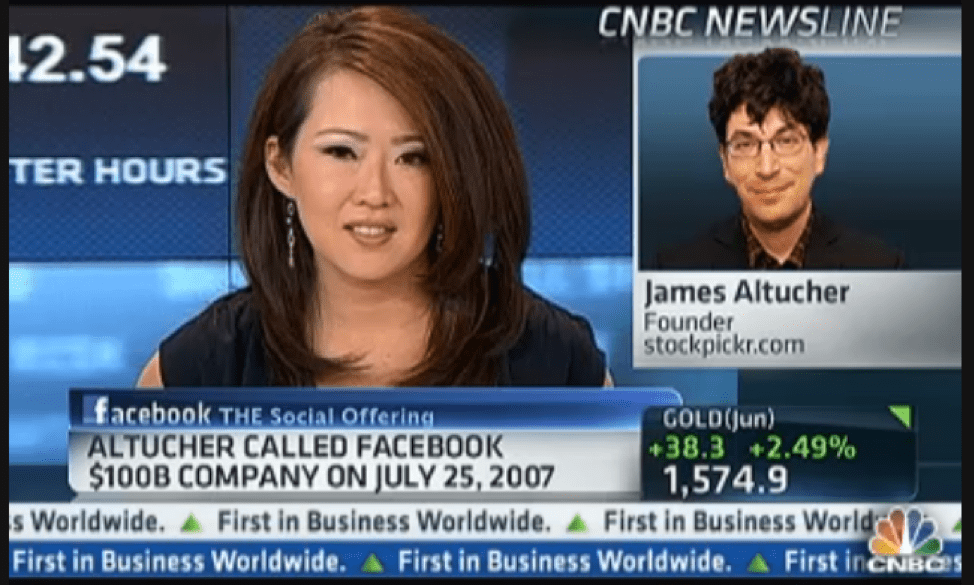 And then they brought me back a few years later and admitted my prediction was just one more time I read the market right!
You would think they learned their lesson…
But they laughed at me AGAIN after I predicted bitcoin's rise on CNBC in 2013 when it traded for just $120… 4 years before it skyrocketed past $10,000!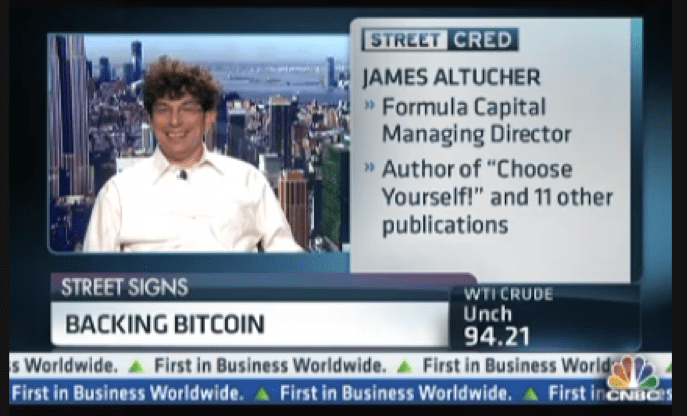 I was bullish on crypto so early that my fund turned $2,500 into a whopping $1.8 million. That's a 7,100% gain!
Not only did I predict Bitcoin's rise, I predicted the Bitcoin bubble in 2017, months before it started to bust. I was so on point with cryptocurrency that people started calling me "the face of bitcoin."
As exciting as these opportunities were, legal marijuana is now a hotter trend than bitcoin or social media ever was!
I told my readers to get in on this "massive opportunity" 3 months before the market went crazy in 2018!
Since then, I was able to show my readers 15 winning trade recommendations in this sector. And nearly half of them doubled or better:
The fact is, throughout my Wall Street career, I've always seen the biggest market windfalls in trend investing, even when people we're laughing at me and calling me crazy.
I never cared what they thought because my track record speaks for itself.
I knew my strategies worked. And they keep working to this day!
They work so well that several years ago, Cornell University had me give a lecture on the secrets behind my success called "How to Make a Trillion Dollars."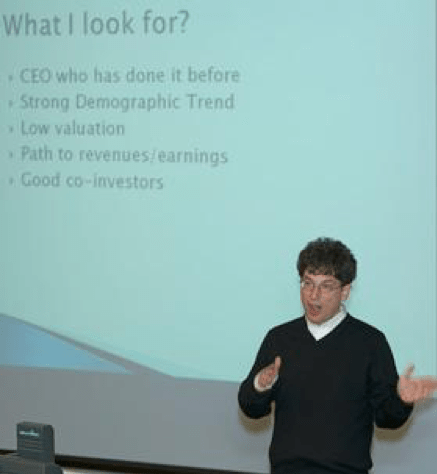 I've made some updates to my investing strategies since then, but much has stayed the same for the simple reason that they work.
Even though I no longer manage my own hedge fund, I still see the same explosive opportunities in emerging markets like the ones that made me millions over the last 20 years.
After I left Wall Street and started writing books, I started sharing how to spot these opportunities with my readers.
I've spent the last decade or so uncovering the biggest opportunities in America's hottest markets so that regular people could profit in a stock market controlled by hedge funds and big banks.
Legal marijuana is the next big trend that could turn every day hard working Americans into millionaires, practically overnight.
Now you might be wondering why that matters to me – after all I could be working as a consultant for the likes of JP Morgan or Berkshire Hathaway.
Well, my story isn't only a story of success. If you've read my books, you'll know that I lost and rebuilt my tech fortune twice over.
When the housing market crashed, I went from being a millionaire to having 143$ in my bank account, practically overnight.
For the first time in years, I felt what it was like to struggle again.
I saw my whole world fall apart.
I couldn't pay my bills and I didn't know how I would feed my family.
I spiraled into a depression that I nearly didn't recover from.
But I dug deep, and once I rebuilt my fortune, I decided to give back.
I made it my life's work to make sure other people don't fall to the same fate.
I wanted people to learn from my failures, as well as my successes.
So I started writing books and started podcasting.
I didn't know if I would be any good at it, but with all my experience as a "wall street insider" and my network of billionaires, movie stars, and politicians, I felt I had something to offer the world.
So I started interviewing friends like Tony Robbins, Mark Cuban, and Richard Branson to give folks an inside look at the business and investing strategies of the ultra-wealthy.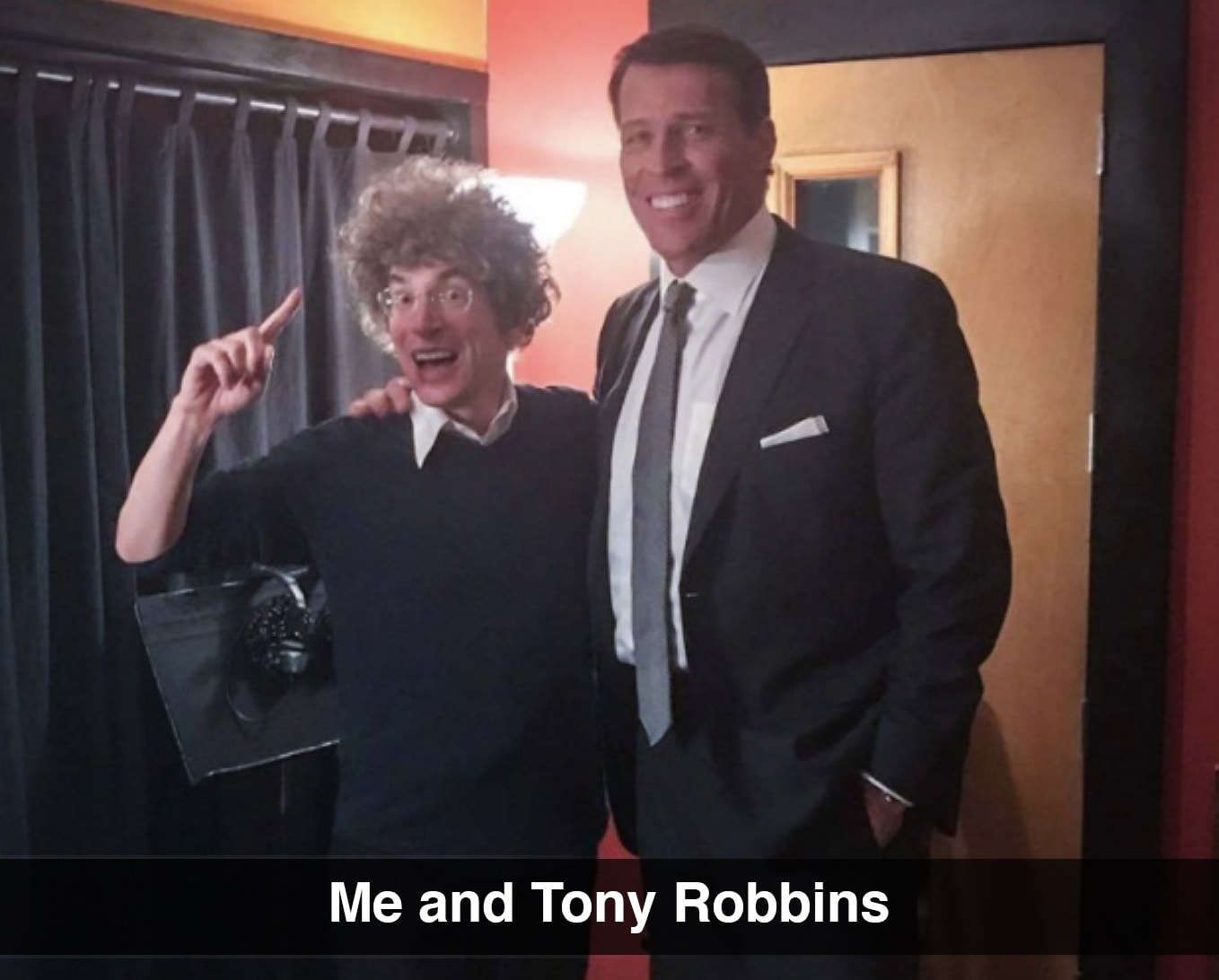 When people started reaching out to me to tell me how my books had changed their lives… or my market research made them a millionaire… I knew I was on to something.
"I made $1 million in 92 days and retired."
— Trevor Chapman
"I would definitely not have been able to retire without you."
— Catelyn Owen
"This man has changed my life, and the lives of thousands of people that follow his every word. He is the most valuable mentor I have."
— Brian Rashid
"I went from 42 cents to my name last year to a six figure digital nomad [lifestyle] within 18 months, due to James' many strategies."
— Beck P.
Stories like these are the reason I keep doing what I do. It's not like I need to sell more copies of my books to make ends meet.
After years of working for Wall Street and seeing people taken advantage of to make the rich richer, I just want my work to have a positive impact on the world.
And the best way I can do that is to show my readers how to strike it rich on the biggest profit opportunities in the hottest markets.
Opportunities like "Green Friday..."
Green Friday's Big Deal
At the beginning of this presentation, I mentioned a piece of paper that came across my desk.
It outlined a filing that appeared in the US Federal Register a few days prior.
If you don't know, the FDA (Food and Drug Administration) is the nation's regulator for all pot products.
According to the filing I discovered, the FDA is holding a hearing on May 31 "to obtain additional scientific data and other information related to cannabis and cannabis-derived compounds, both from botanical and synthetic sources, to inform our regulatory oversight of these products."
Or in other words, they are asking the scientific community to provide them with the necessary data to inform how they regulate CBD products in food.
Now, I won't get into all of the history about the regulation of CBD, because here's the main point:
Right now, there's an absence of regulation which has left CBD in a limbo state – a legal grey area for companies in that market.
Pot companies are restrained with how they can sell, market, package, distribute, and manufacture CBD, which cuts deeply into their pockets.
If that weren't enough, local police have been seizing thousands of dollars' worth of CBD products from stores all over the country.
The police can't arrest anyone in the businesses selling CBD because it's legal – but they can claim it's mislabeled and confiscate it indefinitely – costing these businesses thousands of dollars in inventory in the process.
In light of this, many CBD companies are just trying to keep a low profile until these issues are sorted out.
And while it sounds bad, that's actually GOOD news for people like us who want to find the best ways to invest in this trend because it's left the market largely untapped.
But the culture of fear and uncertainty surrounding this $22 billion market is about to be blown wide open. Massive investments are sure to follow closely on the heels of that.
And here's the incredible news I want to share with you:
"Green Friday" is the first instance of the FDA stepping up to clear the air.
The FDA has never done anything like this before, making it a historic day in cannabis history.
After almost 50 years of pretending that cannabis and CBD are narcotic drugs worse than meth and cocaine, the government is finally changing its tune.
5 years from now when CBD is in everything, people will look back at "Green Friday" and say "May 31, 2019 is the day when the CBD market started to explode…"
Because after May 31st, it becomes a countdown until these regulations are released.
But there won't be any prior warning when they are.
It could be the next day, or 6 months from now.
That's why it's CRITICAL you position yourself before "Green Friday."
If you wait until the official regulations are released, it will likely already be too late.
You need to be positioned ahead of this date in order to maximize your profit potential from this opportunity.
Let me show you what I mean:
You probably never heard of Aquinox Pharmaceuticals, a tiny biotech based in Vancouver.
Shares were trading at $1.65 on Thursday, August 6, 2015.
By Monday, they went as high as $55.75!
That's a gain of 3,279% in a matter of days!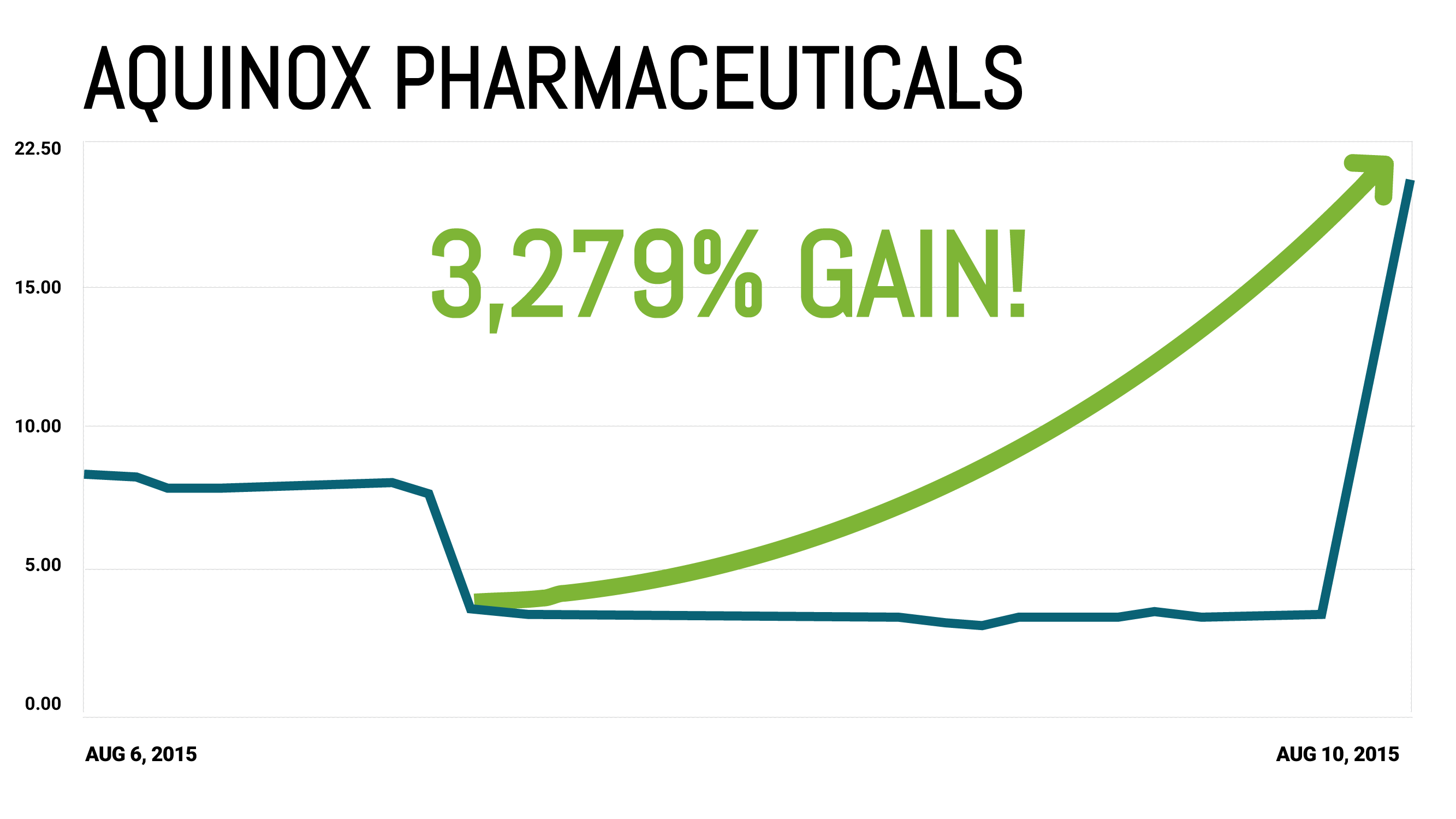 And it would have turned a $1,000 investment into $32,790!
So what happened?
It didn't come from the regulatory approval of the medication like you might expect…
But it was actually from the favorable test results for a new medication they announced after the markets closed on Thursday.
And suddenly, big time investors started piling in.
This is exactly why individual investors like you need to be able to find opportunities like this before FDA approval news hits the mainstream.
If you wait that long, you'll miss out on unfathomable riches
That's when institutional money comes in and pushes stock prices too high for anyone else to profit off them.
For example, a company called Biogen took its MS medication through the FDA process and returned 117,500% for folks were in on the ground floor.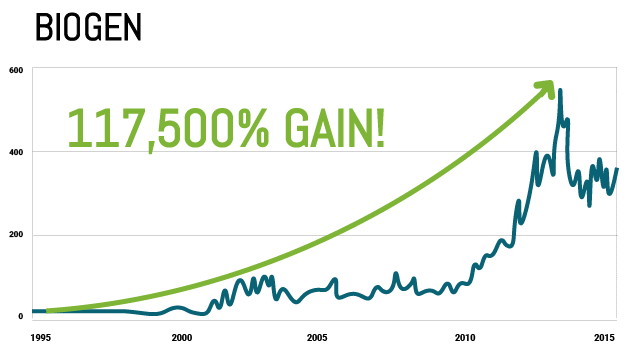 Celgene's cancer treatment approval lit the fuse on a blast off to 44,860%.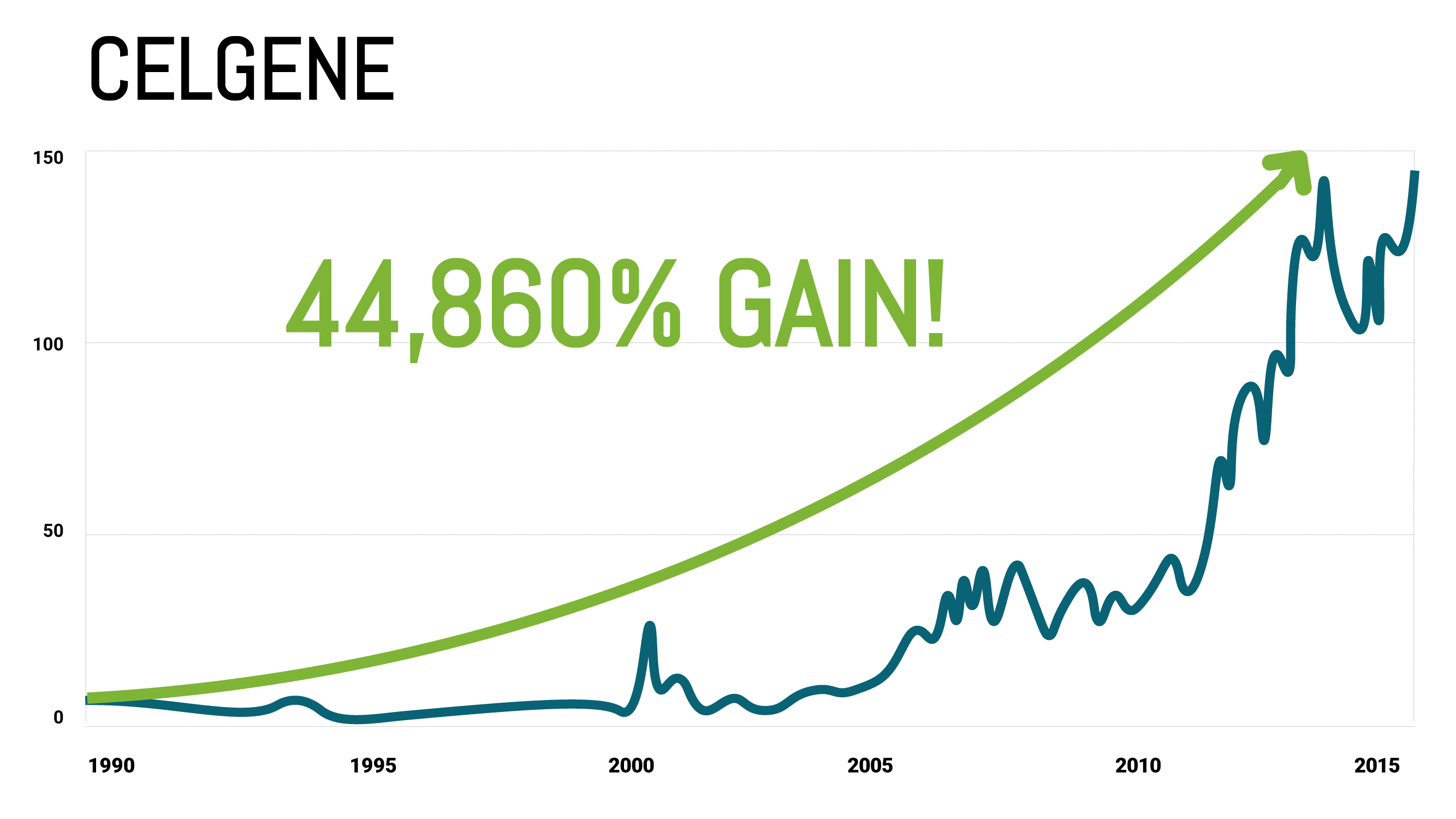 And Amgen showed early investors an astounding 176,000% after getting theirs!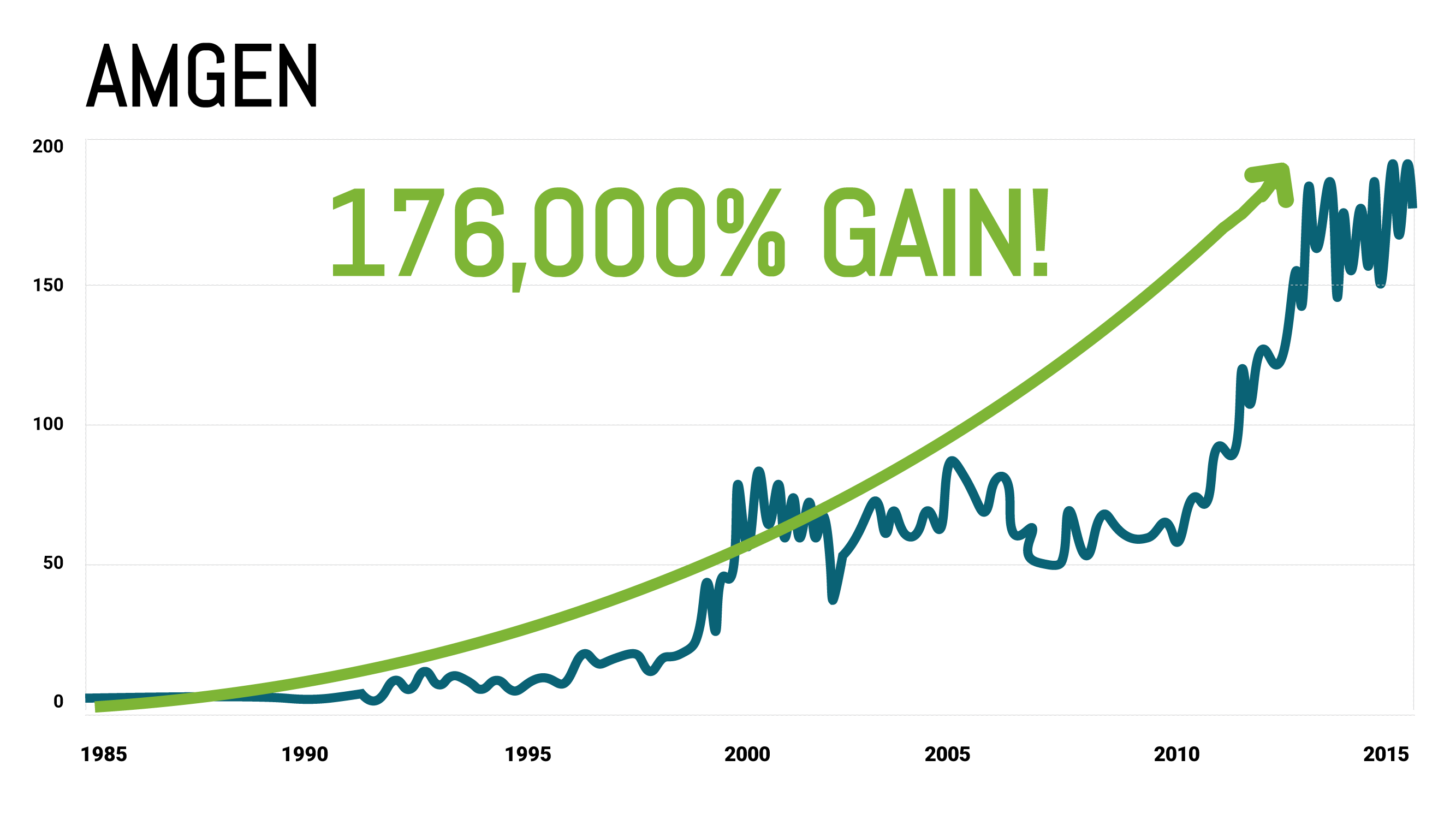 Any one of those stocks could have easily made you a millionaire in short order…
But if you waited until FDA approval was announced, you would have missed out on the lion's share of the profits.
But if you got in when the FDA first started considering these medications…
You could have turned a $10,000 grubstake into anywhere from 1 million to as much as 17.6 million dollars!!
That's the kind of money that lets you buy a boat or retire 10 years early…
And the landscape in the cannabis market is no different.
If you've been following the cannabis market at all, you've probably heard of GW pharma, one of marijuana's first blue chip stocks.
A few years ago, you could have bought shares for just $7.82 per share.
Today, they trade for $185.49
Meaning early investors made as much as 2372% gains!
And the reason for their explosive growth?
The developed the first CBD based prescription medicine, Epidolex.
The thing is, the gains didn't happen overnight.
In fact, when the approval was announced, the stock actually went down!
If you bought the stock that day, you would have lost money.
That's because "the approval came as no surprise," according to the Motley Fool.
People already expected Epidolex to be approved because of the favorable hearings, trials, and committees that convened prior to official approval…
Events exactly like the one on "Green Friday!"
It was the folks who saw the direction the market was headed and got in when the FDA first started to talk about CBD that made the biggest profits.
This is why you need to get in AHEAD of May 31st.
There's no way to know when a stock is going to go vertical just because market conditions seem to favor a positive FDA decision.
And things look so good for approval that stocks could start to run the next day… or even the same day!
The only way to insure that you'll maximize your profit potential is to get in when the hearings begin.
After all they are discussing unleashing a $22 billion market…
And if you are well positioned before that happened, you could be…
Green Friday's Million Dollar Winner
So you're probably wondering: "James, you mentioned earlier I need to pick the right stocks… at the right time…with the right date…and now that I know the date, what stocks should I get into?"
I'm glad you asked…
And as it turns out, there's one tiny CBD company in Canada that could absolutely dominate this market and explode for gains like 11,400%.
"Green Friday" is only the beginning for them.
They invented a technology that revolutionizes the way we can consume cannabis…
And it has such a mind-blowing array of uses that they are positioned to become:
The King of Weed Beers
No other title would do them justice because…
They invented a "healthy beer" made from cannabis.
It's unlike any other pot beverage on the market – 0 calories, 0 sugar, and absolutely 0 hang over.
And it feels just like drinking a beer.
Alcohol can be fun but it carries substantial health risks with it…
While cannabis may still carry minor health risks, this new "healthy beer" is every bit as safe as cannabis.
In addition to being non-lethal and non-toxic, researchers have found cannabis to be significantly less addictive than both alcohol and nicotine.
Countless health conscious college students are already using cannabis as an alternative to drinking beer.
Imagine what will happen once they find out they can have all the fun of partying and drinking beer without consuming any alcohol.
Millions of 20 year olds will be clamoring to get their hands on this "healthy beer."
And that's just one market…
The global beer market is $520 billion and still growing…
Accounting for hundreds of millions of people worldwide!
Millions of people drink beer regularly, and many even drink it every day.
And if they could continue to drink it without the same health risks, it might change their lives forever.
Heck… I'm no doctor, but it could potentially even be used as an alcohol replacement to help alcoholics quit drinking!
There are so many uses for "healthy beer" and it's just one of 14 products this company makes using their proprietary extraction technology.
These Canadian pot scientists stand to dominate the weed beverage market in a way no other company can touch.
They truly are "The King of Weed Beers" and I expect them to take over the market in a similar fashion.
The main difference? They have almost no competition.
There are other weed drinks out there, but frankly… they just aren't very good.
And they affect the user much the same way pot brownies do.
"Healthy Beer" on the other hand, mimics the effects of beer EXTREMELY closely.
"Healthy Beer" is not just another THC delivery mechanism
It not only feels like drinking beer; your body also processes it like beer.
It comes on in about 5 minutes and wears off after an hour… you know, like beer.
And then it's gone from your system the next day.
Regular cannabis on the other hand, can last in your system for up to 30 days!
This is because cannabinoids (THC, CBD, and other chemicals found in the pot plant) are fat soluble.
That means they bond with fat molecules.
In addition to making pot last longer and stay in your body longer than alcohol, this property is also the reason why nearly all cannabis infused food contains some sort of fat or oil.
The result of that?
Making a pot drink becomes very hard, as oil and water do not mix.
This is why the drinks I mentioned earlier are not very good…
They all contain some sort of cannabis oil and additives to keep it from separating.
They have to put so much effort in keeping their product in one piece that they neglect the flavor too.
Meanwhile, "Healthy Beer" is different because it's made from cannabinoids that are not fat-soluble.
They are water-soluble, like alcohol. They bond to water molecules, like alcohol.
And that means they affect you more like alcohol.
That's how "Healthy Beer" is able to mimic the effects of real beer.
In fact, it's also what makes their technology so valuable.
"The King of Weed Beers" discovered an unheard of method to extract cannabinoids from the cannabis plant.
To quote the company, this extraction process produces "the world's only naturally water-soluble cannabis liquid."
It's truly revolutionary because it eliminates one of marijuana's few downsides.
Now you might be wondering what this all has to do with Green Friday.
You see, the extraction process "The King of Weed Beers" created has all kinds of uses.
It produces a concentrate that looks like this: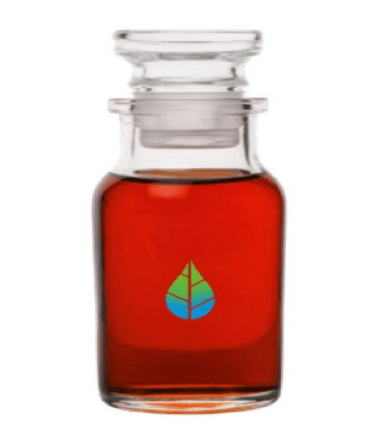 Which is then used to create all kinds of products – from non-alcoholic beer and liquor to sprays, candies, and even skin lotion!
"Healthy" Beer is just one of 7 different products made with the concentrate in this vial.
But it's far from the only concentrate they make.
I just spoke with Keith, the CEO of "The King of Weed Beers," earlier and it turns out they have BIG plans for a pure CBD product line.
Their unique extraction method can be applied to any type of cannabis plant.
This includes Hemp, the sister plant to Marijuana – the plant that most CBD comes from.
Once extracted, the water-soluble CBD can be added to any food or drink, just like its THC counterpart.
CBD has so many different medical applications, it's already created a ripple effect that's changing modern medicine as we know it.
It's only a matter of time before it permeates into other markets.
As amazing of a molecule as CBD is, it has one major flaw – the taste.
It primarily comes from hemp oil which tastes like wet grass...
Plus, swallowing a mouthful of oil is not exactly pleasant either.
This has been a big problem for CBD manufacturers up until now because prior to Green Friday, the only safe way to sell CBD was in the form of CBD rich Hemp Oil.
The concentrate used to make "Healthy Beer" sidesteps all of this neatly.
In addition to having a great flavor, it comes as a liquid, not an oil.
So you can add it to just about any food or drink you can think of.
An altogether more palatable experience than what the market has offered up to this point.
Plus, traditional CBD is not easily absorbed by the body… sometimes as little as 4%...
And it turns out that water-solubility makes it much easier for the body to absorb CBD!
In short: No other single product stands to benefit more from "Green Friday."
The decisions that the FDA make based on what happens that day could give millions of Americans access to "Healthy Beer"
And once that happens, the sky is the limit. There's no telling how much money could come pouring in.
CBD is growing in popularity so quickly that in Canada, the "CBD oil shortage continues as marijuana producers scramble to meet demand," according to Canadian local news.
And as a Canadian CBD manufacturer, "The King of Weed Beers" is getting ready to pick up the slack!
This is why they are positioned for such enormous gains…
The kind of profit potential that could create a legacy of wealth that's passed down for generations…
Because on top of being primed to dominate the cannabis drinks market, they stand to take a massive bite out of the $20 billion CBD supplement market as well.
And they aren't just planning to sell their products in Canada
They know as well as anyone that beer is a $114.2 billion market in the US alone.
"Healthy Beer" can already be sold in the 44 states that have some form of legal marijuana – whether it be medical or recreational.
This means more than 207 million Americans live in an area with legal weed!
With a record 84% of Americans now in favor of federal legalization, it seems only a matter of time before that market grows to the entire country.
In the meantime, the CBD market could easily be the biggest money maker for "The King of Weed Beers."
It's no longer a question of "if" …
"Green Friday" is the day that the FDA starts deciding HOW they will regulate CBD…
And then it could be only a matter of days before "The King of Weed Beers" goes vertical.
See, in all my research, I haven't a found a single cannabis beverage anywhere CLOSE to the quality of "Healthy Beer."
And I'm not the only one looking…
Both Molson Coors and Inbev, the two largest beer companies in the world, have announced plans to get into the cannabis beverage space…
So on top of everything I just told you about the "The King of Weed Beers," they are a prime candidate to partner with or even be bought out by one of these enormous beverage corporations.
There are so many different ways this stock could go up as high as 11,400%, I've lost count.
All I know is that it feels like I can't stop singing their praises.
Oh and they only recently were licensed to distribute in Canada 2 weeks ago, which is why they are still such a tiny company for now.
I don't usually get this excited about a new company…
But trust me, you almost never come across technology so revolutionary in a market that's already white hot.
It's like if the iPhone came out during the dot com boom.
There's almost no other situation where a stock could grow 110x this quickly.
And "Green Friday" could easily be the tiny nudge it needs to blast off.
I know 11,400% gains sounds like a lot…
But when you add up everything "The King of Weed Beers" has going for it…
That kind of growth seems more than possible.
I'm Giving All My Research On This Stock Away, For Free
I wanna show you how to get involved, which is why I'm giving away a free copy of my research deck Green Friday Fortune: The King of Weed Beers to every single member of my pot stock research service, Altucher's 420% Syndicate.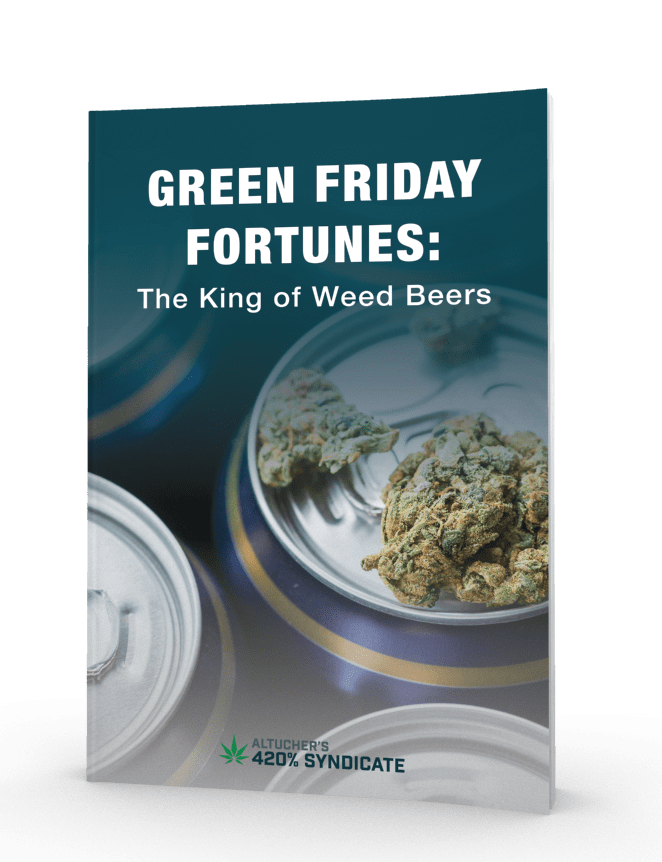 I call it that because if any member doesn't get shown how to make 420% gains each year, they get their next year completely free.
If you aren't a member yet, I'll give you a sign up link in a minute.
When you sign up, you'll get this research deck immediately delivered to your inbox.
You'll get everything you need to know:
A deep dive into the company's assets and debts.
An in-depth look at their growth prospects and their partnership with the largest Canadian owned brewery in North America.
An inside look at their secret research lab with the inventor of the technology, Dr. Sen.
I did a deep dive with this company so you can get to know the people making the magic happen.
This way you know it's not some fly by night pump and dump scheme.
These are real scientists making real discoveries that make the world a better place.
I'll send you to the sign up page in a minute, but first let me quickly tell you about all the perks that members of my research service enjoy.
Welcome to Altucher's 420% Syndicate
As I mentioned earlier - throughout my Wall Street career, I've always seen the biggest market windfalls in trend investing.
Ever since I started writing, I've dedicated my career to uncovering the biggest opportunities in America's hottest markets to share with my readers.
And legal marijuana is the fastest growing trend I've ever seen…
Or that anyone's seen, for that matter.
Point blank, it's the fastest growing market ever.
And every year, analysts make bigger and bigger predictions about where it could end up.
And the market only keeps getting bigger – growing nearly 40% a year!
If it goes up 40% every year for the next 5 years, it would be worth roughly 8 times what it is today…
Meaning the most modest investments could be worth an absolute fortune in a few years.
In fact, that's why I started the 420% Syndicate.
Because the 20 million people who have read my blog have asked me for my insight on this market countless times.
Even if I had the time to talk to them all, it wouldn't be fair to everyone else who didn't ask.
All my readers are equally important to me.
So I decided to make my research into this market available to all of them.
I write a monthly briefing to the members of the 420% Syndicate to give them the tools they need to strike it rich in the legal marijuana boom.
Between my experience as a hedge fund manager and my network of billionaires, politicians, and movie stars…
I'm able to keep my followers one step ahead of market.
Each month, I do a deep dive into the state of the market and publish my key insights and takeaways in an easy to read newsletter.
In addition to providing in-depth analysis of the biggest opportunities in this market, I also issue weekly market updates and Buy and Sell alerts.
This way, you're never out of the loop when it comes to pot stocks and the pot market.
And I'm pleased to announce that I've opened up membership once again.
The last time I opened registration, I only let in about 60 people per state.
And every spot was claimed lightning quick.
But they came in under the promise that they would see how to make at least 420% gains in the stocks we recommended in our model portfolio or they would get a second year free…
And that proved too easy.
The pot market is so explosive that just 3 out of the 15 winners we picked ended up fulfilling that promise.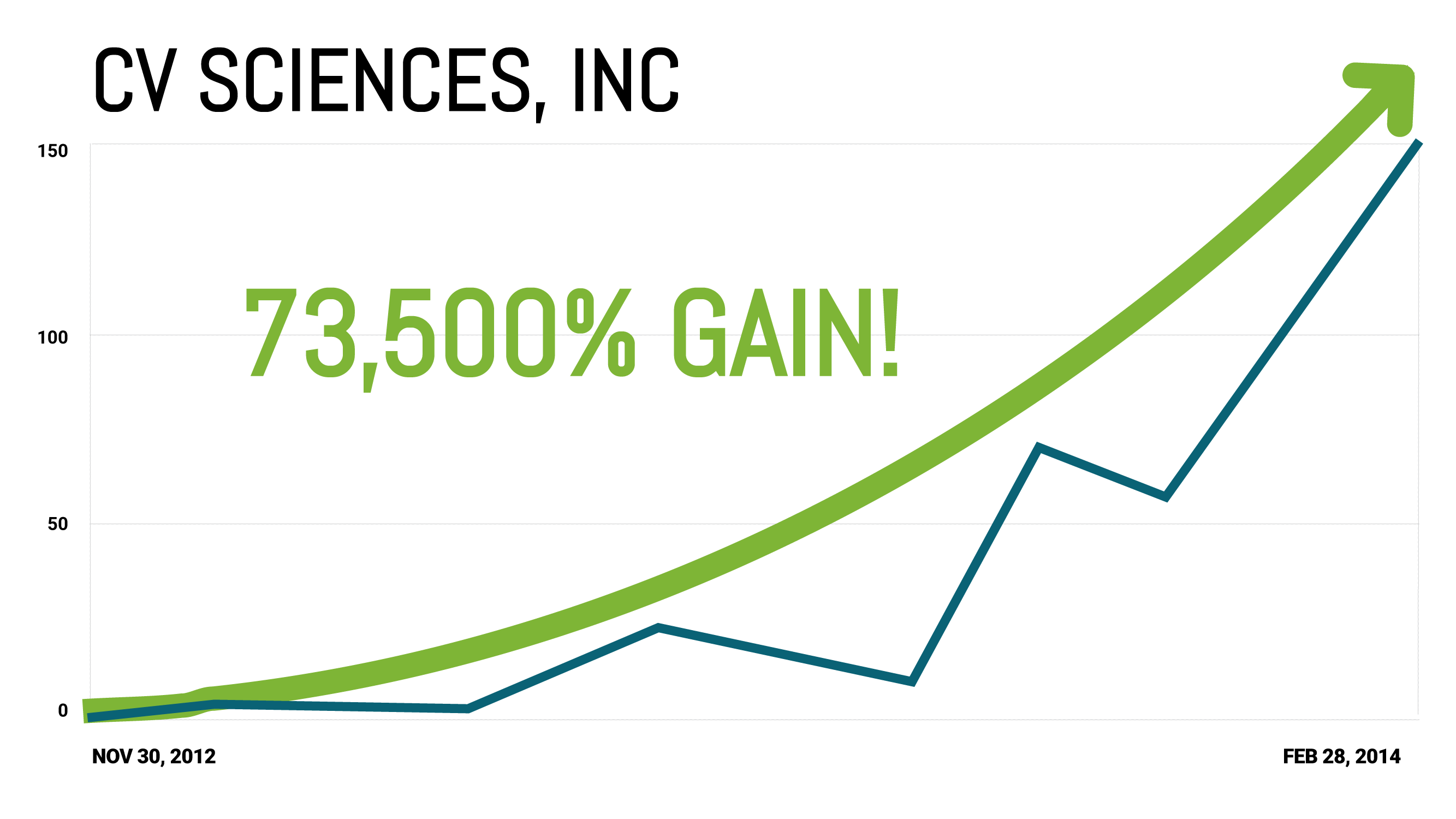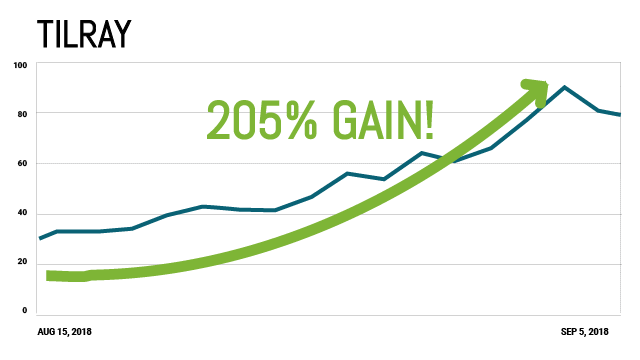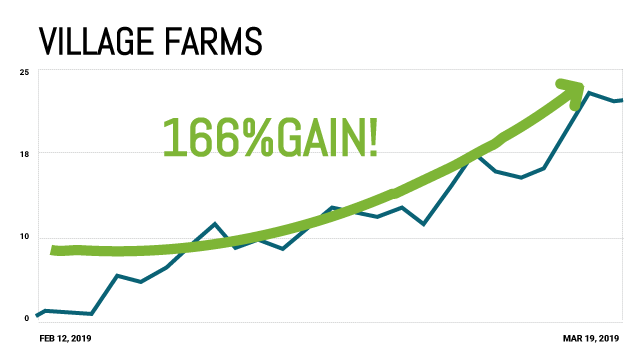 So I'm doubling down.
I'm going to open membership to about 60 more people per state.
And I formally guarantee that every reader of the 420% Syndicate will see how to double that from our recommendations or I'll work for you for a second year, completely free!
In other words, if you don't get a shot at 840% gains from my recommendations, you get another year's membership on the house.
When you factor in how many new members I'm allowing in…
I virtually have 6 million dollars riding on this guarantee.
That's how confident I am.
But of course, that's a lot of money, and I don't want to over extend myself so…
WARNING: SPOTS ARE LIMITED
These spots are only open until "Green Friday," which is just a couple weeks away.
But they are first come, first serve.
And I expect them to fill up even faster than they did last time.
That's because after endless debate with my publisher, I finally convinced him to let me offer the best deal we ever have.
For the first time ever, new members will be able to sign up for a fraction of the list price.
Hedge funds like the one I used to manage pay as much as 5,000 dollars a day for research like this.
Heck, here at the office our subscription to a Bloomberg terminal – one of the many tools we use to do our research – costs $36,000 a year!
But you won't pay anything close to that.
Originally, my publisher wanted to charge $5,000 a year for this research service… .027% of what it's potentially worth.
If all the service did was show you the two 200%+ gains I showed you earlier, I'm sure you'll agree it would be more than worthwhile.
Just a single trade recommendation could have covered your membership fee, making the other 14 winners we picked pure profits.
But I don't think you should have to pay full price before you've seen the service in action and been able to profit off it.
That's why I'm slashing 60% off of that list price when you sign up today.
Plus, you'll have VIP access to my world class customer care staff.
They're available year round (during normal business hours) for any questions you might have – however big or small.
They can't tell you what stocks to buy, but the whole point of my research is to give you the tools you need to decide that for yourself.
I'm just here to help you make the most profitable decisions – the kind that will show you greater wealth than you ever dreamed of.
I firmly believe that CBD is the next market that could fund you early retirement, remodel your home, buy a new BMW and much more!
But only if you get in now, before the big banks and Wall Street start jacking up share prices.
Now that you've seen how awesome "The King of Weed Beers" is, I'm willing to bet you're starting to see how rich this market could make you…
But what if I told you that's not the only opportunity to make a fortune on "Green Friday"?
You see, it turns out that because CBD is in such high demand, there are a couple more small-cap pot companies with explosive potential on "Green Friday"…
And one of them is in an extraordinarily rare position…
Bonus Stock #1: The #1 CBD Stock in America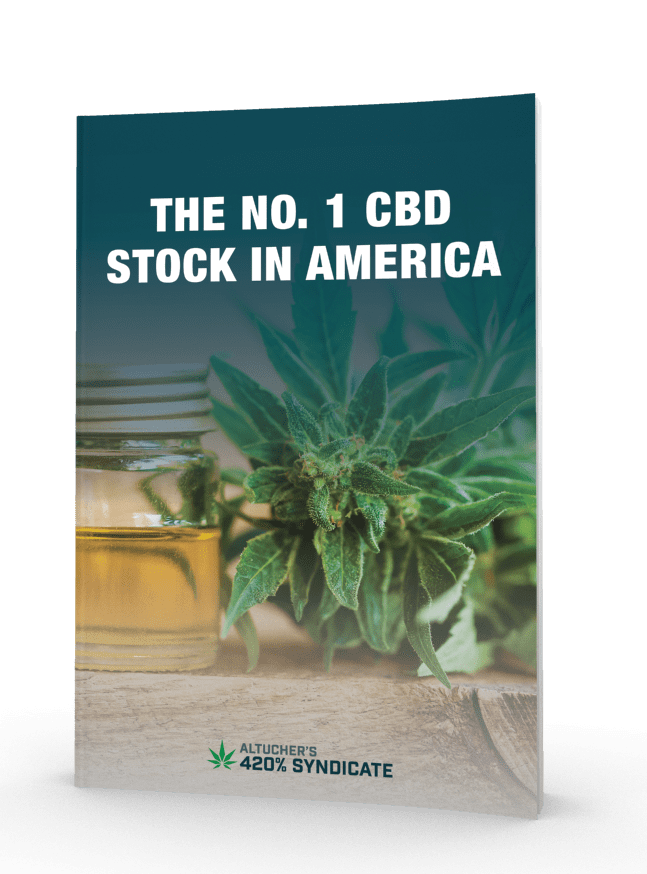 What I am calling "The #1 CBD Stock in America" does NOT trade on the New York Stock Exchange.
It doesn't trade on the NASDAQ or the DOW.
And it definitely doesn't trade on the S&P 500 or the CBOE.
Yet, many consider it to be the next blue chip marijuana stock, joining the ranks of companies like GW Pharmaceuticals and Canopy Growth Corporation.
That's because they've been the #1 CBD brand in the country for the last 6 years.
Their CBD is found in more than 6,000 retail stores currently, which is more than any other CBD company!
It's sustained by 300 acres of hemp crops, alongside a 40,000 square foot manufacturing and research facility.
And they plan to double their grow capacity by next year.
It's not the largest operation on the planet, but large enough to support a 57% increase in sales from 2017-2018.
That kind of growth is MASSIVE compared to how retail stocks typically shift.
If Apple saw a 57% increase in iPhone sales from 2017 to 2018, they would have sold roughly 330 million iPhones… that's practically one for every man, woman, and child in America!
So how did "The #1 CBD Stock in America" become so ridiculously profitable?
They were the first known pot company to treat childhood epilepsy with CBD.
In 2012, they gave their CBD to a 5-year-old girl who was dying from a type of epilepsy so severe, she was having up to 300 seizures a week!
Her condition improved instantly.
She saw an immediate 99.75% reduction of seizures. And within a year, she was walking, talking, and riding a bike like a normal kid.
Their story is so heartwarming that CNN did a documentary about it that blew the lid off the medical benefits of CBD.
"The #1 CBD Stock in America" quickly grew into the dominant CBD brand on the market as their public image and goodwill became a national sensation.
And that landed them in a very unique position.
They are in a situation so rare, that I can't remember ever seeing it before, even in my time as a hedge fund manager or day trader.
The reason they aren't traded on any of the major exchanges I mentioned is because they are they traded on the OTC market aka the penny stock market.
Penny stocks are typically stocks with a market cap under $250 million and a share price under $5.
So with that in mind, the fact that "the #1 CBD stock in America" broke a $1 billion market cap on the OTC market is mind-blowing.
That's a blue chip market cap.
Because these stocks are so small, institutions like banks and hedge funds are barred from trading on OTC markets as they would have too much influence over it.
This means institutional investors didn't come in and drive the price way up.
Instead, over a billion dollars poured in from individual investors.
Stocks almost never get that big without the help of Wall Street and big banks.
And not only is it a testament to the power of the "#1 CBD Stock in America" brand and public image, but it's kept the price low – which is good news for us.
Once the stock gets uplisted to the NYSE, you can bet your bottom dollar that Wall Street will jack the share price up.
Once it hits the major markets, we could easily see the stock shoot up as much as 1000%.
That would put it around the share price of GW pharmaceuticals – the only other blue chip CBD stock.
GW proved just how exciting a major CBD stock can be.
And if "The #1 CBD Stock in America" is even half as exciting to mainstream investors, that'd be enough to turn every 10,000$ invested into $50,000.
There's no telling when, or if, it might happen. But "Green Friday" could trigger a price surge before the stock even gets uplisted.
It is after all, the biggest event in CBD history thus far.
That makes it absolutely critical you position yourself ASAP.
I wanna send you my report on "the #1 CBD stock in America" immediately, so you can maximize your "Green Friday" profit potential.
I don't want you to kick yourself for years to come because you missed out on this opportunity.
That's why I'll give you a copy of this report for free when you sign up today, in addition to all the other bonuses you get.
Which reminds me, there is a 3rd "Green Friday" opportunity that I think you'll be interested in as well.
It's a different approach to the CBD market but still highly likely to see a "Green Friday" windfall because once the buying frenzy begins, every CBD stock on the market is fair game.
In fact, CBD stocks like these have gone up as much as 73,500% in response to pot legalizations efforts, just for being in the same market!
Of course, that's a rare example, but it goes to show the pure potential here…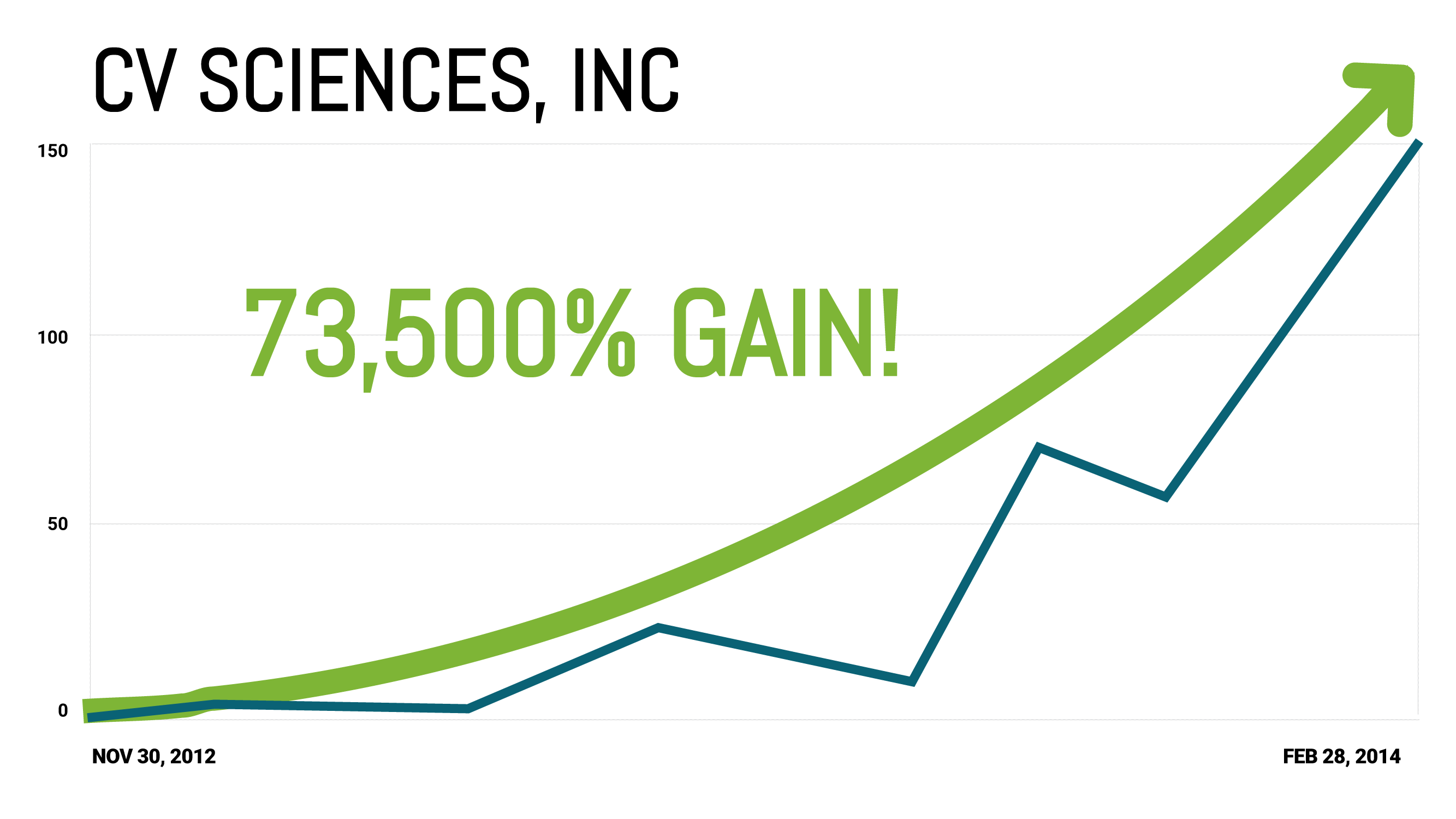 So just because this company doesn't deal with CBD specifically in food, don't write them off as the third potential big winner on "Green Friday."
You see, they own the most valuable nanotech patent in history… and it makes CBD 20x more effective!
Bonus Stock #2 – Billion Dollar CBD Super Molecule
I briefly mentioned earlier how CBD has an insane amount of medical properties.
The list of diseases it can treat is so long, I don't have time to list them all.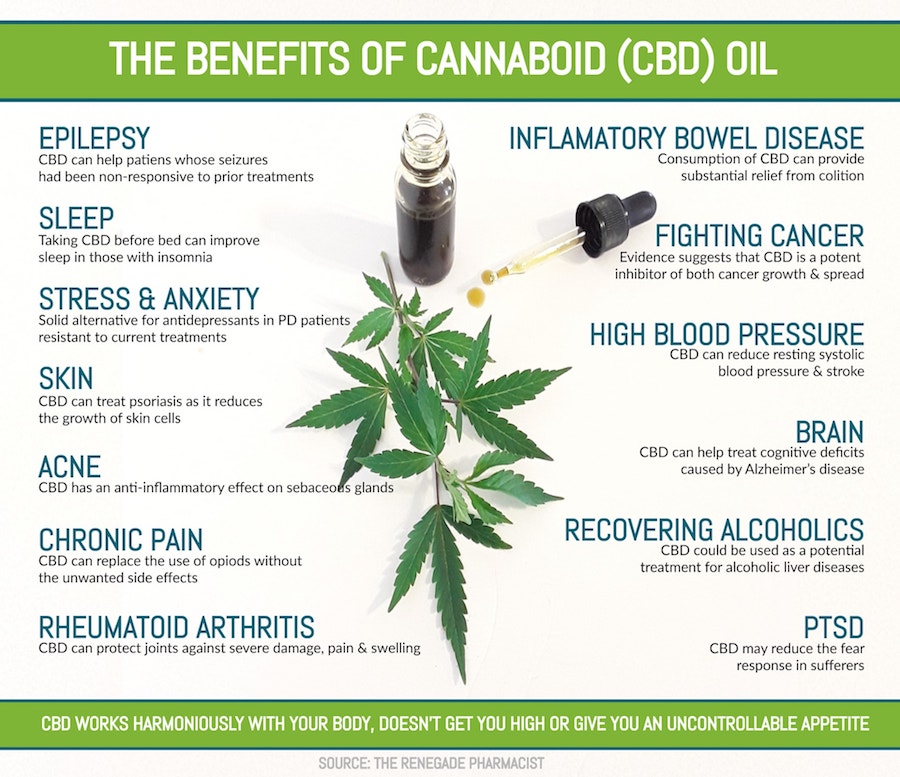 But one of the big ones it helps is heart disease – something that affects more than 600,000 Americans each year!
It's actually the single largest killer of Americans…
And a big reason for that is the treatment options simply aren't very good.
Up until very recently, the medications we're expensive and only offer temporary relief.
Enter a 100 million dollar Canadian biotech…
Who have used nanotech to develop a CBD molecule up to 20x more effective than medical marijuana for treating heart disease: CTX01.
Not only is CTX01 a natural alternative to other medications, one single dose can last up to a week!
The fact that the company is tiny and just now in phase 3 clinical trials is just icing on the cake.
If this were already a $50 stock, it would be a buy. But it's only a $5 stock.
And given the value of their patents, we could see them grow to $50 or even $100 per share.
That's enough to turn every $1,000 invested into $5,000… or even $10,000.
I already showed you how explosive proprietary medications were for Biogen, Amgen, and Celgene.
But there are dozens more examples of groundbreaking patents like these making companies insanely valuable.
Abbvie, for example, made $109 billion off sales of their patented medication Humira…
Which more than doubled their market cap, growing their stock over $120 per share!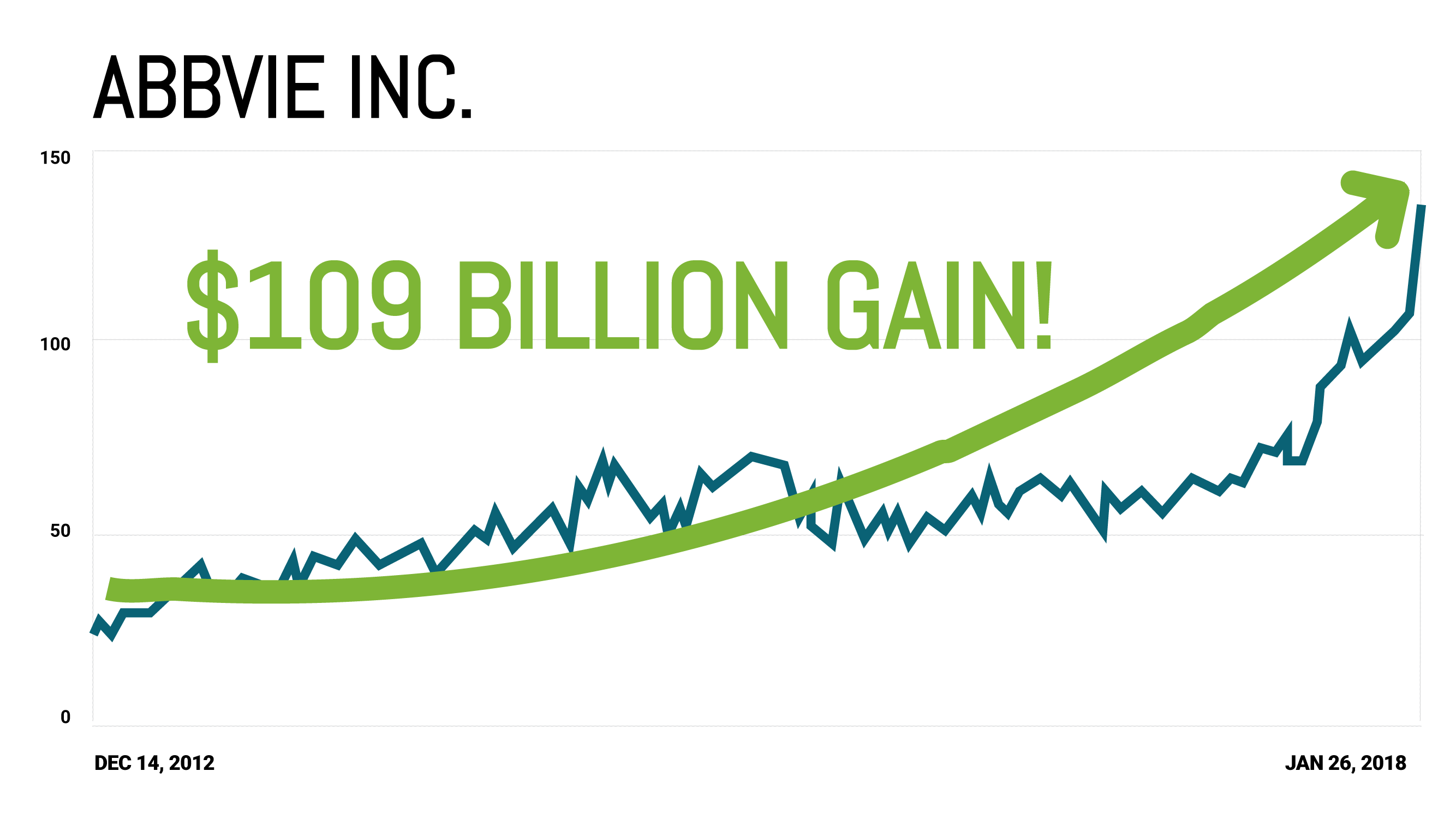 Pfizer has a similar story… their patent for Lipitor earned them more than $150 Billion…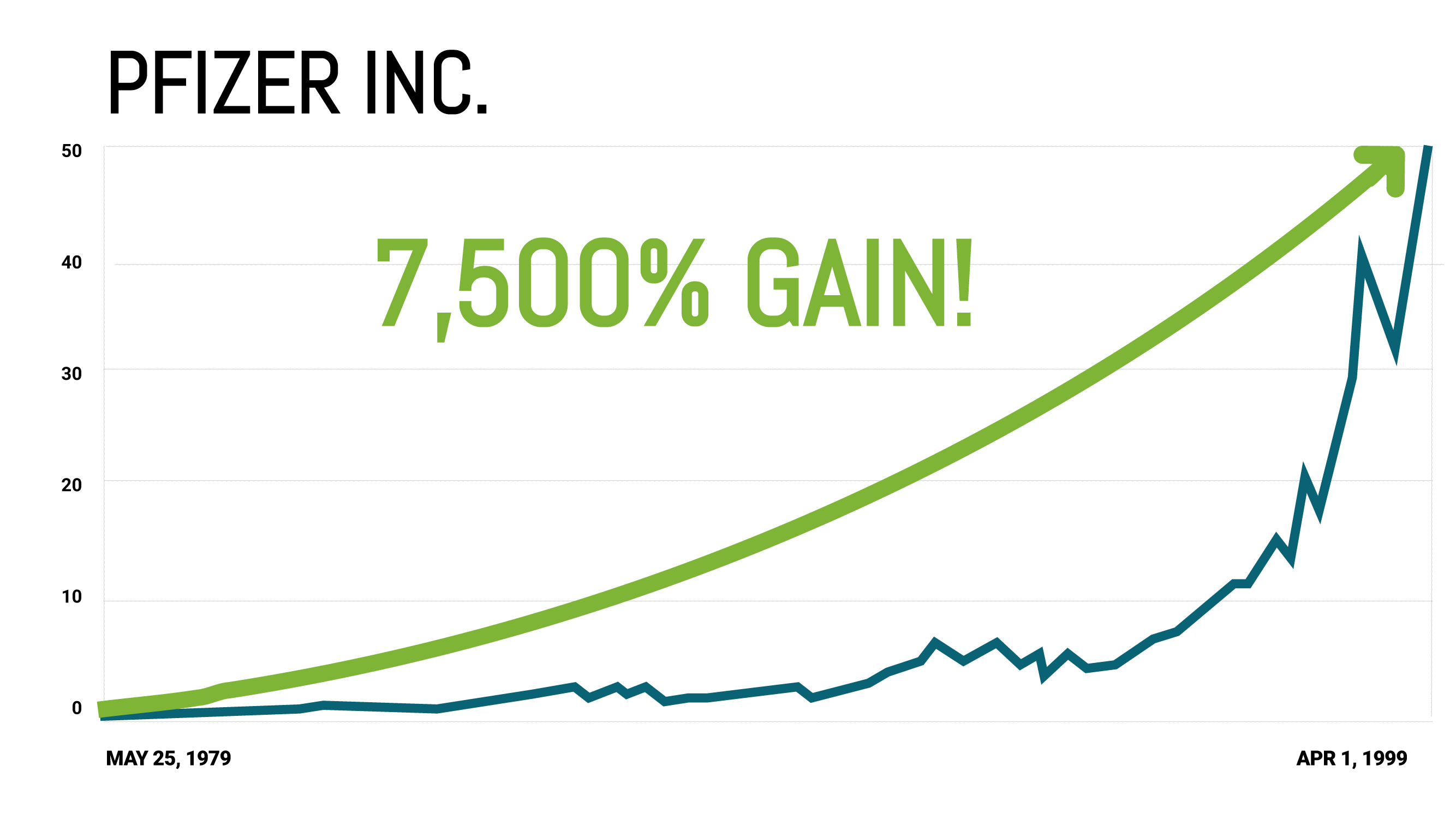 Showing ground floor investors up to 7500% returns!
If the patent for the "billion dollar CBD super molecule" is even a fifth of the quality… that should still yield at least a 10 bagger for investors!
And that could happen sooner than you might think, because…
When Green Friday rolls around, every CBD stock could be up for grabs.
And we're likely gonna see the cream rise to the top.
The question is: will you be positioned in time?
I want to make that answer an emphatic yes!
That's why I'm going to give away all three of these reports, completely free!
You can sign up in a minute…
But I don't want to just be this talking head in your life so…
I'd Love To Have You Join Me In Denver For The World's First "Sky High Summit"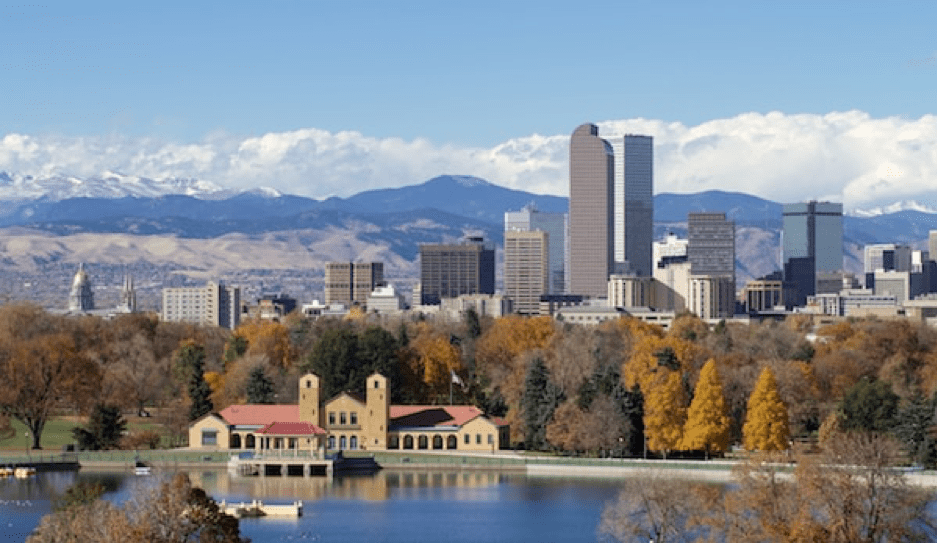 Once a year, the 420% Syndicate hosts what I believe will fast become the gold standard for legal pot-market investors and enthusiasts.
We invite insiders from the top of the pot industry, both here in the fast-spreading US market and from Canada...
We explore every investing angle, from breakthroughs in cannabis-backed biotech and medicine...
We even look at booming real estate opportunities, as grow houses and distribution centers snap up commercial property...
We're calling it the "Sky High Summit."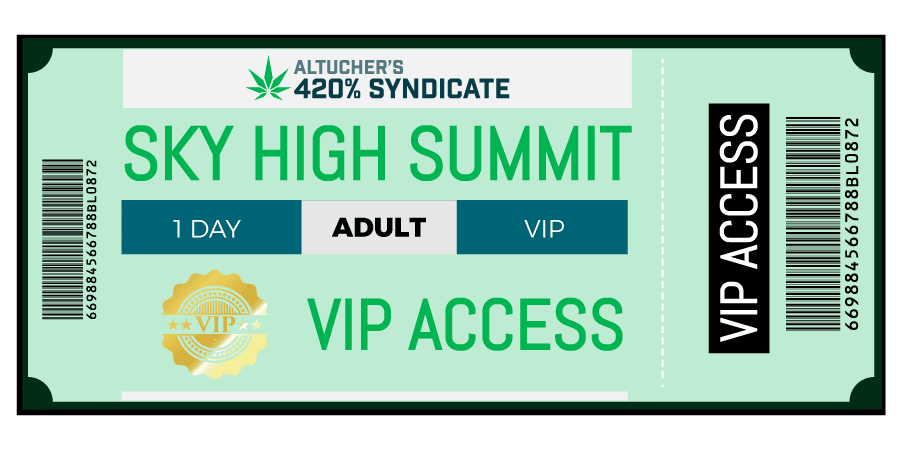 As far as I know, it's the first event of its kind.
Not only is it an interactive, immersive dive into the world of cannabis investing, but it's a great way to meet your fellow 420% Syndicate members!
We'll allow non-members who want to come too… but only if they pay the retail price of $1,250 a ticket!
As a 420% Syndicate member, you'll get a golden ticket. It's a VIP pass to the summit that's included with your membership. Members won't pay a dime to get in to this event.
It's gonna be a blast, just hanging out and getting to learn from each other.
Of course, I can't give personalized investment advice, but that's not what it's about!
We'll have social events, marijuana company tours... and maybe even some free samples from the dispensaries.

Of course, you're not obligated to come. But I would love to see you there.
You Are Just One Click Away From Claiming Your Spot
I feel that the marijuana boom is the biggest investing opportunity of our generation.
I want to personally insure that you don't miss out.
The only way I can do that is if you sign up for the 420% Syndicate.
I've already shown my readers 6 ways to more than double their money in this market in the last year:
Village Farms –

166%

in 35 days
CV sciences –

213%

in less than 1 month
Pyxus International –

138%

in 3 months
Tilray –

205%

in 3 weeks
Elixinol Global –

134%

in 4 months
And I have no doubt that the stocks I told you about today will blow those gains out of the water!
The only thing left to do is to join the 420% Syndicate today!
Just make sure you do so BEFORE May 31st…
Because once "Green Friday" passes, I will close down registration again.
I'm only taking on folks who are serious about seeing how to strike it rich in legal pot, those who want to discover how to make the most of this opportunity.
If you want to wait until after Green Friday, then this research service may not be right for you.
But I've pulled out all the stops to make this an easy decision for you.
Let's review everything you'll get in your research deck when you join today: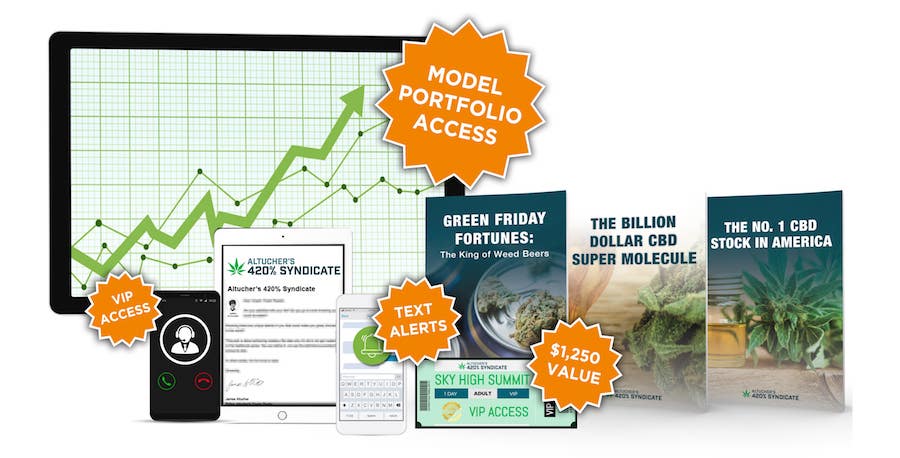 Green Friday Fortunes: The King of Weed Beers - In this research deck, you'll find an in depth look at the clear front runner in the marijuana and CBD beverage market. You'll learn everything you need to know about them – from the ticker symbol to the company's financials to the personal lives of the executives running the show.
Bonus Stock #1: The #1 CBD Stock in America – Here you'll discover the most popular CBD brand in America. They just went public in late 2018 and they don't trade on any major exchange… but they have the largest market share of any company on the market!
Bonus Stock #2: The Billion Dollar CBD Super Molecule – This Canadian biotech is changing the game when it comes to heart medication. They used nanotech to develop a CBD molecule called CTX01 that's up to 20x more effective than medical marijuana! Heart diseases affects over 600,000 Americans each year and treatment options aren't very good. As soon as CTX01 makes it out of clinical trials, we could see this $5 stock become a $50 stock!
In addition to all these life-changing opportunities, you'll get full VIP access to my private 420% Syndicate website.
There you can enjoy all the perks of your subscription:
Access to my model portfolio
Text Message Buy and Sell Alerts
New recommendations and market updates every week
VIP pass to "Sky High Summit ($1,250 value)
VIP access to our Customer Support Team (9-5 M-F)
As soon as you sign up, you'll get your login information sent straight to your inbox.
Within minutes, you'll be ready to take advantage of the incredible opportunity that "Green Friday" has set before us.
Are you ready to cash in on the fastest growing market of our lives?
You're only a few minutes away from discovering how to position yourself for what could easily the biggest market windfall of 2019.
But remember, spots are limited!
Subscribe Now
I don't want you miss out on "Green Friday" and then kick yourself for years to come when you see how much money people made.
But if even .1% of my readers respond to this invitation today, every spot will be taken.
So click here to sign up today!
Subscribe Now

James Altucher May 2019