Why I'll "Pay" You $8,104 to
Cancel All Your Subscriptions With James Altucher RIGHT NOW
** Offer limited to 1% of selected respondents
** Offer ends on the stroke of midnight on September 25th
Dear Reader
You read that right…
Below, I'll show you how I'll "pay" you $8,104 if you immediately cancel all of your Altucher subscriptions.
There's over 8 grand staring right at you.
All you have to do is decide whether you want it or not...

But don't worry if you decide to cancel right now — this won't be the last time James' ideas could line your pockets with dough...
"Wait — how does that make sense?" you ask — "I thought I was canceling..."
Actually, if you cancel right here, right now, you can grab all of James Altucher's investment research for as long as you want to…
And that's in addition to your $8,104!
Preposterous, I know...
You cancel your subscription but you get "paid" $8,104... and you still get each and every moneymaking idea that James will ever publish...
Preposterous, yes, but please give me 10 minutes of your day and I'll explain exactly how you could walk away with $8,104.
It's an opportunity that's remained silent, elite and secret.
Until now.
I'm Doug Hill, Publisher of Choose Yourself Financial.
And please allow me to introduce you to Altucher's Alliance...
This is a hushed and private invitation
FOR YOUR EYES ONLY...
Altucher's Alliance is the most intimate, elite inner circle out of our 156,000 paid subscribers.
The Alliance is simple…
You get every investment newsletter, "VIP" stock research service, and fast-acting financial research service that James Altucher currently publishes for as long as we publish them. You also get every single product we'll launch in the future!
And every single special research report we'll ever write!
For as long as you want.
You get all that — for life — for less than the cost of one year of all of those services.
What newsletters and research services am I talking about?
Well, before I show you, let me make it perfectly clear why I'm honored to invite you to become an Altucher's Alliance member today...
** THIS INVITATION WILL NOT
BE SENT TO THE PUBLIC **
We will only ever send this invitation to loyal readers like you.
You see, there are so few Alliance memberships available that the invitation can only go to a dedicated Altucher reader like yourself.
For that reason, I respectfully ask that you do not forward this email to anyone else.
But exactly how few Alliance members can we accept?
** This invitation is limited to 1% of existing readers **
Only 1% of existing Altucher readers may join with this specific invitation...
What that means is this…
If all of our readers knocked on the door, over 99% of them would have to be turned away!
It's not that we're being snooty or unfair.
We simply know that some of the profit opportunities that James will research and present to you are too small and sensitive for too many people to know about.
And there's another reason why we picked this threshold of 1%...
We want to see what will happen when a small group of serious individuals gets hold of every single one of the profit opportunities that James knows of.
Membership is first come, first served.
IF we do eventually permit more folks into the Alliance, the price could go up by as much as $2,000. Or even more.
And that's a BIG "if."
We may never extend another invitation.
It depends 100% on how the Alliance members' interest affects these tiny underground opportunities...
This invitation for new Altucher's Alliance seat holders expires immediately upon reaching the 1% threshold described above.
Adding to this urgency even more, we will promptly remove this invitation from the internet right at midnight on September 25th.
I fully expect to fill our 1% limit long before that moment rolls around, though.
So it's doubly important that you act on this invitation right away…
But let's quickly return to that $8,104 that I want to "pay" you for immediately canceling all of your existing James Altucher subscriptions...
Here's how — and why — I'll
"pay" you $8,104 this year...
For Altucher readers only, the Alliance costs less than one year of each included individual service.
That's right — if you sign up for an Alliance membership today:
You can get a lifetime of James' stock recommendation newsletters (like his brand-new Top 1% Microcap
letter!)…

A lifetime of James' moneymaking reports (like his How to Make $2k in a Weekend report!)...

And that's on top of the various new services and reports that we will unveil in the future (more on each of those in a moment!)…

For far less than the normal price of what you'd usually pay for one single year.
In the first year alone, you'll save a whopping $8,104!
That's a nice "payment" for canceling your Altucher subscriptions, is it not?
(I'll break down your savings to the exact cent in three minutes...)
You'll benefit from far more than James' newsletters, though…
With Altucher's Alliance our goal is to bring you deep inside James' network itself.
That's one of the main reasons that we decided to hit the ground sprinting on Altucher's Alliance…
We want to introduce you to the people and opportunities that can make you a fortune…
Opportunities that we hear whispered from James' network of billionaire insiders and idea men and women.
Previously "invisible" opportunities that James has kept to himself before now.
More on those in a moment.
First, I'd like to introduce you to some of the specific benefits Alliance members are entitled to:
Including his newest cash-generating research service…
FREE SERVICE #1:
Pull Weekly Cash From Wall Street Using...
Altucher's Secret Income
James took from Wall Street a very "secret" way of generating weekly income.
For example, did you know that right now you can make huge income from some of Wall Street's most popular stocks…
WITHOUT ever buying or selling a single share of the stock?
It's true…
Using a "secret" transaction hidden in the markets you can instantly make…
$980 on Apple… $865 on Amazon…
$430 on Exxon…
And on and on.
Again, the most amazing part is that you can make this income (a) instantly, (b) week in and week out, and (c) if all goes according to plan, without ever touching the stock!
How?
Well, that's what James is going to show you in his brand-new Altucher's Secret Income project.
We launched Altucher's Secret Income in August and new subscribers paid $2,000 for a year of access...
But as an Alliance member, you'll get it free, for life.
But that is just the beginning...
FREE SERVICE #2:
Explosive "Venture Capital" Trades
Top 1% Microcap Service
If you've ever been intrigued by the explosive gains offered by super-small stocks, but were worried about how to find the right ones... this brand-new service is for you.
Top 1% Microcap gives you small, explosive "venture capital" plays… with a twist.
See, James has found a secret "backdoor" that puts you in a position to make five to 10 times your money by tapping into the biggest ideas in America…
That can have Silicon Valley-type returns...
Without ever touching Silicon Valley.
As you may know, recommendations from James' extensive Silicon Valley network make their way into the pages of James' other research advisory services...
But the ones with the largest short-term profit potential are tiny companies known as microcaps.
For example…
James once made a private investment in a cloud-computing firm…
Normally, the only way to buy into a startup like this is if you happen to know the CEO… or you work there as a programmer.
But James loved the idea... and found a way to buy in from his kitchen table without touching Silicon Valley.
Today James has seen a 1,200% return.
Then there's another opportunity with a company called Xiaomi… which shot up as much as 3,186%.
That's enough to make you 32 times your money.
Not to mention...
...A 6,000% return on a social media startup called Buddy Media.
...And a 4,000% return on a startup called Ticketfly.
Of course these are exceptional examples, but even a small fraction of gains like these could change your life. And James' "backdoor" into these kinds of opportunities is an amazing way for you to get a piece of the action.
You can see why he calls his newest service "the ultimate investment approach."
Normally, Top 1% Microcap subscribers pay $3,000 per year.
But, if you do what's best — by canceling your subscriptions right now and accepting this invitation to join Altucher's Alliance — you'll get Top 1% Microcap for free for the rest of your life.
That means you'll save $3,000 each and every year from Top 1% Microcap alone.
And that comes out to $15,000 in savings every five years... and $30,000 saved over the next decade...
But, there's more to come as an Alliance member. You'll also receive…
FREE SERVICE #3:
Invest Alongside James' Network...
The Top 1% Advisory
Top 1% Advisory is the culmination of James' more than 20 years networking on Wall Street, as a private investor and hedge fund manager.
And he's built an incredible network over that time.
James says it's his most important asset.
This network of billionaire hedge fund managers, entrepreneurs and CEOs keeps him informed to this day.
He talks to people in his network regularly, hearing moves hedge funds are making and under-the-radar opportunities that the best investors in the business are trading.
In Top 1% Advisory you get recommendations that allow you to invest alongside the world's smartest investors…
So you can literally piggyback the most successful investors' more speculative, unique opportunities.
James sends these "safe speculations" out to a small circle of readers with his first research service, Top 1% Advisory.
Here are the peak gains on some of the finest Top 1% Advisory open positions:
118% on Alcoa...

45% on Illumina...

244% on Petro River Oil...

74% on Navient...

44% on Jazz Pharmaceuticals…
The stellar track record has made some of James' Top 1% Advisory readers quite happy. Here's what they write in to tell us:
"This is a fine distillation of information worth every penny. I have found strong gains, as well as incredible gains of 180%, 80% and 50% in 8 months or less (100% average!)"
Nancy D.
"First of many financial newsletters I have subscribed to that actually produced positive results... thank you, James!"
Phil M.
"The profits I've extracted from the recommendations have paid for the subscription many times over. Subscribe, you'll thank me later...."
Tom H.
Normally, Top 1% Advisory subscribers pay $2,000 per year.
As an Altucher's Alliance member, you pay nothing, for life.
That's not all. You get even more moneymaking potential from largely untapped investments with this next VIP service…
FREE SERVICE #4:
Retirement-Boosting Income With
Altucher's Income Advantage
Imagine for a moment that you could buy stock in a business for 70% of its real value.
Would you do it?
Of course you would!
Now imagine you could do that for 30, 50 or 100 companies... in one transaction.
That's what we show you how to do in Altucher's Income Advantage.
See, there are always businesses trading at discounts that shouldn't be... in both bull and bear markets.
For example, take James' alert to a small group of VIP readers last November...
"...this fund is currently trading at a 17.71% discount to its net asset value. That's well above both the five- and 10-year average discounts for this particular fund.
"Said another way, we are paying 83 cents on the dollar for a portfolio... We should see the discount narrow even if the stock market declines as this fund will fare much better than most."
Since that alert James' readers have seen peak gains over 25%.
Each alert we'll capitalize on the fear and greed cycle in the markets to provide you with a consistent moneymaking strategy you can count on year after year.
In fact, an amazing 3 of every 4 of James' open recommendations in Income Advantage are winners.
Here's a quick list of some of the open picks still raking in steady gains for his existing readers:
Avenue Income Credit Strategies Fund (25%)

Cohen & Steers Infrastructure Fund (16%)

Clough Global Opportunities (25%)
And then, as far as closed picks, James closed out Swiss Helvetia Fund for just under 20%.
Here's what a handful of Altucher's Income Advantage readers have said:
"I have followed the recommendations and I'm substantially ahead."
Robert M.
"He just introduced me to the best trading mentor I have been praying for. I totally trust James."
Andrew R.
"I would highly recommend Altucher's Income Advantage. The information is easy to understand and it really helps diversify my portfolio."
Cindy W.
"I love your monthly update, have bought your recommended funds and gotten a good return on the investments. Insight is worth the monthly fee."
Anthony F.
Normally, Altucher's Income Advantage subscribers pay $1,000 per year.
As an Altucher's Alliance member, you pay nothing.
So let's quickly recap
So far we've covered these three VIP services, all of which come FREE with your decision to join Altucher's Alliance today…
Altucher's Secret Income ($2,000 annual value)

Altucher's Top 1% Microcap ($3,000 annual value)

Altucher's Top 1% Advisory ($2,000 annual value)

Altucher's Income Advantage ($1,000 annual value)
Added up, those three services are worth $8,000 per year.
As an Alliance member, you pay nothing!
That means you'll save over 11 grand — just from our VIP services — over two years…
Your one-time Altucher's Alliance subscription fee and miniscule annual maintenance fee will secureall of those stellar services for life.
That alone makes Altucher's Alliance the single best bargain in financial research.
But that's not all!
On top of all this, as an Alliance member, you will receive a free lifetime subscription to our most popular research newsletter, The Altucher Report... for FREE... for life.
FREE SERVICE #5:
James Unplugged in...
The Altucher Report
The Altucher Report is the key to personal and financial success in today's changing economy.
James' mission each month is simple:
He'll show you how to make money from mega-trends in the marketplace, by:
... Showing you what businesses to start. (And for every trend James identifies, there are many different businesses you can start.)
... Recommending which stocks to buy...
... Revealing which trends will last, and which will fizzle...
The ideas James shares could mean new revenue streams that you haven't thought of before.
Giving you the quality of life you deserve.
On the first weekday of every month, James will personally update you on emerging new ways to earn more income.
It could be a new business idea… a potential deal with someone in James' vast network of contacts… or a stock idea…
Frankly, what James teaches is the only proven way that I know to survive and prosper in the new American economy.
In the past, he's only provided this kind of research to his high-net-worth business associates and members of the Wall Street elite. But now these gain opportunities are open to you, too…
Like these peak gains on recent open positions from earlier this year:
Put simply, the gains prove James is onto something. And his readers tend to think so too...
"I've profited financially from investment ideas as well as personally by using many of the great ideas for personal enrichment."
Kathy D.
"Insights on trends and out of the box ideas for making money."
Pete C.
"A great newsletter with a lot of business and finance hacks, plus great stock ideas."
Brian A.
"This guy seems like the most honest person in the business."
Kate B.
"This is one of the most practical newsletters I've ever come across and it has incredibly valuable insights."
Joe T.
"The information is fresh, unexpected and brilliant. It is like no other newsletter and the information, if acted upon, could make you a lot of money."
Mike G.
"Very straightforward newsletter with good ideas. Many ways to make some extra money and some to make a full-time income. Informative writing and always an interesting read."
Larry K.
Normally, Altucher Report subscribers pay $99 per year.
As an Alliance member, you pay nothing for life.
That's another $99 each year added to the value of your Alliance membership.
But that's not nearly the last in the heap of benefits your Alliance status will confer on you.
See, with his list of best-selling books growing by the day…
And his podcast getting worldwide attention…
James' popularity is increasing. Which means his already huge network is growing, too.
And that's why we're growing James' research services for you!
So, for the first time ever, let me publicly introduce two new, incredibly powerful trading research services coming this fall…
Every single one of which you'll get FOR FREE as an Altucher's Alliance member.
Beginning with:
FREE SERVICE #6:
We're Going for 100,000% Gains With
Altucher's Crypto Trader
COMING Fall 2017...
It's no secret that the cryptocurrency market is one of the hottest on earth right now…
These are the small digital currencies like Bitcoin and Ethereum.
And day in and day out, we're seeing some of the largest gains in our lifetime.
In just the past week alone, some cryptos have shot as high as 3,000%!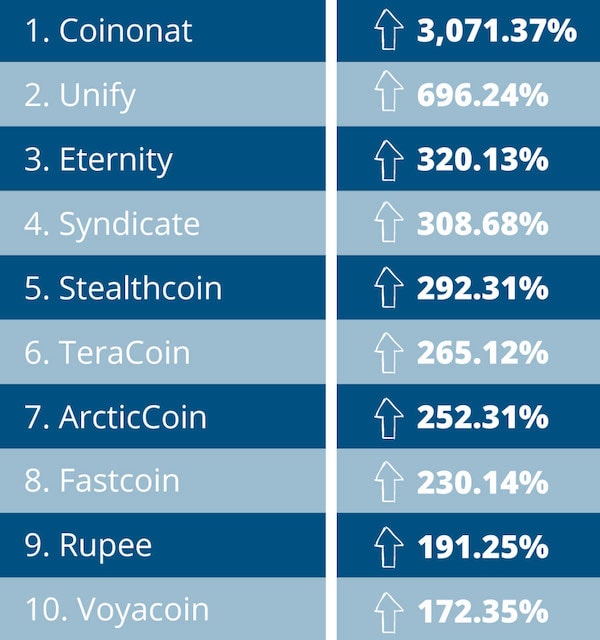 In fact, James says…
"This cryptocurrency market will be the only realistic way to see 100,000% gains in our lifetime."
That's why we're in the final stages of launching James' new Crypto Trader research service.
It'll be the only place in the world where James taps into his network to find out which cryptocurrencies you should buy… how much to expect to make… when to get in… when to get out… and when to cash in any gains.
When we launch Altucher's Crypto Trader, new subscribers will pay $2,000 a year to get access.
But not you... as an Alliance member, you'll get it free, for life.
And we're still not done...
FREE SERVICE #7:
How to Claim Uber Gains With
Altucher's Angel Investor
COMING November 2017...
This last service is potentially the most exciting…
See, what most people don't know about James is that he made almost all his personal money by investing directly in startups.
But for more than 80 years, unless you were a high-net-worth individual, you were LOCKED OUT of these deals by the U.S. government.
Now that's all changed…
The government has approved something called "Regulation A+," which now gives us "little guys" the chance to invest in some of the world's most amazing startups…
Right alongside James!
In Altucher's Angel Investor, you'll have the chance to fund some of the best and biggest new business ideas in America today…
And potentially cash out with gains as high as...
39,900%...
199,990%... and even
1,274,900%!
When we launch Altucher's Angel Investor, new subscribers will pay $3,000 a year to get access.
And again, as an Alliance member, you'll get it free, for life.
Again, let's recap...
Here's how your savings are adding up for you now…
Altucher's Secret Income ($2,000 annual value)

Altucher's Top 1% Microcap ($3,000 annual value)

Altucher's Top 1% Advisory ($2,000 annual value)

Altucher's Income Advantage ($1,000 annual value)

The Altucher Report ($99 annual value)

Altucher's Crypto Trader ($2,000 annual value)

Altucher's Angel Investor ($3,000 annual value)
ANNUAL VALUE: $13,099
YOURS FREE!
Now, you may be blown away with the expected stream of trades and recommendations you can expect as a new Alliance member...
In fact you may be wondering how you can execute and keep track of all the ideas about to come your way.
We've got you covered there, too...
We've created something solely for Alliance members that may be the most valuable benefit we've discussed yet...
I'm proud to introduce the
Altucher's Alliance Digest
It's exclusively for Alliance members...
As you can see, James and his team publish a steep flood of investment ideas.
All of them coming from strategies James has used for his personal account or for the money he managed professionally.
So you literally get to invest just like James does… using the same exact strategies that allowed him to make millions over his investing career.
Ideas that cover the entire spectrum of stock investment possibilities...
Massive, life-changing "angel" deals from Silicon Valley

Trading the world's most explosive asset in Crypto Trader

Top 1% Advisory's "safe speculations"

The world's most exciting microcaps

And more…
Now, if you're concerned you can't keep up with it all, don't worry.
Each week, on Fridays, we'll send you an Altucher's Alliance Digest.
It's a single, easy read that gets you up to speed on everything!
Think of it as a "digest" of all of James' best ideas, in one email.
As an Alliance member, you get the Altucher's Alliance Digest for free for life.
Plus, I'd like to introduce what's perhaps the most unique benefit of your Alliance membership…
You can pass your Alliance membership on to any family member of your choice!
We can all agree that the benefits included in the Alliance are of incredible value.
But nothing, even life-changing financial gains, is as important as family.
So we put our heads together to figure out how can we help you leave a legacy with your children...
We call our solution the "Legacy Program."
In short, this program allows you to pass your Altucher's Alliance membership over to a family member.
Of course, that family member is entitled to free receipt of every single Alliance service, newsletter, live event, book, and special report that the Alliance ever publishes...
All you need to do is instruct us when you'd like to activate the Legacy Program and one of our VIP service representatives will make the switch.
It's that easy.
So now it's almost decision time…
Are you ready to join James in a lifetime of wealth-generating opportunities…
Tapping into the extensive network he built…
And using his very best ideas?
If so, there's just one final thing we need to cover. And it very well may be my personal favorite part of the Alliance:
Come play ping pong with James
You may have heard James mention this before, but if not…
James takes all his most important business meetings over a game of ping pong.
Says James…
"You learn a lot of important things by playing ping pong with people. The game makes people let down their guards, and you see who each other really are…"
That's why every Altucher's Alliance member who joins today is invited to a very special event…
To join James in his hometown of New York City this November...

And challenge him to a ping pong match.
The event will begin at the posh NY table tennis club, Spin.
There James will host new Alliance members for the first time ever.
You can ask James about his Wall Street and hedge fund experience... the super-hot cryptocurrency markets... or about his Airbnb lifestyle and upcoming guests on his podcast.
But there's another big benefit to events like this that often gets overlooked.
And that's YOU.
Gathering like-minded people who are at the top of their respective fields allows for connections... business relationships... even friendships you wouldn't otherwise make.
It's just one more benefit to the Altucher Alliance. And it could be the most valuable benefit of all…
And who knows... maybe you can even brag to your family about beating James at ping pong.
The event will be open bar and food will be served throughout.
Then, James wants to invite you to a special, very personal event that evening.
This event is closed to 99% of our readers, because we're only giving tickets to those who join Altucher's Alliance.
Since this is a new event for Alliance members only, we've never charged for an event like this.
If we did, I know we could charge $750 for a ticket and would sell out.
But as an Alliance member, you get "always free, always VIP" access to our event of the year.
Now let's quickly sum up EVERY benefit you're entitled to as an Altucher's Alliance member…
Your benefits added up: here's how
you'll save at least $150,699…
Lifetime subscription to The Altucher Report... value: $99 per year

Lifetime membership to the existing "VIP" stock research services... value: $6,000 per year

Lifetime membership to all of our option trading research services... value: $2,000 per year

Free lifetime subscriptions to nearly every research newsletter and options service that the Alliance is able to publish in the future... value: $7,000 in 2017 at least

The right to use the Legacy Program to pass your lifetime Alliance membership to a member of your family... value: priceless.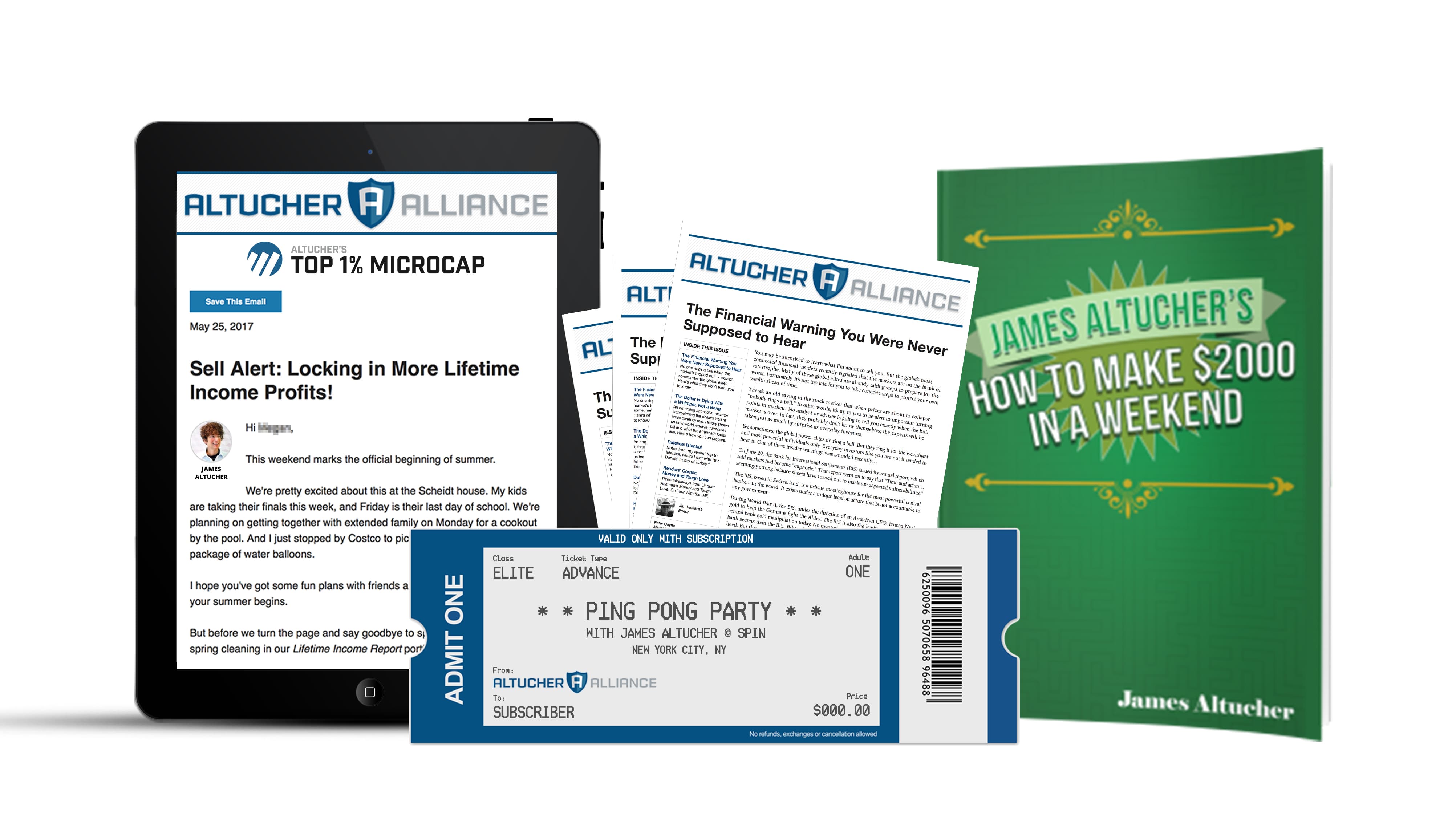 So, as you can see, the total measurable yearly value of an Alliance membership is $13,099.
And that yearly value will increase at a steady rate as we launch new newsletters and research services.
That means... five years of Alliance benefits is conservatively valued at $65,495...
And a full decade of stellar profit potential, travel, and research is worth $130,990 at the very least.
Not to mention the literally unlimited value for a family member if you decide to pass your Alliance membership on…
That's why you might think I'm crazy to offer the Alliance for a one-time $7,995 price for a lifetime of membership.
That's a savings of $5,104 in the first year alone... and you receive almost everything Choose Yourself publishes free for life!
Over the next decade, you'll save a whopping $122,995...
But wait — because I'm not going to charge anywhere near $7,995 for you to join the Alliance.
This is why you ought to act right now...
For this invitation to the Alliance, I decided to slash the price to only $4,995.
Considering that you're looking at an annual value of $13,099… that's a $8,104 savings in the first year alone!
That's why I've been telling you it's like I'm "paying you" $8,104 today!
But, there's a catch.
This heavily discounted price of Altucher's Alliance will disappear forever at Midnight on September 25th.
This is the lowest one-time subscription payment for a lifetime of research and gains you'll ever see.
That's all you'll ever pay, except for a small annual maintenance fee of $149 to cover ever-rising publishing costs — automatically charged directly to your credit card each year.
Without this small maintenance fee, we wouldn't be able to offer the Alliance at such a low price — a price that could save you at least $125,995 over the next decade.
Please remember, though, that membership is strictly limited.
And when we hit our 1% enrollment limit you will never see that $4,995 price again.
In fact, because of the strict 1% limit, you may never see another Alliance membership at any price.
Here's one more reason you'll want to act today.
If we offer Alliance membership invitations again — and that's a pretty big "if" — the price will increase by $1,000 on September 26th.
Shortly after that date, we'll launch James' new service Altucher Crypto Trader. And once that happens, I can't in good conscience continue to discount the Alliance so deeply.
Shoot, we may be forced to jack up that price even higher.
(The total price depends upon how many new services we launch next year... and we have a full slate of anticipated new research services for you…)
So if you close out this page and put it off, you risk costing yourself at least $1,000 on this incredible deal.
And I don't want to see that happen.
Neither does James.
But the good news for you is you still have time to claim the deepest discount on the best deal in the publishing business.
So, cancel your individual James Altucher subscriptions right now and accept this private invitation.
That way you make sure you can take advantage of the unique benefits reserved solely for Alliance members.
Plus, when we hit our 1%, we're going to carefully study how Alliance members take advantage of the "hush-hush" and tiny, thinly traded opportunities revealed to them.
If we see that the Alliance's microcap trades can't handle any more exposure to serious readers, we will be forced to forever close the doors of the Alliance.
We simply have to shut it down in that case to protect the interests of the Alliance members... so I recommend that you act immediately to ensure you grab your spot.
So please — click the button below to cancel your existing Altucher subscriptions and become an Altucher Alliance member today.
Subscribe Now
(If you see a "waitlist" notice when you click, I'm sorry… but we've hit our 1% limit.)
Sincerely,

Doug Hill
Publisher, Choose Yourself Financial
P.S. A one-time fee plus the small annual maintenance fee is such an extraordinary price for all the great ideas we publish, there's no way we could afford to keep this offer open for very long. That's why you need to respond today. When we hit the 1% figure (which could literally be at any moment), or or when the clock strikes midnight on September 25th— whichever comes first — we're going to close the doors on this invitation and you will have missed your shot at substantial savings on the highest level of service. Perhaps for good. So click below right away and claim your space as a member of Altucher's Alliance.
Subscribe Now
(If you see a "waitlist" notice when you click, I'm sorry… but we've hit our 1% limit.)